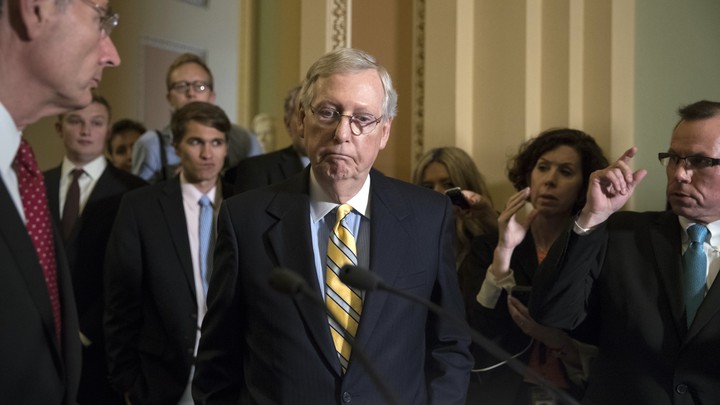 One key reason Senate Republicans have been forced to retract and retool their plan to repeal the Affordable Care Act is that the legislation favors one pole of the party's modern coalition so emphatically over the other.
The teetering Senate repeal bill, like its predecessor the House passed in May, would shower a large tax cut almost exclusively on the very high earners who compose the party's fundraising base. Simultaneously, the bill would impose deep benefit cuts—both in the private insurance market and Medicaid—on the older and blue-collar whites who now provide the largest share of the party's votes.
To the frustration of liberal operatives and analysts (see: the best-seller What's the Matter with Kansas?), Republicans have been able to surmount similar tensions for decades—in large part by appealing to blue-collar and older whites on cultural and racial grounds. With his brusque agenda of racially tinged nationalism, President Trump last November pushed that support to new heights.
But the congressional GOP's health-care plans are straining that connection by benefiting those at the top explicitly at the expense of the lower middle class. That marks a subtle but important change. Even previous Republican tax-cut bills that channeled most of their benefits to the highest earners had some benefits trickle down to the middle class. The health-care bills differ in that they fund their tax cuts by revoking aid for older and lower middle-income adults. Resistance to that trade inside the GOP caucus helps explain why Senate Majority Leader Mitch McConnell was compelled on Tuesday to shelve the bill until after the July 4 recess. Yet it is equally revealing that the vast majority of Republican legislators in both chambers have been willing to make that deal.
Drafted without any Democratic input, the House and Senate legislation presents an unusually explicit statement of priorities. Tax cuts emerge clearly atop that list: The Congressional Budget Office calculates that through 2026 the House bill reduces federal revenues by an annual average of $100 billion, and the Senate bill by an average of $70 billion. In each chamber, the biggest cut is the repeal of ACA taxes on income and investment profits that apply only to individuals earning at least $200,000 or families earning at least $250,000.
Not surprisingly, then, the proposals benefit high earners the most. The Senate bill would cut taxes by $180 annually for a family in the bottom fifth of the income distribution and by $280 for one in the middle fifth, the nonpartisan Tax Policy Center determined this week. By contrast, households in the top 1 percent would save $45,000. In all, the center calculated, the top 10 percent of earners would receive over 60 percent of the Senate bill's tax savings. That's far more than the roughly one-third of savings directed to households in the bottom four-fifths of the income distribution combined, even though that group is over 12 times bigger than the top 10 percent. All of these numbers are similar for the House plan.
On the other side, the cuts' corresponding benefit reductions would hit lower-income and older workers hardest, particularly in the last years before retirement. Those are cornerstone Republican voters: Nationwide, over two-thirds of all adults ages 45 to 64 are white and Trump dominated among them.
But as the Kaiser Family Foundation shows in a powerful new interactive map, premiums under the Senate bill would soar almost everywhere for working-class 60-year-old adults. That's partly because the Senate bill allows insurers to charge older consumers five times as much as younger ones—the ACA set a maximum three-to-one disparity—and also because the proposal provides less generous tax credits for coverage.
The cumulative effect is overwhelming. For 60-year-olds earning $30,000, Kaiser calculated, premiums would rise relative to the ACA in every county across the nation except for two in Ohio. (Those exceptions reflect a statistical quirk related to current pricing, Kaiser said.) Premiums would likewise increase for 60-year-olds earning $40,000 in every county except for one of those in Ohio. Even for 40-year-olds earning $30,000, premiums would rise in over four-fifths of counties, Kaiser found.
For 60-year-olds, the biggest rate increases would fall on many of the blue-collar, predominantly white counties that powered Trump's victory. In the southeast Ohio counties of Gallia, Meigs, and Washington where Trump romped, premiums would rise by about 80 percent for older lower-income adults, Kaiser calculated. Macomb and St. Clair counties in Michigan, which each swung sharply to Trump, would face increases of about 80 percent and 150 percent, respectively. Premiums for older low-income adults would more than double across a wide array of West Virginia counties. And deductibles for lower-income older adults would spike, too.
None of those costs even account for the unprecedented cuts both bills would impose on Medicaid, which the ACA expanded to serve a growing population of lower-income working adults. With its broadened focus, Medicaid has become indispensable in states hit hardest by the opioid crisis. But under both congressional plans, many of the states facing the highest level of opioid deaths—including West Virginia, Ohio, Kentucky, Nevada, and Michigan, all in the top 15—would face reductions of at least 35 percent in their working-age Medicaid populations, according to Urban Institute projections.
The losers in the GOP bills are beginning to notice. The latest Kaiser poll shows that while most non-college-educated whites and whites age 50 or older remain negative on the ACA, only about one-third of each group supports the Republican alternatives. And majorities of each group oppose cutting Medicaid funding. Perhaps most older and blue-collar whites feel such a strong cultural and racial affinity for the GOP that no offense against their economic interests can shatter that bond. But the grudging reset facing McConnell's health-care bill suggests that, at least for now, too many Senate Republicans are not willing to test that proposition.
We want to hear what you think about this article. Submit a letter to the editor or write to letters@theatlantic.com.