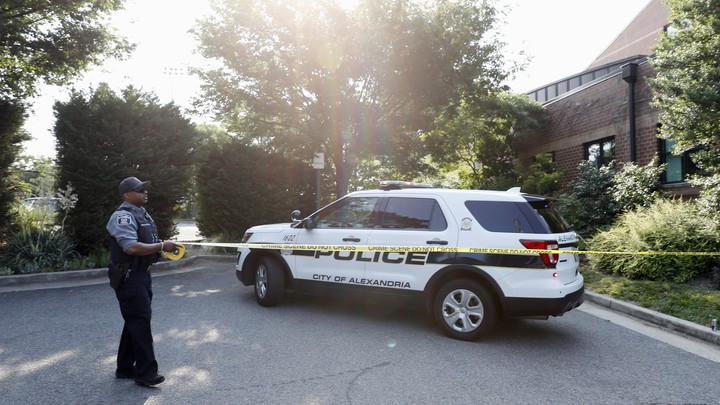 Updated on June 14 at 12:23 p.m. ET
Congressional lawmakers expressed shock, grief, and horror after House Majority Whip Steve Scalise, a Louisiana Republican, was shot at a congressional baseball game practice Wednesday morning.
The Majority Whip's office said in a statement around 10 a.m. ET that Scalise was "shot in the hip," and had been transported to a hospital where he is in "stable condition," but undergoing surgery.
A number of Republican lawmakers were at the scene when the shooting took place. Kentucky Senator Rand Paul, Arizona Senator Jeff Flake, Republican Representative Joe Barton, and Alabama Representative Mo Brooks all relayed firsthand accounts in interviews shortly after.
Paul told MSNBC that "it would have been a massacre" if not for Capitol Police, who were there as Scalise's security detail. He receives protection as a member of House leadership.
The senator recalled hearing an initial shot followed by "a rapid succession of shots" and seeing in the field that "Scalise is shot, but moving, he's trying to drag himself through the dirt, and out into the outfield." Paul added: "Everybody probably would have died except for the fact that the Capitol Hill Police were there."
Brooks told CNN that he heard Scalise "over near second base, scream. He was shot." In an interview, with his voice at times shaky, the congressman went into further detail. "I look around and behind third base in the third-base dugout, which is cinderblock, I see a rifle. And I see a little bit of a body and then I hear another bam and I realize there is an active shooter."
"There were dozens, if not hundreds, of shots fired, it was scary," Barton told reporters, appearing nearly overcome with emotion at one point as he described what had happened.  The congressman was at the practice with his sons when the shooting broke out. "My son Jack got under an SUV, he was very brave. Our other son Brad was in batting cage, and he also was pretty brave," he said.
Speaking to reporters, Flake said that "Steve dragged himself about 15 yards off of near second base onto the field, and lay motionless out there. We couldn't get to him until the shooting had stopped." He added: "Joe Barton's boy, a 10-year old boy, was here, we got him in the dug out and put him under a bench."  
Several other GOP members of Congress, including Representatives Mike Bishop and Steve Pearce, indicated on social media that they had been at the baseball practice, but were safe. In a statement, Republican Representative Roger Williams' office said that a member of the congressman's staff "was shot and is receiving medical attention."
President Trump said on Wednesday that the gunman has died. Law enforcement officials have not yet identified the shooter by name, but as my colleague Krishnadev Calamur notes, The Washington Post has identified James T. Hodgkinson of Belleville, Illinois as the gunman. A Facebook page matching that name, which has not yet been confirmed as belonging to the shooter, includes at least one post with anti-Trump messaging, and features a banner photo of Vermont Senator Bernie Sanders.
In a statement, Senator Sanders wrote that he had been "informed that the alleged shooter at the Republican baseball practice is someone who apparently volunteered on my presidential campaign." He went on to say: "I am sickened by this despicable act. Let me be as clear as I can be. Violence of any kind is unacceptable in our society and I condemn this action in the strongest possible terms."
Congressional leaders, along with rank-and-file members, reacted to reports of the shooting with shock, sympathy, and grief. House Democratic Leader Nancy Pelosi said in a statement that "on days like today, there are no Democrats or Republicans, only Americans united in our hopes and prayers for the wounded." She commended the Capitol Police for their "bravery" and "heroism," which she said "undoubtedly saved countless lives."
Democratic Senator Dianne Feinstein said that "this kind of mindless violence must stop" in a statement. "My heart goes out to those who were injured in Alexandria, along with their families and everyone else affected. I wish them all a speedy recovery," she said. "I'm dedicated to doing all I can to putting an end to these senseless tragedies." More of Scalise's colleagues took to Twitter to send well-wishes:
This morning the hearts of the whole House are with @SteveScalise, the brave Capitol police, staff, and all those who were in harm's way.

— Paul Ryan (@SpeakerRyan) June 14, 2017
Saddened by news of the shooting in VA this am. Thoughts & prayers for Rep @SteveScalise & others injured & hope for a speedy recovery.

— Chuck Schumer (@SenSchumer) June 14, 2017
My prayers are with those wounded this morning & their families. Continued appreciation to Capitol Police & first responders.

— Leader McConnell (@SenateMajLdr) June 14, 2017
Unspeakable evil. Pray that Rep Scalise, police officers and everyone else will be ok.

— Claire McCaskill (@clairecmc) June 14, 2017
I'm shocked, I'm grieved, I'm numb about the shooting of my friend Steve Scalise.

— Jeff Fortenberry (@JeffFortenberry) June 14, 2017
Horrified by what happened in Alexandria this morning. My heart goes out to Steve Scalise, staffers, the US Capitol Police & their families.

— Kamala Harris (@KamalaHarris) June 14, 2017
Not every congressional reaction set aside partisan politics, however. Republican Representative Chris Collins, who was the first member of Congress to back Trump during his presidential campaign, said in an interview on WBEN, "I can only hope that the Democrats do tone down the rhetoric." He went on to say: "The rhetoric has been outrageous: The finger-pointing, the tone, the angst and the anger directed at Donald Trump, his supporters, really then, some people react to things like that, people get angry as well, and you fuel the fires."
We want to hear what you think about this article. Submit a letter to the editor or write to letters@theatlantic.com.
Clare Foran
is a former associate editor at
The Atlantic
.