Rod Rosenstein: I Have Not Seen 'Good Cause' to Fire Robert Mueller
The deputy attorney general told lawmakers the special counsel handling the Russia investigation has "full independence."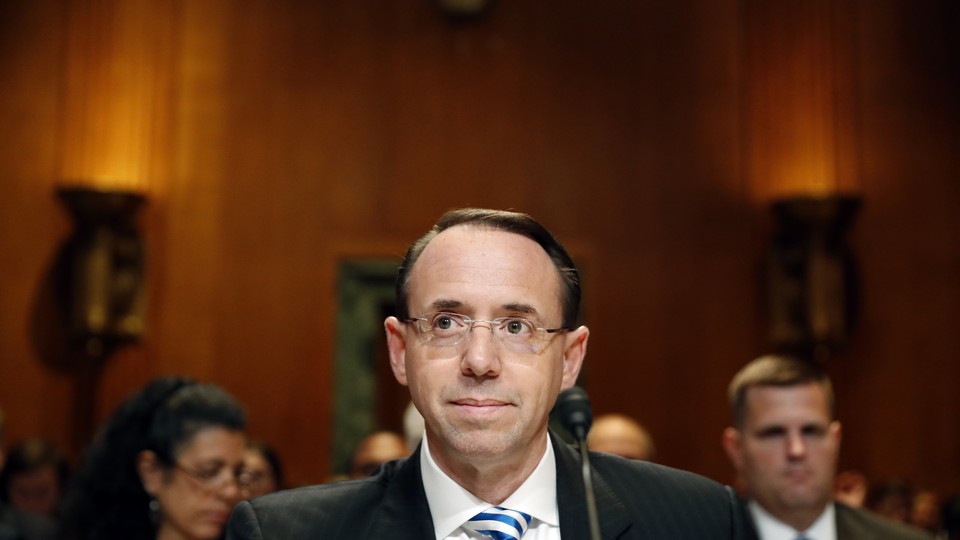 Deputy Attorney General Rod Rosenstein told lawmakers Tuesday he has not seen any evidence of "good cause" to fire the special counsel handling the investigation into Russian interference in the 2016 election and possible collusion between Donald Trump's presidential campaign and Russian officials.
Rosenstein was testifying before the Senate Appropriations Committee amid a flurry of questions about the possible dismissal of Robert Mueller, the special prosecutor investigating possible collusion between the Trump presidential campaign and Russian government during the 2016 election. American intelligence agencies have claimed that Russia engaged in an influence campaign involving hacking and propaganda in order to boost Trump's political chances.
On Monday, Chris Ruddy, the chief executive of Newsmax Media, said Trump is "considering perhaps terminating" Mueller, who was tapped by Rosenstein in May to handle the Russia investigation. The White House disputed the claim, saying: "Mr.  Ruddy never spoke to the president regarding this issue. With respect to this subject, only the president or his attorneys are authorized to comment."
Republican lawmakers have expressed concern over the possibility of the special counsel's firing. "It would be a disaster," said South Carolina Senator Lindsey Graham Monday. "There's no reason to fire Mueller. What's he done to be fired?" On Tuesday, House Speaker Paul Ryan also weighed in, saying in an interview that Trump "should let Bob Mueller do his job, do his job independently, and do his job quickly, because I think that that's what he would want to have happen."
Because Sessions recused himself from the Russia probe, Rosenstein has the authority fire Mueller. Trump could order Rosenstein to fire Mueller, though, per regulations, Mueller could only be removed "for misconduct, dereliction of duty, incapacity, conflict of interest, or for other good cause, including violation of Departmental policies." The deputy attorney general assured lawmakers, however, that he's confident Mueller has "full independence."
"I am required to put that cause in writing," Rosenstein told lawmakers. "If there were good cause, I would consider it. If there were not good cause, it wouldn't matter to me what anybody says."
Sessions is scheduled to testify before the Senate Intelligence Committee Tuesday afternoon. While he's not expected to divulge details about his conversations with the president, he's likely to face a series of questions about the ongoing investigation all the same. And his answers may be revealing.