Q of the Week: What Would You Ask James Comey?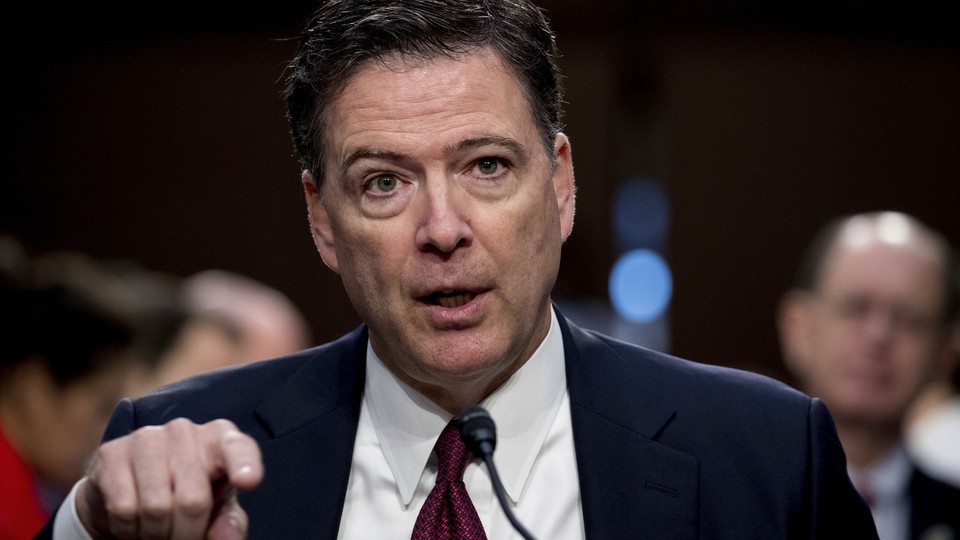 Editor's Note:
This article previously appeared in a different format as part of The Atlantic's Notes section, retired in 2021.
Former FBI Director James Comey testified before the Senate Intelligence Committee on Thursday, as part of the panel's probe into possible collusion between Donald Trump's presidential campaign and Russian officials. It was the first time the public heard from Comey since Trump abruptly fired him on May 9.
Ahead of the hearing, we asked our Politics & Policy Daily readers what they would ask Comey if they were on the Senate committee. We've rounded up some of the most pressing questions, and included Comey's answers where we can.
Several of you were concerned about why former Director Comey didn't say something about his conversations with President Trump if he was concerned about their appropriateness. Here's Jane Rupert:
How much, if any, of your concern regarding Donald Trump's contacts with you about your investigation did you share with Attorney General Sessions (before his recusal) and with Deputy Attorney General Rosenstein before you were fired? And what were their reactions?
In his opening statement, Comey wrote that he did ask Attorney General Sessions "to prevent any future direct communication between the President and me." He added that "what had just happened—[Sessions] being asked to leave while the FBI Director, who reports to the AG, remained behind—was inappropriate and should never happen."
John Consentino wondered why he didn't go further:
Mr. Comey, if it's true, as has been reported, that the president asked you to discontinue the investigation of Michael Flynn, why didn't you report this to the appropriate congressional committees and the Justice Department immediately?
During the hearing, Senator John Cornyn took a similar line of questioning, pressing Comey on whether it was his duty to report what he saw as Trump's attempts to interfere with the Russia investigation. My colleague Vann explains:
Comey's response suggests that as he understands it, there was no legal duty for him to report or stop the president from potentially engagement in obstruction of justice. He has also outlined throughout the hearing that he had to balance a moral obligation to warn the president and the public with the fact that such a disclosure would have a "chilling" effect on his own agency and would have itself impeded its ability to function independently and effectively on its investigations.
Senator Dianne Feinstein also asked Comey why he didn't interrupt the president during their private meeting to tell him he couldn't discuss the FBI investigation. Comey replied, "Maybe if I were stronger, I would have."
Diana Cammack had several questions—some of which Comey would probably have declined to answer in an open hearing.
We hear that there are criminal proceedings against Mr. Trump in New York state (by the attorney general), but have seen nothing formally reported on this. Can the FBI confirm these reports, and explain what case is being built, what stage that case is at, and who is involved? Is this criminal case part of Mr. Mueller's mandate?
What are the various aspects of the case against Trump–i.e., working with/for the Russians (treason), money laundering (criminal)?
Has the FBI interviewed Mr. Steele (the ex-spy from the UK) and what credence does it give his dossier? Which parts do they consider accurate?
Does the FBI see a group of people working together around Mr. Trump, or simply individuals (Flynn, Manafort, et al) acting alone?
What was the agenda Mr. Flynn, or the group, trying to achieve by taking Russian money and working in the WH? Simply to lift sanctions on Russia? To break up NATO?
Comey did testify that Michael Flynn was under criminal investigation, but declined to say whether he thought the president had committed a crime by asking him to let the Flynn investigation go. He also refused to speak about the dossier in an "open setting," adding that it gets into the details of the investigation. Comey might have expanded more on these, and other questions, during the second half of the hearing, which was closed to the public.
Edi Keller would push him further, and ask, "Did you have investigations into the Trump campaign, or any of the Trump family, for anything other than or in addition to their ties to Russia?" Comey testified that, during his tenure, there was no personal investigation into Trump himself. He didn't elaborate on Trump's extended family.
Finally, Richard Pouzar would have sought Comey's thoughts on the efficacy of the congressional investigations—and advice going forward:
With what you know of the Russia-Trump-campaign connections and the susceptibility of investigators for the executive and legislative branches to be stymied or fired, what is your opinion on having an independent bipartisan commission empaneled to pursue this matter?
For now, the investigation is in the hands of Special Counsel Robert Mueller. He'll head the probe into Russian interference in the 2016 presidential election and whether President Trump's campaign colluded with Moscow, as well as reportedly taking over the probe into Paul Manafort, Trump's former campaign manager.
As new info comes to light, follow our latest coverage here.