Q of the Week: What Food Would You Request From the White House Chef?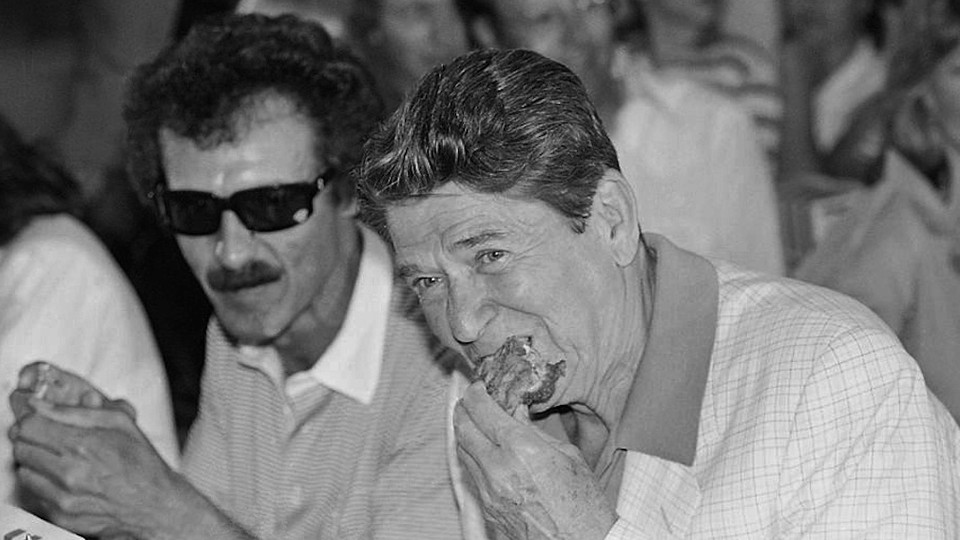 Editor's Note:
This article previously appeared in a different format as part of The Atlantic's Notes section, retired in 2021.
June is "National Soul Food Month." The cuisine, writes soul-food historian Adrian Miller, "has long been the foundation for home cooking in the White House." President Ronald Reagan was a big fan of fried chicken, President John Tyler apparently used to serve hog jowl and turnip greens to his friends, and former First Lady Michelle Obama planted soul-food greens in the White House garden to eat for most of the year. We asked our Politics & Policy Daily readers what dish—soul food or otherwise—they would request from the White House chef.
Donna Brazile, a political analyst and former interim chair of the Democratic National Committee, has a tasty menu already planned out for her hypothetical stint in the West Wing. She'd request "neck bones and gravy with green peas and a side salad. Fried catfish with potato salad. Smothered pork chops with collard greens and corn bread."
As president, David Deufel would take a somewhat spicier route, with a meal he calls "healthy, exotic, and digestible":
Basil-pesto stir-fried chicken with cabbage, carrots and Korean broccoli preceded by a spicy red pepper hummus covered by an Indian curry sauce. Sautéed brussels sprouts and cabbage on the side … Add a tomato bisque soup if necessary. Take the plunge!
Howard Cohen says he'd hope to have two "staples of 'Jew Food'" while in office: matzo ball soup and corned beef sandwiches. He could make his own soup, but he'd have the chef whip up the sandwich:
Corned beef on rye: top quality brisket, sliced thin, juicy and mouth-watering; mustard (yellow not brown); kosher dill pickle; side of fruit; fries.

And if the quality is not good, I'd have Art's Deli Fed-Exed to the White House.
Katharine Moore is daydreaming about dinner and a show:
Sweet tea, pecan pie, and homemade wine … so I could have the Zac Brown Band serenade my guests in the State Dining Room. Pablo Casals was just the right man for the Kennedy administration, but crazy times call for a fiddle, not a cello.
Several readers wrote in to say they'd regularly order a hearty "slice of humble pie" to stay grounded while in office—and a few recommended President Trump try some, too.
But in order "to feel like a real human being" while living in the confines of the White House, Bill Yard would follow this wonderfully elaborate scheme:
Just as the sun was coming up, I would join the chef in the White House kitchen to bake some fresh cornbread. I'd use my own recipe—it's richer than most, with brown sugar replacing half of the white sugar as well as extra eggs and butter. We'd bake a lot of it, and then—as soon as it was cool enough to handle—cut it into large pieces, wrap them in plastic wrap, and fill a couple shopping bags with them.

I'd then don a disguise—no one would recognize me as the president—and head out into the Washington morning and approach people on the street and hand them a piece of fresh, warm cornbread to start their day. When I ran out of cornbread I'd head back home.

Except for the chef and maybe a couple Secret Service guys who would insist on tagging along, no one would be the wiser, and I ain't tellin'.