Q of the Week: How Would You Celebrate Independence Day as President?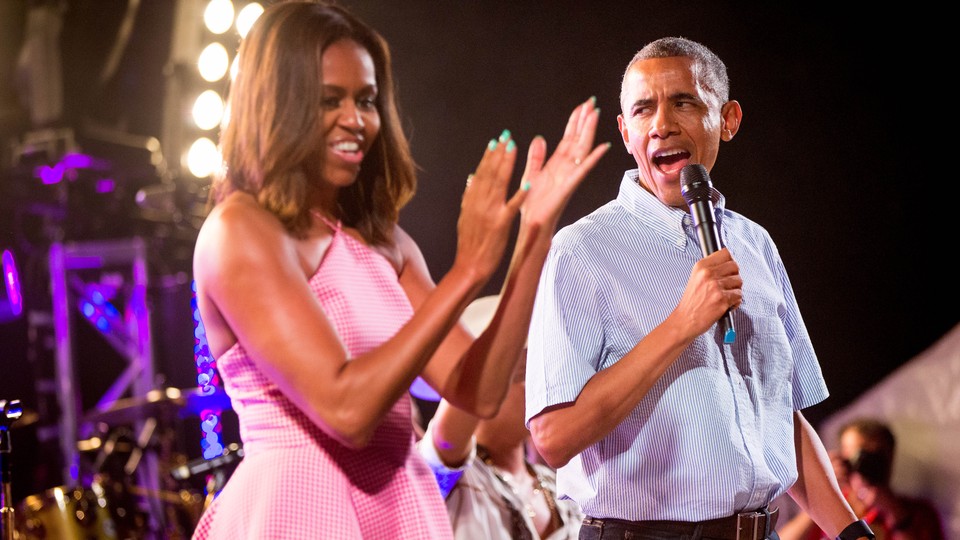 Editor's Note:
This article previously appeared in a different format as part of The Atlantic's Notes section, retired in 2021.
On July 4, 2008, former President George W. Bush presided over a naturalization ceremony at Thomas Jefferson's Monticello plantation in Virginia. Eight years later, former President Barack Obama gave a speech honoring military families after a performance by artists Kendrick Lamar and Janelle Monáe. Independence Day 2017 is coming up on Tuesday—so this week, we asked our Politics & Policy Daily readers how they would celebrate the holiday if they were president. Here's what they said.
Alex Taylor would take a page out of Bush's book with a "naturalization ceremony for citizens with an emphasis on military members and their families at an appropriate national park." For Alex, that would be somewhere like Liberty Island or the Grand Canyon—and everyone would be welcome to attend, with cake and ice cream to follow.
Mary Lung would take the holiday overseas, to U.S. troops serving abroad:
I would spend the entire weekend visiting the forgotten military serving in dangerous areas and treat them to grilled favorites and delicious pies and desserts and sit down and eat with them.  If possible, I'd bring some entertainers with me to let them know they are not forgotten.  
Joe Bookman would throw a history party of sorts, and ask a group of historians like David McCullough and Doris Kearns-Goodwin to speak about what—and who—has made American great.
In that vein, Maria Ayala would hold a ceremony celebrating "American Indians, Mexican Americans (the original owners of the Southwest), and African Americans for contributing lives, sweat, and tears that sent this country forward"—taking a solemn moment to recognize that slavery helped to build the U.S.
Beth Anderson offered an interesting suggestion (and echoed Alex and Mary's commitment to dessert). As president, she'd declare July 4 a national voting holiday:
Every four years it should be a mandatory day off to vote for the next president. Free ice-cream cone after exiting polling booth.
Mary Anne Roll would start with a boat ride to Ellis Island, followed by a matinee performance of Hamilton, and conclude the evening with a trip to Boston for fireworks and a Pops performance.
Dirk Bloemendaal would also bring on the Boston-based orchestra, and go heavy on the pomp and circumstance:
I'd want to direct the Boston Pops on the Mall in the 1812 Overture, with 13 Army howitzers firing at performance's end.
But Dave Williford would refer to a quote from poet Erma Bombeck:
You have to love a nation that celebrates its independence every July 4, not with a parade of guns, tanks, and soldiers who file by the White House in a show of strength and muscle, but with family picnics where kids throw Frisbees, the potato salad gets iffy, and the flies die from happiness. You may think you have overeaten, but it is patriotism.
"I really don't think this style of celebration can be improved upon," Dave said.
Want to see your answer on this page? Sign up for the Politics & Policy Daily here.