Planned Parenthood to Senate Republicans: 'Don't Take Our Stuff!'
Demonstrators marched on the Capitol to protest a provision in the chamber's health-care bill that would defund the organization.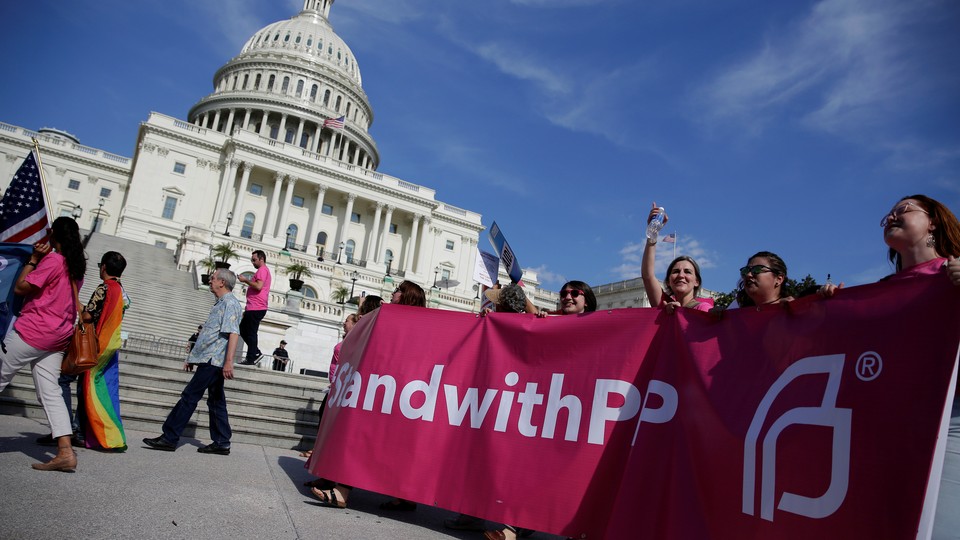 Sarah Stevens, a lactation consultant from Anchorage, Alaska, traveled all the way to Washington, D.C., this week to speak to her senator, Lisa Murkowski—one of the few Republican holdouts on the party's health-care overhaul. Shortly after she explained to Murkowski why she'd made the trek, she told me why, too.
Starting at age 15 and into her late 20s, Stevens said, she received all of her primary care at Planned Parenthood. "I was in an abusive relationship, and I didn't have a relationship with my parents where I could go to them," said Stevens, who brought her 14-year-old son on the trip. "I had a job and had my own money, so I went to Planned Parenthood for sliding-scale care," referring to the organization's system of charging patients based on income and household size.
Now, Stevens said she's worried about what could happen to those patients if the plan Murkowski is weighing becomes law. "It's important to realize that everyone who is dependent on Planned Parenthood for services is a human being," she said.
Senate Republicans' health-care bill, drafted in secret and without Democratic input, contains a provision that would prevent Planned Parenthood from receiving Medicaid reimbursement for its services for one year. The Congressional Budget Office projects the change would cut federal spending by millions, but would reduce reproductive health-care access, particularly for people living in rural areas, and increase births by several thousand.
On Wednesday evening, Stevens was one of the roughly 1,500 Planned Parenthood patients, supporters, and activists who marched in protest of the bill around the Capitol building and held a rally on its sunny front lawn. "Our objective is to keep the pressure on," said Graeme Joeck, the federal campaign director at Planned Parenthood Action Fund, explaining why his group staged the demonstration. "Because it appears to be working."
The repeal bill's success will hinge on a few key items, not least of which is the defunding of Planned Parenthood. This week, a vote on the bill was postponed after several Senate Republicans announced their opposition. One sticking point? The CBO analysis found the bill would lead to some 22 million more people uninsured by 2026. Majority Leader Mitch McConnell may be able to whip votes by reducing that number. But two senators seen as crucial to the bill's passage oppose it, in part, because of Planned Parenthood. Murkowski of Alaska and Susan Collins of Maine, both moderates, have long opposed efforts to cut Planned Parenthood's funding, and are currently drafting an amendment that would strip the provision from the bill.
The organization, like other family-planning entities, receives money through reimbursements under the Medicaid program. No federal dollars are currently spent on abortions—in keeping with the Hyde Amendment, which was first passed in 1976 and remains law—but pro-life advocates argue that funding Planned Parenthood frees up money to be used for abortions. For pro-life Republicans, defunding the organization is a necessary part of their retooling of American health care.
Twenty-seven-year-old Silvia Avila came from Phoenix, Arizona, to spend the week protesting the Republican proposal. Avila has suffered from arthritis for most of her life, and getting pregnant would interfere with her treatment. She didn't have health insurance when she was advised to go on birth control, and at Planned Parenthood, she could get contraception free of charge.
"A lot of people don't want to share their story, because it's pretty private," Avila said. "Maybe it's something I shouldn't have to do, but because of [this bill], it's kind of something we have to do."
The sun blazed down on the protesters as they set off on their march, snaking around the Capitol building. A gaggle of workers from the visitors center gave them a thumbs-up as they passed. One woman kept time with a homemade bucket drum, chanting "An injury to one is an injury to all!" Protesters wearing head-to-toe pink passed out fuchsia Planned Parenthood stickers to every member of a tour group from India. ("This is a good thing!" a man in the group said to me, watching the march).
Toward the back of the long line, I met 86-year-old Ruth Zalph. She was walking slowly, wearing a magenta straw hat and matching sunglasses that sat crookedly on top of her actual glasses. "It's immoral," Zalph said of the GOP bill. "This is a struggle now, and it was a struggle 40 years ago. When do our leaders grow up?"
Zalph, a retiree from Chapel Hill, North Carolina, is a member of the Raging Grannies, an activist group for senior women that advocates for reproductive health care, among other issues, through song and dance.
She pulled a laminated sheet of paper out of her bag to show me song lyrics set to the tune of "Battle Hymn of the Republic." "NO more dying in back alleys," the chorus went, with certain syllables capitalized for emphasis. "WE'LL keep raging in these rallies. UnTIL we stop these crazy schemes against Planned Parenthood. We RAGE for women's lives."
"Maybe I'll sing it later," Zalph said, smiling.
At the rally, though, there would be more chanting than singing. Current and former Planned Parenthood patients, like Avila, shared their stories from a small stage on the Capitol's front lawn, before yielding the mic to headliners like Democratic Senators Chuck Schumer, Cory Booker, and Kamala Harris, who riled up the crowd.
If he can, McConnell hopes to send a revised version of the health-care bill to the CBO by Friday to get a new score, and to give his Republican colleagues something new to consider over the break. Planned Parenthood supporters have a message for lawmakers to consider, too—one Harris and others shouted Wednesday night: "Don't take our stuff!"