Mueller's Investigation Goes Wide
The special counsel takes over a criminal probe into Paul Manafort's Ukrainian business dealings, broadening his original scope.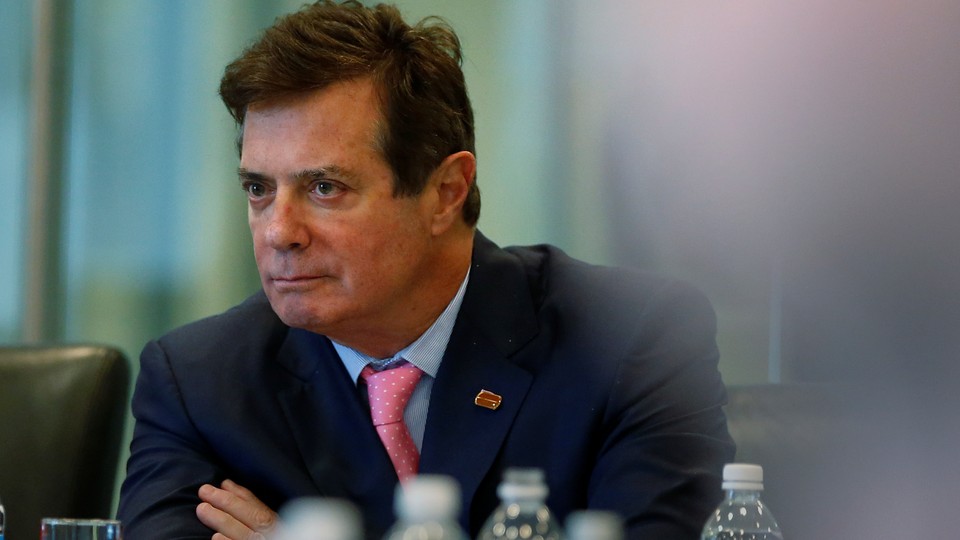 Special Counsel Robert Mueller is casting a wide net in his investigation into Russian interference in the 2016 presidential election and whether President Trump's campaign colluded with Moscow.
The Associated Press reported Friday that the former FBI director's inquiry will absorb a federal criminal investigation into Paul Manafort, the taciturn political operative who led Trump's campaign last summer. Manafort resigned in August amid media reports about his previous work with former Ukrainian President Viktor Yanukovych and other Kremlin-aligned parties in the country. He was succeeded by former Breitbart publisher Steve Bannon, who now serves as Trump's chief strategist in the White House.
Manafort is under scrutiny as part of the sprawling federal investigation into Russian electoral interference, which began last July. But the AP reported Trump's former campaign chairman has been under investigation by the Justice Department since the collapse of Yanukovych's presidency during the Euromaidan protests in 2014. Manafort has not registered as a lobbyist for foreign interests, as might have been required by federal law.
The report follows similar accounts earlier on Friday that Mueller had also taken charge of an ongoing federal grand-jury investigation into Michael Flynn, a retired lieutenant general who briefly served as Trump's national-security adviser. Trump fired Flynn in February after media reports revealed Flynn had lied to Vice President Mike Pence and top White House officials about his phone calls with Russian ambassador Sergey Kislyak in December.
According to Reuters, the federal grand-jury investigation in eastern Virginia is probing Flynn's lobbying work on behalf of Turkish businessmen. Federal prosecutors have issued subpoenas in the case in recent months, suggesting the investigation is beyond its preliminary stages. Flynn formally registered as a lobbyist for foreign interests after his departure from the Trump administration. Flynn, Manafort, and Trump have denied any wrongdoing in the sprawling Russia investigation and related cases; Trump himself described the probe as a "witch hunt" in May.
That "witch hunt" took a new form in May when Deputy Attorney General Rod Rosenstein appointed Mueller as special counsel to lead it. His choice came two weeks after President Trump suddenly fired former FBI Director James Comey, who had been overseeing the intensifying Russia investigation. The White House initially claimed Trump had acted on the Justice Department's recommendation, only to be contradicted by Trump himself in a NBC interview the following day.
In the days that followed Comey's ouster, reports surfaced that Comey had kept memos detailing conversations in February in which Trump asked him to halt the investigation into Flynn. U.S. officials also leaked an Oval Office conversation between Trump and top Russian diplomats the day after Comey's firing in which Trump reportedly said the dismissal would relieve pressure on him from the Russia investigation. That raised questions about whether Trump had committed obstruction of justice, a federal crime cited in the articles of impeachment drafted against Richard Nixon and Bill Clinton.
The AP suggested obstruction-of-justice inquiries could become part of the Russia investigation if Mueller chooses to pursue them. In an interview with AP reporters, Rosenstein said he would recuse himself if Mueller took that path, citing his role in Comey's ouster. "I've talked with Director Mueller about this," Rosenstein told the news organizations. "He's going to make the appropriate decisions, and if anything that I did winds up being relevant to his investigation then, as Director Mueller and I discussed, if there's a need from me to recuse I will."
Absorbing the Flynn and Manafort investigations gives Mueller both practical and strategic advantages. While neither probe may directly relate to the core Russia inquiry, Mueller's oversight of them avoids any complications that might arise from having two separate Justice Department investigations of the same person. If either of those inquiries results in criminal charges, Mueller would also be positioned to use the threat of prosecution as leverage against both men to extract testimony on Russia. Flynn previously offered to testify before Congress and the FBI in exchange for immunity, suggesting he could be interested in making a deal.
That could bode ill politically for President Trump, who is struggling to regain control over his presidency's trajectory as the Russia investigation consumes more attention in Washington. The capital's fixation will likely intensify next week when Comey testifies before the Senate Intelligence Committee in an open hearing on June 8—the former FBI director's first public remarks since his dramatic ouster last month.