Handel Defeats Ossoff in Georgia's Special Election
The GOP notched victories in Georgia and South Carolina races to fill House seats vacated by Republicans tapped to serve in President Trump's administration.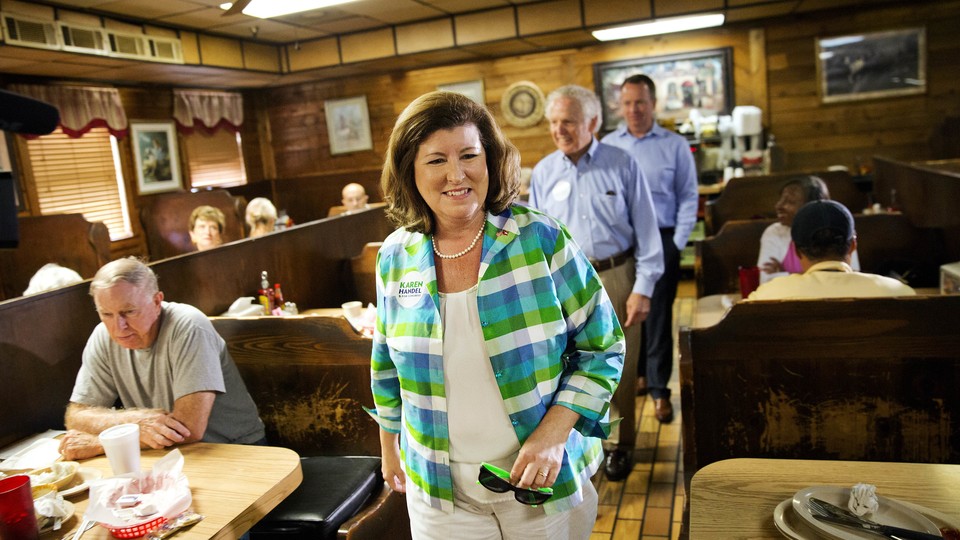 Georgia Special Election Results:
South Carolina Special Election Results:
In a major blow to Democrats, Republican Karen Handel defeated Democratic rival Jon Ossoff on Tuesday in Georgia's closely-watched sixth district congressional special election.
CNN projected that Handel had won the race just after 10 p.m. ET. Decision Desk HQ projected earlier in the evening that the Republican candidate would be the winner.
Georgia's sixth district has been a conservative stronghold for over a decade, having previously been represented in the House of Representatives by Republican Tom Price, who now serves as President Trump's Health and Human Services Secretary. Trump fared worse in the district than Mitt Romney in 2012, however, creating an opportunity that Democrats hoped to exploit to send a message that backlash to the president could propel the party to victory in conservative parts of the country.
In a sign of how much Democrats and Republicans alike wanted to win, money poured into the Georgia special election at a rapid clip, earning it the distinction of the most expensive House race in history.
The GOP notched a second victory on Tuesday evening in a South Carolina special election to replace former Republican Representative Mick Mulvaney, who vacated his House seat to serve as director of the Office of Management and Budget. South Carolina's race largely flew under the radar and was not expected to be as competitive as the Georgia election. While Republican Ralph Norman defeated Democrat Archie Parnell, however, the final vote count was closer than anticipated. Decision Desk HQ projected that Norman would win shortly after 9 p.m. ET.
Tuesday night's Republican victories extend the GOP's winning streak in high-profile congressional special elections to replace Republicans who have left Congress to serve in the Trump administration after Democrats lost recent special elections in Montana and Kansas.
The outcome of any single special election isn't a reliable predictor of what will happen in the upcoming 2018 midterm elections, but Republican victories in Tuesday's special elections could still have a significant, and even immediate, national impact.
Georgia's sixth district, which is affluent, suburban, and well-educated, is the kind of district Democrats are hoping to win back from Republicans in their bid to regain control of the House in the 2018 midterms. The fact that Handel prevailed could restore confidence to any congressional Republican anxious about holding onto their own seats, and make it easier for GOP leaders to avoid defections as they try to pass legislation to dismantle the Affordable Care Act.
It could also shore up Republican efforts to fundraise, recruit and retain high-quality candidates in the run-up to the midterms if GOP hopefuls, and incumbents, take the result as a sign that the national political climate is not particularly hostile to their party, despite an energized and emboldened Democratic electorate.
Election analysts have warned against reading too much into the Georgia results. "An Ossoff win would not by itself mean a Democratic wave is coming, nor would a Handel win mean that Democrats will come up short in 2018," Kyle Kondik of the University of Virginia's Center for Politics wrote ahead of the race.
A string of defeats for Democrats may prove demoralizing for the party, however, which is trying to find a path back to power after losing the White House in 2016.