The Governor's Race on Track to Give Democrats a Decisive Victory
An under-the-radar election in New Jersey could put the party in a position to enact a progressive agenda statewide.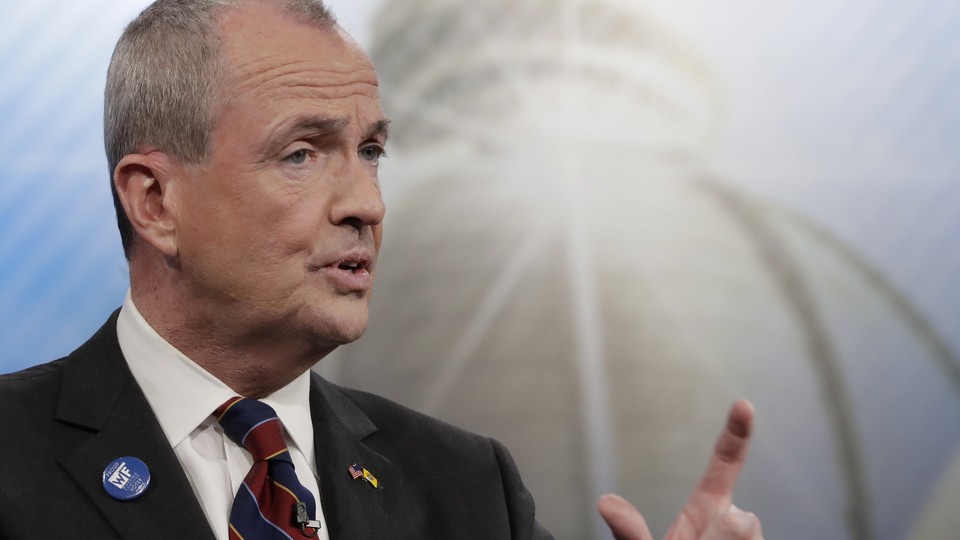 While Democrats and Republicans have closely watched special elections in Kansas, Montana, and Georgia for signs of a liberal backlash in the Trump era, a governor's race in New Jersey on track to give Democrats a decisive victory has flown largely under the radar.
New Jersey voters head to the polls on Tuesday in the primary election for the race to determine a successor to the state's Republican Governor Chris Christie, who recently earned the unfortunate distinction of "America's most unpopular governor," according to a Morning Consult poll in April. Dissatisfaction with Christie's time in office, which has been marred by scandal in a state where Democrats dominate the legislature and the governor's mansion routinely switches back-and-forth from Republican to Democratic control, is expected to deliver Democrats a win in November's general election.
A Democratic victory in the New Jersey governor's race would pave the way for the party to enact a progressive agenda statewide with few obstacles apart from a state financial shortfall so dire that one former governor once called it "beyond comprehension," and the potential for party in-fighting since Democrats are expected to retain control of the legislature.
"Democrats fully expect to win in November, and I think are looking forward to being able to resolve certain state issues that have reached a stalemate because of Christie's opposition," said Ben Dworkin, the director of the Rebovich Institute for New Jersey Politics at Rider University.
Tax increases, marijuana legalization, and investment in health care, education, and environmental protection are all potential agenda items a Democratic legislature might take up—and a Democratic governor might approve.
Polling suggests that the Democratic front-runner, Phil Murphy, is on track to win in November: A Quinnipiac poll from May found Murphy leading Republican front-runner Kim Guadagno by a wide margin of 50 to 25 percent in a general election match-up. Polls have showed Murphy with a double-digit lead over Democratic rivals Jim Johnson and John Wisniewski.
The prospect of Democratic success in New Jersey governor's race hasn't completely escaped national notice. In late May, former Vice President Joe Biden called the election "the single most important race in the country in the next three years, before the presidential race," while campaigning with Murphy. Earlier in the month, The New Republic's Graham Vyse similarly labeled the election "this year's most important race for Democrats," writing: "If Murphy wins, he would be able to enact his agenda immediately, as Democrats control the state legislature"
Despite that, the race has so far received less media coverage nationally than recent special elections, whose outcome would not significantly change the balance of power in Congress. Even in New Jersey, voters seem to be paying little attention to the race. A reporter with NJ.com spoke to voters in Newark, New Jersey on Monday and found many didn't know the primary election was the next day. "I had no idea," one woman said.
There are a number of likely explanations for that. Tuesday's election is only a primary race so there's less at stake than there will be in the general election. Expensive media markets may have made it difficult for some candidates to boost their name recognition. It's also possible that voters may be distracted by the steady stream of national news coming out of Washington.
"It seems like people are pre-occupied and somewhat exhausted by everything that's happening in national politics," said John Weingart, the associate director of the Eagleton Institute of Politics at Rutgers University. "Normally in New Jersey the governor's race is the subject of intense discussion among people who pay attention to politics for months leading up to it, but I think one of the reasons that's not happening is because first, the 2016 campaign and then the first months of the Trump administration have sucked up all the oxygen."
Low turnout isn't unusual for New Jersey governor primary races. And that's expected to be the case again in Tuesday's primary. Voters may also have waited until late in the race to make up their mind. A poll released at the end of May found that roughly a third of all voters remained undecided as to which candidate will get their vote.
Democrats at the national level are hoping that the Trump administration's low approval ratings will prove motivating to liberal voters in races across the United States. That may still prove to be the case in New Jersey's general election, but projections for low turnout in the primary, and talk of political exhaustion in the state, raise the possibility that Democratic voter dissatisfaction with Republican control of government, whether in Washington or at the state level, may lead to apathy as much as enthusiasm.
"In the New Jersey primary, what you see is that just because people are fed up with politics or an administration in power that doesn't necessarily mean people will show up in droves to vote," said Brandon Finnigan, the director of the non-partisan election site Decision Desk HQ. "You can't count on anger and hatred alone to deliver voters."
No matter how low the turnout for the primary, however, the candidate who wins the Democratic nomination is heavily favored to win the general election.
Murphy, the Democrat expected to win both Tuesday's primary and the November general election, is a former Goldman Sachs executive and served as the ambassador to Germany under the Obama administration. He has never never held elective office, spent millions of dollars of his own money to help finance his campaign, and won endorsements from Democratic officials in every county in New Jersey.
Jim Johnson, a Democratic candidate who has trailed Murphy in polling, has invoked Bernie Sanders in his messaging, releasing one ad that starts with a clip showing Sanders himself saying "Goldman Sachs was one of those companies whose illegal activity helped destroy our economy." A narrator's voice then intones: "As a Goldman Sachs president, Phil Murphy made his fortune in a rigged system. Now the Jersey machine has lined up with Murphy and his millions."
It would be reductive to frame the Democratic primary race as a proxy war that breaks down entirely along a Hillary Clinton-Sanders axis, however. Murphy has embraced some progressive agenda items, including a $15 an hour minimum wage, and he has won the endorsement of the progressive group New Jersey Working Families and Communications Workers of America, a union that backed Sanders during his primary run.
"I'll admit that it's unusual that a former Goldman Sachs executive has some of the most progressive ideas in the race," said Analilia Mejia, the director of New Jersey Working Families, pointing to Murphy's proposal for a New Jersey public bank as one of the key reasons he won her group's endorsement. "But he really earned our support by having a progressive platform," she said.
Some progressives in New Jersey remain skeptical, however, and believe that Murphy's front-runner status may be partly responsible for voter apathy in the primary election.
"It's hard to get excited about someone who seems like the same old, same old, someone who is a multi-millionaire and says he wants to be the leader of the working class," said Elizabeth Meyer, the lead organizer of the Women's March on New Jersey and a Jim Johnson supporter. "I get the feeling that the Democratic Party is no longer the party of the people. It just feels like we have establishment candidates who are selected by party bosses who sort of walk right into the office."
Whatever the differences between the Democratic candidates, however, the outcome of the New Jersey governor's race could prove to be a substantial victory for the party if a Democratic governor wins and goes on to enact liberal policy that might not have been possible under the prior leadership of a Republican governor.