Why Mueller Is Taking Over the Michael Flynn Grand Jury
The special counsel is consolidating his control of existing investigations—and may gain leverage over the former national-security adviser in the process.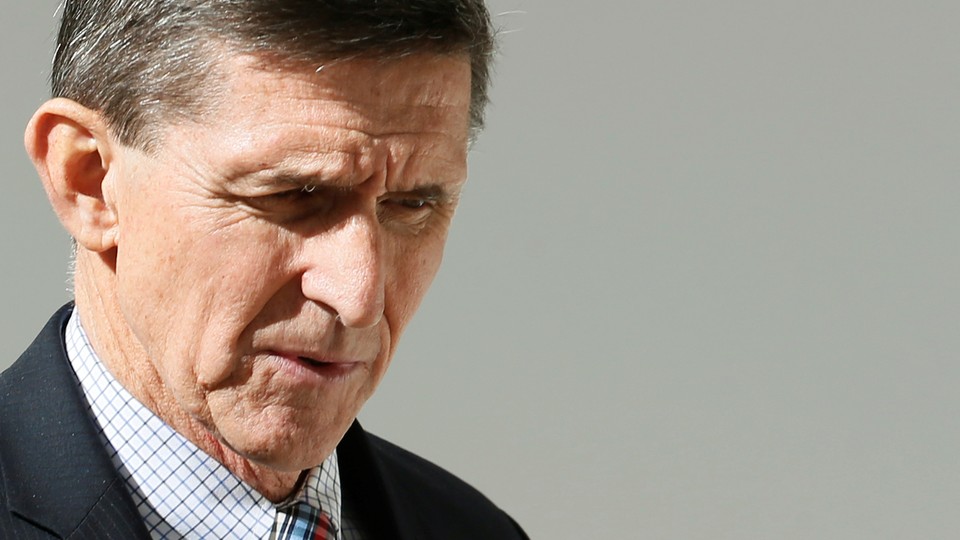 Special Counsel Robert Mueller is reportedly taking command of the federal probe into former National Security Adviser Michael Flynn's Turkish lobbying deals, a move that could give him leverage over a central figure in the broader Russia investigation.
Reuters reported Friday that Mueller will now oversee an ongoing federal grand-jury investigation in eastern Virginia into Flynn's relationship with Turkish businessman Ekim Alpetkin. According to Reuters, Alpetkin's company Inovo paid Flynn's lobbying firm $530,000 during the fall of 2016 to research and film a documentary about exiled Turkish cleric Fethullah Gulen, a political foe of Turkish President Recep Tayyip Erdogan who lives in Pennsylvania.
Taking over the investigation would give Mueller broad authority over its direction and outcome. The Turkish-lobbying probe is believed to be the most advanced of the inquiries looking into President Trump's inner circle. Federal prosecutors conducting the investigation reportedly empaneled a grand jury some time after the president's inauguration in January and have issued subpoenas targeting Flynn's business records and those held by his associates.
Overseeing the investigation could also give Mueller a valuable bargaining chip with Flynn in the broader federal probe into Russian interference in the 2016 presidential election. Flynn, a retired lieutenant general, was one of Trump's closest aides during the presidential campaign, culminating in his brief tenure as national-security adviser. That proximity to the president placed him at key moments of interest to investigators. One of them is an early December meeting with Jared Kushner, the president's son-in-law, and Russian ambassador Sergey Kislyak in which Kushner reportedly asked Kislyak about using Russian diplomatic facilities to communicate with Moscow.
If the Turkish-lobbying investigation advances far enough to bring criminal charges, Mueller could use the threat of prosecution as leverage to persuade Flynn to testify against others. Flynn himself has raised the possibility of cutting a deal with investigators: In March, he requested immunity from the FBI and Congress in exchange for his testimony. Flynn's lawyer cryptically said at the time that his client "certainly has a story to tell." (Neither Congress nor the FBI has granted his request so far.)
Mueller's investigation is separate from the congressional inquiries into Russian interference and the Trump campaign. The Senate Intelligence Committee also focused its attention on Flynn in recent weeks, issuing a rare subpoena last month for Russia-related documents in his possession. Flynn initially refused to comply, invoking his Fifth Amendment right against compelled testimony that could be used to prosecute him. The committee then subpoenaed his businesses instead to bypass the Fifth Amendment.
Flynn's legal troubles could also extend beyond the Russia investigation and the Turkish-lobbying probe. Maryland Representative Elijah Cummings, the ranking Democratic member of the House Oversight Committee, suggested Flynn may have broken federal law by not disclosing his payments from a Kremlin-funded media outlet during a routine background-check interview to renew his security clearance last year. Cummings cited a Defense Department document in which Flynn told his interviewers he'd received no foreign payments. It's unclear whether federal prosecutors are currently investigating him on those grounds.
Mueller's reported move comes two weeks after Deputy Attorney General Rod Rosenstein appointed him as special counsel on May 17. The selection capped a tumultuous fortnight that began with Trump's sudden ouster of former FBI Director James Comey two weeks earlier. Shortly after the dismissal, the New York Times reported Comey had drafted memos of conversations with Trump in which the president urged the director to halt the Flynn investigation. Multiple news outlets also reported Trump told top Russian officials in the Oval Office that firing Comey would relieve pressure on him in relation to the Russia investigation.
Those reports, as well as Trump's public remarks saying he would have fired Comey regardless of the Justice Department's recommendations, raised the specter of obstruction of justice allegations against the president. An investigation on that front would also fall under Mueller's broad jurisdiction, but it's not clear whether the former FBI director is pursuing that aspect of the probe. Either way, the issue will be central to Comey's highly-anticipated testimony on June 8 before the Senate Intelligence Committee in what will be his first public appearance since the ouster.
Comey, who succeeded Mueller as the FBI's chief in 2013, reportedly met with him earlier this week in preparation for the committee hearing to ensure his testimony would not interfere with Mueller's inquiry. That hearing could be the public's first chance to hear from the ousted FBI director on whether the president tried to undermine a growing criminal investigation into one of his closest advisers.