Marie Tillman: Fear-Driven Politics Damages American Democracy
On patriotism, the travel ban, and her late husband Pat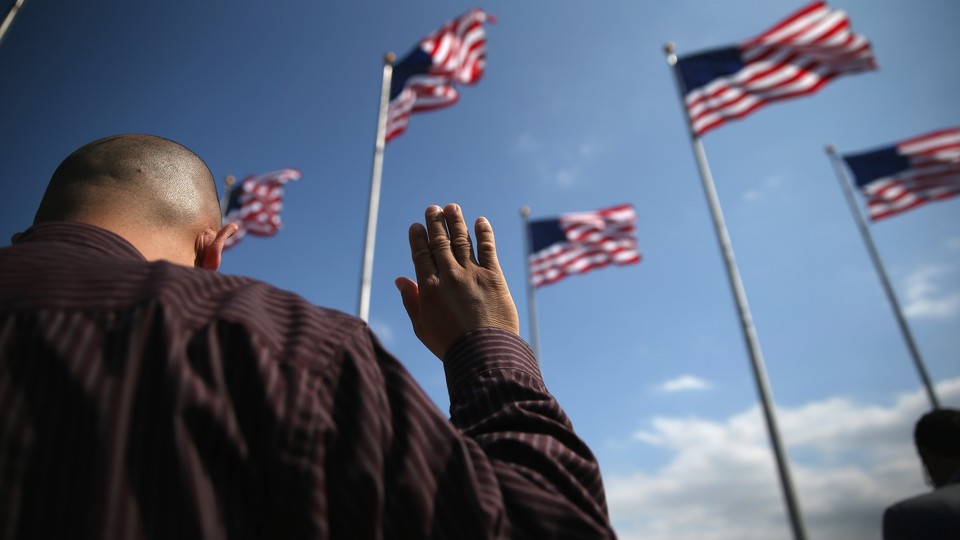 Since November's election, I've thought often of my late husband Pat Tillman, who in an act of patriotism walked away from an NFL contract to join the Army after September 11. Pat's loyalty to American ideals did not mean that he was unquestioning of his country, and his willingness to challenge the status quo makes me wonder what he'd say about it and its leaders today. What would he make of the political divisions splitting Americans apart, and what would he say could mend them?
While I can't speak for Pat or how exactly he'd feel, I can speak to the life I lived alongside him. It was in the quiet night hours of the attacks' aftermath in 2001 that Pat initially mentioned joining the military. At the time, we were young and in love, and we had an idyllic life. It would have been easy to keep on a path of sunshine, roaring stadium crowds, family, and beach vacations. Or to be complacent and cynical about how he could help, or let the fear of harm win and do nothing.
But Pat made a different choice. He was about action and service, and not letting fear get in the way of either; and he was young, healthy, and strong. For those reasons, he couldn't sit on the sidelines when he felt his country was in need. Pat's decision had everything to do with the principles the United States stands for: freedom, justice, and democracy. He went to war even though he disagreed personally with the campaign in Iraq, and made clear that he didn't want his celebrity to make him a poster boy for the conflict. Pat once explained that because he loved his country, he felt he must question it.
A similar impulse motivates me now as I witness the present vitriol and divisiveness in America, just as it did when I spoke out against President Trump's travel ban earlier this year. I said that his directive, which prohibited travel from several majority-Muslim nations, doesn't reflect the values Pat died for or those of his namesake foundation. Established by those of us closest to Pat after he died in Afghanistan in 2004, the Pat Tillman Foundation recognizes and helps other patriots who stood up when it was much easier not to.
I've been thinking about one of them a lot lately, too: a Marine and Tillman Scholar named Adrian Kinsella, who the foundation helped put through law school and whose story is a lesson for the current moment. While serving in Afghanistan, he grew close with an interpreter named Mohammed. When his tour was over, Adrian found he could not sit comfortably at home while Mohammed remained vulnerable to the Taliban because of his work. "I bonded with him because when I was young I could relate to his same background, struggling as a kid and wanting to make a better life for yourself and your family," Adrian said in an interview last year. "Mohammed has a work ethic like that of a Marine."
Adrian sought our help during his more than three-year-long effort to bring his friend to the United States; the Tillman Scholar community wrote letters to Congress on Mohammed's behalf, and some took leadership roles in organizing support efforts. Ultimately Adrian's work paid off: Mohammed arrived in 2014. His family, which was also at risk, arrived months later, following a national campaign that NBC News reported "spanned senators and congressional members, TV comedian John Oliver, plus experts in immigration law, web design, and social media." I'm proud of Adrian, and I'm proud that the foundation's community played a part, however small, in helping him. I can think of no better way to honor Pat, who would have felt the same way about someone like Mohammed as Adrian did.
But their story, like Pat's story, also serves as a reminder that Americans cannot be spectators when it comes to matters of justice. Adrian fought for Mohammed because, he said, "there was really no other choice," and Mohammed risked his life to help a nation that wasn't yet his own. Neither let fear dictate how they treated one another—a lesson the country and its leaders would do well to consider now.
Fear is what keeps people from engaging in dialogue with those who are different and prevents them from recognizing shared humanity. Fear of the unknown is what slams the nation's doors—hard—on those seeking the American dream, whether they are injured veterans hoping to reintegrate into their communities or immigrants searching for opportunity. The reverberations from those impacts can be more long-lasting than they seem, and they put cracks in the foundation of democracy that aren't easily patched up.
When he deployed, Pat left me a "just in case" letter in the event that something happened to him. In it, he asked me to live. As I've written before, part of what he meant is that each life has weight, and he didn't want me to be frivolous with mine. That weight requires people to leave their comfort zones, not take the easy way out, and ask questions that make them uncomfortable. To speak out, regardless of party, if they disagree with the president and his decisions. And it means pushing away cynicism, complacency, and, perhaps most importantly, fear in order to fight for the country they want. As a soldier like Pat would tell you, courage in the face of fear may be the most American thing of all.