The Compounded Pain of Contamination and Dislocation
A month after residents of an East Chicago public housing complex learned they'd been living on dangerously polluted land for decades, they were told they'd have to leave their community.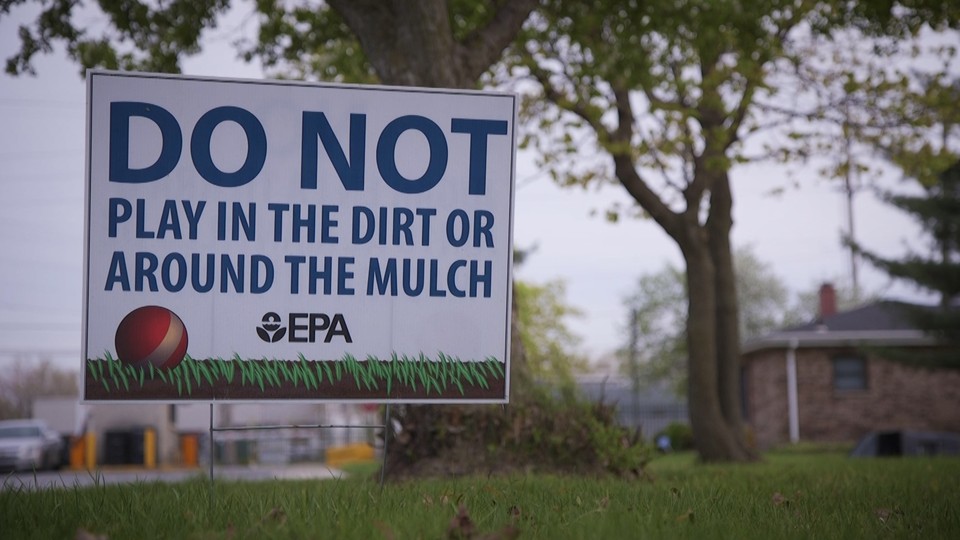 EAST CHICAGO—Until Carmencita Robinson received a letter last July stating that her public housing complex would need to be evacuated due to toxic levels of lead and arsenic in the soil, she'd had no idea she'd been living on contaminated land for nearly a decade.
"I felt betrayed," she said. "They knew that there was lead, and they misled the families that were there because they continuously accepted our rent and gave us no notice of lead."
A month later came the second blow. When Mayor Anthony Copeland learned the extent of the damage, he directed residents to evacuate the West Calumet Complex and announced plans to demolish it. Residents received Section 8 housing vouchers and were told they had 60 days to secure housing.
"I felt like I was just pushed out of some place that I took a lot of pride in," says Robinson, who had planned to grow old in her apartment. "Nobody said, 'We apologize for putting you all through this,' or 'I am sorry that this has to be done that way.' No remorse, no anything. That hurt. I could have lost my life there. My kids could have gotten sicker there. How can you do people like that?"
Robinson was one of thousands of residents of West Calumet whose homes were sitting on top of the USS Lead Superfund Site. But her East Chicago complex is hardly a unique case. Studies dating back decades show waste sites, landfills, and hazardous facilities are disproportionately located in poor and minority neighborhoods. And with continuous slashes to Superfund's budget over the years (it gets $1.1 billion a year, about half of what it did in 1999), cleanups have moved at a glacial pace.
East Chicago fits the pattern. The city is host to dozens of refineries, coal plants, gas storage tanks and other industrial facilities. The majority of its 30,000 residents are black or hispanic, with nearly a third living below the poverty line. "This is a low-income community of color and officials chose to neglect this community, there's no getting around it," said Debbie Chizewer, an attorney at Northwestern University's Environmental Advocacy Clinic representing residents in proceedings with EPA.
The West Calumet Complex was built in 1972, just north of a USS Lead refinery and directly on top of a different demolished lead smelter and an old metal-processing plant that were never properly cleaned up. The Indiana State Department of Health first flagged the site as contaminated in 1985 and forced the USS Lead facility to close. Representative Pete Visclosky asked the EPA to initiate a hazardous waste removal action under the Superfund law, which secures funding from polluters to pay for the cleanup of the most contaminated sites in the country.
Throughout the 1990s and early 2000s, the Indiana Department of Environmental Management, the Indiana Department of Health and EPA conducted lead screenings and soil sampling in the area, slowly gathering alarming evidence of elevated levels of lead and arsenic in children's blood and people's homes. The site was finally added to Superfund's National Priorities List in 2009, joining 1,322 others. Only then did the EPA formulate a plan to secure funding, investigate, and execute remediation, or cleanup, of the site.
"The health department recommended [EPA] do something [throughout those decades], but it didn't and there's no explanation for why," Chizewer said.
The EPA did not fully grasp the magnitude of the contamination at the USS Lead site until it began undertaking more extensive testing, between 2014 and 2016. The data revealed some areas of the site had lead levels as high as 91,000 parts per million of lead in the soil, and 32,000 ppm indoors. The EPA's action-level for cleanup is 400 parts per million of lead in the soil.
Lead ingestion affects IQ, ability to pay attention, and academic achievement, and effects of lead exposure cannot be corrected. "I had to read up on lead and how that affects me and my children," said Robinson, who has three children that grew up in the public housing complex, one of whom has a diagnosed learning disability. "There are just so many things that I look at now that I know that we had lead—I had no clue that it was just that bad."
Those risks are what led the Mayor to decide to evacuate the complex. The housing authority eventually extended the 60-day move-out deadline to April 2017. But for many residents, the dislocation came as an additional trauma, compounding the difficulties they faced.
"On the one hand, it was a decision that potentially prevented residents from being further contaminated," says Chizewer. "On the other hand, it put residents in a situation that may have led to more contamination because they were moving in a rush to other homes that are contaminated with lead or arsenic. Or to homes where there might be gang violence and their children would be at risk."
Robinson was especially concerned about moving away from her doctors—her breast cancer is in remission—and her local school, where her daughter receives services for her special needs. "I didn't look at it like a low-income complex," she said. "I looked at it like home." While Robinson was ultimately able to find a small two-bedroom house nearby, many were not as lucky. Some residents left for places as far-flung as Las Vegas and Houston. Others had trouble finding a place to move, and stayed in the contaminated complex beyond the April deadline.
Demetra Turner's family was among the last remaining. For months she unsuccessfully tried to secure safe housing while working the night shift at a gas station and taking care of her two children. She said she runs on two to three hours of sleep a day, which she squeezes in after picking up her daughter from school, cooking dinner, and looking for apartments.
"I have an account with every apartment website you can think of," Turner said in April. "When I call it's always the same thing: They don't accept Section 8. You know, I want to leave, I don't want to stay here. But the only thing I'm asking is, allow me to find somewhere to go, and allow my kids to finish school."
The city had already begun fencing the place off and turned off the street lights by the time Turner left in early June. The housing authority helped relocate her family to the other side of town, in an area known as the Harbor that she says has a long-standing rivalry with the Calumet neighborhood. She is still looking for permanent housing, and fears for her 18-year-old son's safety.
Meanwhile, the cleanup of the East Chicago site drags on, eight years after it was formally added to the Superfund list, and three decades since Visclosky's initial complaint. EPA Administrator Scott Pruitt recently issued a new directive to prioritize Superfund cleanups and established a Superfund task force. But President Trump's budget proposes to cut the program's funding by 30 percent. Residents of East Chicago and other places home to contaminated sites are skeptical Pruitt's efforts will lead to results.
"When you think about this case and the number of impacted residents and the money that it takes to clean this up and then you look at the possibility of EPA not having funding to do this kind of work at this site or around the country, it's extremely upsetting," Chizewer said. "We would continue to have cases like East Chicago for many decades to come."