Trump's Voter-Fraud Commission Makes Its First Move
The Presidential Advisory Commission on Election Integrity requested voter records from all 50 states, but some officials suspect its real agenda is voter suppression.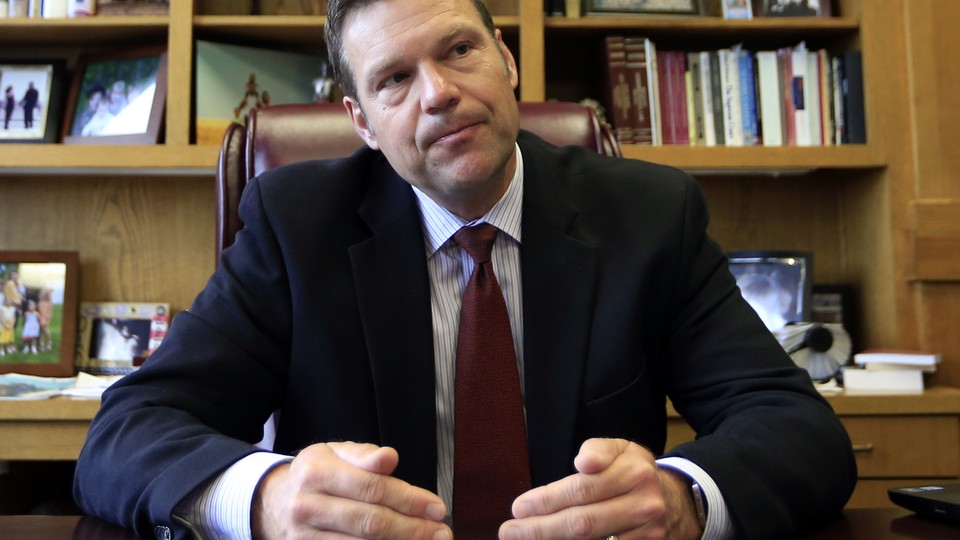 In a week saturated by news of scandals, a contentious health-care debate, and a reinstated travel ban, it's easy for a thing like a potential challenge to millions of voter registrations to perhaps fly under the radar.
That might be the preferred outcome for the Presidential Advisory Commission on Election Integrity and its vice-chairman, Kansas Secretary of State Kris Kobach. On Wednesday, Kobach sent letters to all 50 states inquiring about elections laws and voter-fraud investigations, and requesting all "publicly-available" voter data, including names, addresses, voting history, party affiliation, felony convictions, and Social Security numbers. Ostensibly, those records are necessary "for the Commission to fully analyze vulnerabilities and issues related to voter registration and voting," but some state officials fear they'll be used in coordinating voter suppression.
While the Commission on Election Integrity, chartered in May by executive order, is officially led by Vice President Mike Pence, it's Kobach who appears to be running its operations. And Kobach's record in Kansas suggests his commission will be less about ensuring the integrity of elections, his critics fear, and more about promoting anti-immigrant policies and McCarthy-esque scare tactics.
During his tenure as Kansas's secretary of state, Kobach has almost single-handedly transformed the state's voter registration and electoral laws. He's the only secretary of state in America with the power to personally prosecute voter fraud, and his office has used that power to file hundreds of allegations, voter challenges, and court proceedings against immigrants. Its efforts have produced only one conviction of a noncitizen voter for election fraud. His 2011 Secure and Fair Elections Act imposing more stringent voter-identification requirements has the stated intent of cracking down on noncitizen voting, but multiple lawsuits have claimed that it unfairly suppresses minority votes, and violates the Voting Rights Act.
At least five states—including Connecticut, California, Kentucky, Virginia, and Massachusetts—have partially or completely rejected Kobach's request, citing what appears to be both a clear motive and a clear mechanism for voter suppression. Connecticut Secretary of State Denise Merrill cited Kobach's "lengthy record of illegally disenfranchising eligible voters in Kansas" as a reason for only turning over some of the requested data. California Secretary of State Alex Padilla said in a statement Thursday that "California's participation would only serve to legitimize the false and already debunked claims of massive voter fraud made by the President, the Vice President, and Mr. Kobach."
Although a national repository of voter data would be useful in helping fight the widespread voter fraud Kobach and the Trump administration cite, most serious analyses have found scant evidence for such claims. Kobach cites the possibility of "false positives" as a reason for collecting sensitive data like Social Security numbers—suggesting he wishes to use the additional details to avoid misidentifying legally registered voters as ineligible. His record in Kansas has led critics to doubt the sincerity of that claim.
Although some other states might join the five now resisting the commission's data request, it's likely that most states will honor his request. Along with Virginia's denial from Democratic Governor Terry McAuliffe, the four other state officials to come out against Kobach are Democratic secretaries of state. But most secretaries of state and bodies in charge of elections data are Republican, and many have issued their own restrictive voter rules in the post-Shelby County v. Holder voting rights landscape and are in favor of the commission's work. It's also worth noting that much of the data Kobach requested can be and often is distributed to the public on a state-by-state basis.
So Kobach will likely have most of the data he wants. And armed with those records, although the Commission on Election Integrity has little direct influence over policy and none over state elections laws, it could still immediately become one of the most powerful electoral influences in the country. The commission could create lists of voters to target and challenge, coordinate disparate anti-immigrant voter practices across the country, or propagate voter-ID laws in Republican state legislatures. That last prospect seems almost inevitable after President Trump named former Federal Election Commission member Hans von Spakovsky to the Commission on Election Integrity on Thursday. Von Spakovsky is one of the intellectual godfathers of the modern push for voter ID and of the myth of voter fraud, and pioneered many of the voter-suppression tactics in use today.
Kobach's commission may be concerned with more than fraudulent voters. A June profile in the New York Times Magazine details the Kansan's history of concern about "the fate of America's white majority" and his efforts to stem the demographic and electoral effects of immigration. Von Spakovsky, now his lieutenant in the commission, cut his teeth railing against the National Voter Registration Act of 1993, also known as "motor-voter," which required states to offer voter registration to citizens renewing driver's licenses. That law has helped black people affected by the long history of disenfranchisement and unequal access to voter registration, and it has long been a contentious policy in the corners of the old Jim Crow South.
With that brain trust, and soon with a trove of voter data, Kobach's commission will be equipped to begin one of the most comprehensive and coordinated voter-suppression efforts in recent history. This one will be operated directly under the authority and directive of the White House, and imbued with its national legitimacy.