Trump's Immigration Allies Are Growing Frustrated With Him
The president was supposed to be their champion, but he's failed to act on some of his key campaign promises.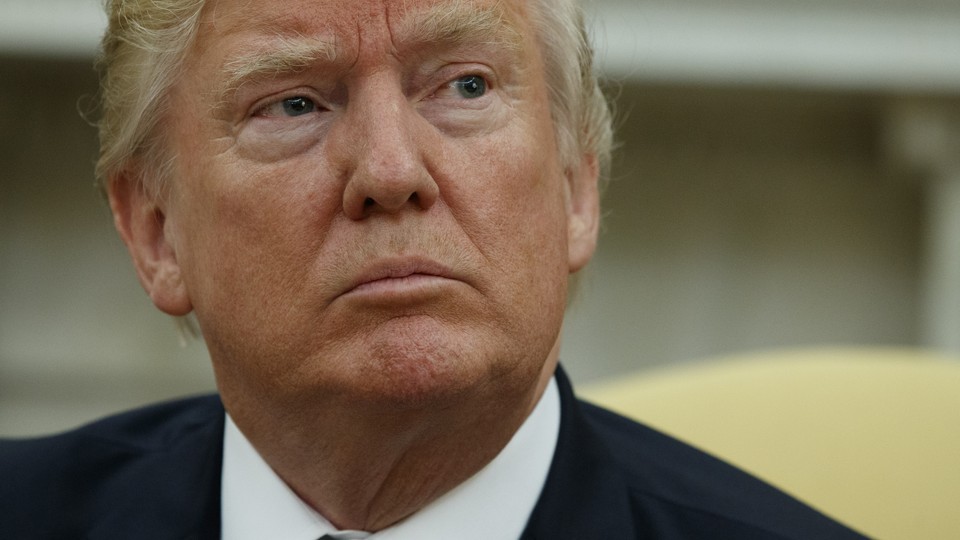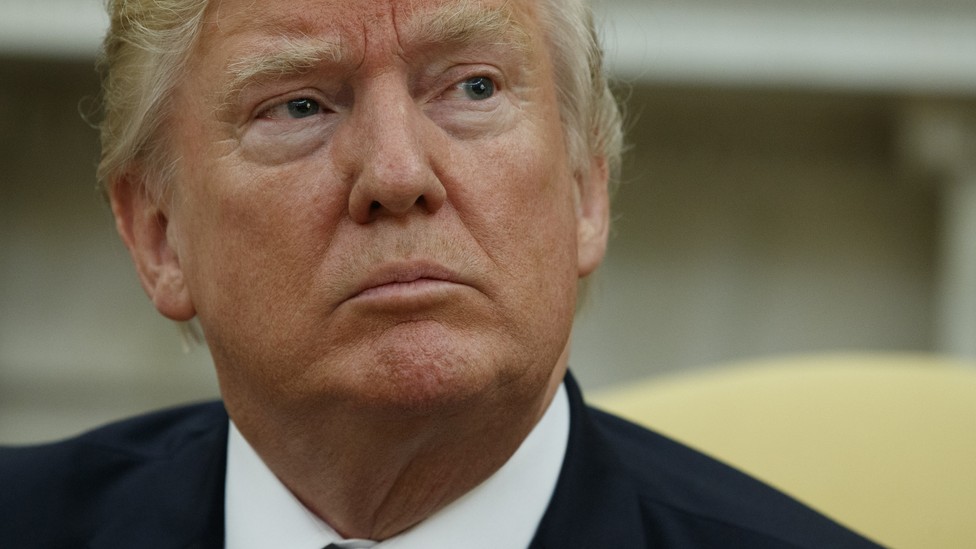 Twenty-one days after Election Day last November, Dan Stein, the president of the Federation for American Immigration Reform, a group that supports reduced immigration, introduced a transition document to provide the newly elected president with guidance on immigration policy.
It was their moment. FAIR had condemned the Obama administration's immigration policy, and pushed for heightened border security and the removal of undocumented immigrants. And Trump, whose campaign had begun with a promise to crack down on illegal immigration, appeared to be the champion they needed.
Within the first few weeks of his administration, Trump expanded the number of undocumented immigrants considered a priority for deportation, threatened jurisdictions that limit cooperation with federal immigration agents, and called for more Immigration and Customs Enforcement agents and Customs and Border Protection agents. But he also fell short on other promises—including a central plank of his presidential campaign, a wall along the U.S.-Mexico border. In the interim, the high expectations of immigration restriction groups like FAIR have turned to frustration and disappointment.
"We can only assume that President Trump has struck a secret deal with Mexico to get them to pay for the border fence he promised, because funding for the project sure isn't in the budget proposal he sent to Congress," Stein said in a statement following the release of Trump's budget proposal in May. The proposal included $2.6 billion for border security, a fraction of which was marked for the construction of a wall. That figure paled in comparison to estimates by the Department of Homeland Security, which found in a report that a wall along the southern border would cost as much as $21.6 billion. It also went back on a campaign pledge that Trump would make Mexico pay for the barrier. But the sarcastic tone of Stein's statement was notable.
"The key to regaining control of our immigration system is to effectively deter people who are contemplating breaking our laws and effective enforcement against those who do. Unfortunately, President Trump's budget requests do not demonstrate the resolve that is needed to fulfill the promises that he made to the American people," Stein added in his statement.
Trump's victory was seen as an opportunity to pass policies targeting immigration in the United States, which have often faced hurdles in Congress. His team includes many immigration hardliners, like Jeff Sessions, Stephen Miller, and Steve Bannon, which also seemed promising for those seeking stricter policies. Yet immigration restrictionist groups are growing increasingly frustrated with what they see as the glacial pace at which the administration is executing on its immigration pledges, as well as its reversals on key promises.
Shortly after Trump took office, immigration hawks urged the president to repeal the Deferred Action for Childhood Arrivals program, the Obama-era program shielding undocumented immigrants who came to the United States as children from deportation and allowing them to legally work in the country.* Trump had repeatedly said he'd "terminate" the program on the campaign trail, and then began to take a softer approach as president. "To me, it's one of the most difficult subjects I have because you have these incredible kids, in many cases, not in all cases," Trump said at a White House news conference. Trump left the matter unaddressed in his January executive actions on immigration, prompting complaints from immigration hardliners, who argue the program hurts native-born workers.
In May, the Americans for Legal Immigration PAC dropped its endorsement of Trump for not taking action on DACA. "While we may be one of the first groups representing Trump's base on immigration issues to leave the fold, we won't be the last," William Gheen, the president of the group, wrote in an open letter. "ALIPAC's announcement about Trump will be considered as a warning sign among many American patriots that we have been lied to, misled, and betrayed, and our warning will have far reaching implications for the Trump administration and his band of pro-Amnesty advisors and cabinet members." The PAC did not give money to federal candidates during the 2016 election.
The Trump administration's decision on DACA finally came in June, roughly five months into the president's term. The Department of Homeland Security announced earlier this month that it was rescinding the Deferred Action for Parents of Americans and Lawful Permanent Residents program, which sought to shield the undocumented parents of U.S. citizens and others from deportation. The Obama-era program had never been implemented due to litigation, so the move to revoke it was largely symbolic. DHS also issued guidance noting that DACA would remain in effect for now, days after U.S. Citizenship and Immigration Services released figures revealing that the administration was still granting work permits under the DACA program.
"I certainly am very happy that Secretary Kelly ended DAPA … that is a good thing and needed to happen—but it does not fulfill Trump's campaign promise. DACA needs to be ended," Rosemary Jenks, the director of government relations at NumbersUSA, another group that supports reduced immigration, told The Los Angeles Times. "It is clear the decision on DACA has been made at the White House," she added. "That is truly on Trump, and he needs to do it."
"I knew he was going to sell us out on some things. I just didn't think DACA was going to be what he sells us out on," Mark Krikorian, the executive director of the Center for Immigration Studies, which favors reduced immigration, told me. DACA had been seen as a bargaining chip that could be used to negotiate with Democratic lawmakers on immigration reform, Krikorian said. By failing to repeal it therefore, Trump missed out on an opportunity that may have ramifications down the road.
Ann Coulter, a prominent anti-immigrant conservative commentator, railed against the decision on Twitter. "This Daily Trump melodrama is worth it ONLY if he's really going to build the wall, cut off Muslim refugees and deport illegals," she said, adding, in a follow-up tweet, that "zero" miles of Trump's wall had been completed to date.
Immigrant advocates, meanwhile, are still anxious about the future of DACA. "I would hesitate to say that we've gotten a promise from the administration and I am a firm believer that, due to the unpredictable nature of President Trump, DACA is still very much in danger," said Jose Magaña-Salgado, the managing policy attorney at the Immigrant Legal Resource Center. The administration's aggressive approach to deportations has continued to concern immigration advocates, who have thus far found little relief in its decision to keep DACA in place.
But the flurry of responses nevertheless highlighted growing frustrations among immigration hardliners, who feel let down by the administration. Trump, after all, took the campaign trail by storm with the phrase "build the wall," and used forceful rhetoric in speaking about immigration. His messaging in the White House, however, has been ambiguous. He hasn't provided a clear plan on what a wall along the southern border will look like, or how he plans to address legal immigration, which hawks want reduced.
Factions within the White House may be to blame for the mixed messages on immigration. Earlier this year, The New York Times reported on rifts within the administration over how to address so-called Dreamers. There had also been a draft executive order floating around aimed at ending DACA. While it didn't come to fruition, it seemed to indicate a fractured White House, Krikorian said. But the administration has also come up short on other promises.
"In addition to DACA, he made some strong promises on H1-Bs, which he has yet to [do]. He is talking about them, but he hasn't taken any concrete action on them," said Chris Chmielenski, the director of content and activism at NumbersUSA. H1-B visas allow employers to temporarily hire skilled foreign workers to fill specialty occupations. Trump pledged to overhaul the system, but has thus far done little to act on it, according to Chmielenski.
Still, Trump has followed through on some of his campaign promises, like increasing the number of removals of undocumented immigrants. Within his first 100 days, Immigration and Customs Enforcement, the Department of Homeland Security's enforcement arm, reported an increase in arrests: they jumped by nearly 40 percent between January and April, according to the agency's latest figures. The administration also launched the Victims of Immigration Crime Engagement Office to "assist victims of crimes committed by criminal aliens."
Immigration hardliners also understand that they may not get what they want right away. Despite Trump's forceful rhetoric on immigration on the campaign trail, Chmielenski said, "we didn't think it was a done deal." Matt O'Brien, the director of research at FAIR, noted that the president needs congressional authorization to execute on some of his promises, like the border wall. "While it's difficult to predict, we think—and for a long time have said—it's an essential measure, so we hope the president will keep his promise. However, I think that's something that's not entirely in his hands," he said. The administration is also still only a few months old, so it's possible that Trump's campaign promises will bear out in the future. But that won't keep hardliners at bay, either.
"I think there are some people who are still in the White House and advising the president that Trump trusts that are going to continue to keep this in front of him," Chmielenski said. "On the other hand, on our end, we have 8 million activists that will continue to pressure the White House."
---
* This article originally stated that DACA shielded undocumented immigrants born in the United States from deportation. We regret the error.