Does Bad Health Care Constitute Cruel and Unusual Punishment?
A class-action lawsuit in Illinois argues that medical treatment inside the state's corrections system puts inmates "at risk of pain, injury, and death."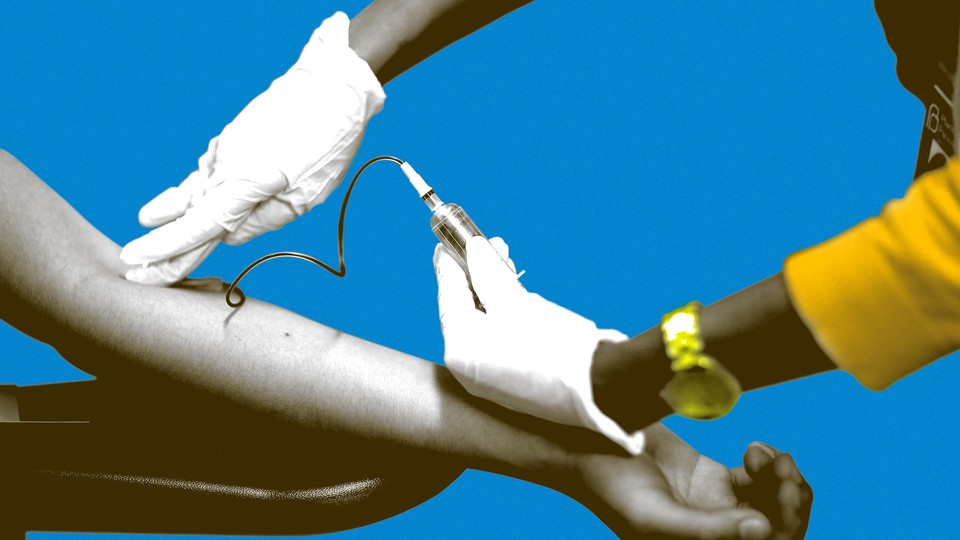 CHICAGO—In 2010, the court of the Northern District of Illinois received a handwritten complaint from Don Lippert, a diabetic inmate at Stateville Correctional Center outside of this city, claiming he was being denied his twice-daily dose of insulin. In the roughly six years since, that case has snowballed into a lawsuit filed on behalf of every prisoner in Illinois.

Lippert v. Baldwin argues that health care inside the Illinois Department of Corrections systematically puts inmates "at risk of pain, injury, and death." By failing to address fundamental needs, it alleges, Illinois is not meeting its constitutional mandate to protect against cruel and unusual punishment. "If someone has a broken arm and you let them suffer, that's really no different than putting them on the rack and stretching them," said Alan Mills, one of the lead attorneys on the suit. "If conditions cause treatable pain and there is a failure to treat the causes of that pain, then that's punishment for no good penological reason."
Prisons and jails are difficult settings for the delivery of medical care, between high illness rates among offenders and worries about safety. Inmates also don't have a right to the country's best health resources—no American does. But they do, uniquely, have a right to care that prevents needless suffering.
The Lippert case formally began when the court decided his story had merit and assigned him a pro bono attorney, Jason Stiehl. Stiehl had never before handled a prisoner's case, so he started searching for similar ones in Illinois to understand the basic legal terrain. He found hundreds.
After about a month of background research, Stiehl made what he considered to be a reasonable demand from the state as restitution for his client: moderate financial compensation and changes to the management of Lippert's insulin regimen. The state refused, arguing that payment over one complaint would open public coffers to a flood of health-care claims. "It could indicate that the state was 'open for business,' so to speak," Stiehl said. With Lippert's consent, he decided to pursue the case as a class-action suit—a designation that means a particular problem has been shown to be systemic in nature. In April, Judge Jorge Alonso formally granted the lawsuit that status.
As part of their work on the case, Stiehl and Mills traveled across Illinois to take depositions from medical staff in different prisons. (Mills, who directs a legal-advocacy organization, has handled prisoner health-care cases for decades and joined Stiehl early on.) They subpoenaed state agencies for medical records and began "slogging through documents, looking to compile information about why the system wasn't working," Stiehl said. They also sought documentation from Wexford Health Sources, a private correctional health-care company to which Illinois started outsourcing the majority of its prison health services in 1992. The most recent contract, signed in 2011, covers 10 years and pays out $1.36 billion.
After two years of Stiehl and Mills's digging, a temporary truce went into effect. "There was an agreement between the parties to stand down for an expert report," said Camille Bennett, an attorney at the ACLU of Illinois, which joined the lawsuit on behalf of the plaintiffs in 2013. Dr. Ronald Shansky, an internist in Chicago at the time, was appointed to lead the audit, along with another medical doctor, a registered nurse, and a dentist. They were charged with investigating a sample of eight prisons statewide. Their final report—which the Associated Press called "scathing"—concluded that Illinois "has been unable to meet minimal constitutional standards with regards to the adequacy of its health-care program for the population it serves."
The findings offer a dire picture of medical care in the state's prisons. Facilities were significantly short-staffed—35 percent of budgeted medical positions at Stateville were vacant—and slips in routine care, like the irregular administration of necessary medication that Lippert reportedly faced, were widespread. Inmates with health issues in solitary confinement received medical consultations conducted through a solid steel door. In 60 percent of inmate deaths from nonviolent causes, the audit found "significant lapses of care."
These issues are by no means exclusive to Illinois. Jails and prisons can make the practice of medicine challenging. For one, their inhabitants are under a much heavier disease burden than the broader American public. When the Bureau of Justice Statistics compared illness in jails and prisons with rates in the general population, it found a striking divide. While the average rate of infectious disease, like tuberculosis or hepatitis, among those incarcerated is 21 percent, the rate for those outside of prison is under 5 percent. Estimates suggest that, on average, prisoners' bodies function at a physiological age 10 to 15 years older than their chronological age. A growing geriatric population also complicates the work of doctors and nurses.
There are logistical factors, too, that make providing care tough. Like other states with strict budget constraints, Illinois is running its facilities above capacity, at 147 percent, and its per capita funding for prisoner health care ranks 48th out of 50 states, according to a 2014 report. Facilities nationwide also maintain an unusual chain of command, in which guards—whose primary focus is security—are often the first to encounter inmates with medical complaints. Under this informal system of triage, urgent symptoms may go unrecognized.
Health-care providers must also balance treatment against legitimate safety concerns. In a recent example, an inmate from Illinois's Kane County Jail was granted medical furlough to visit a nearby hospital. While in the emergency room, he took a nurse hostage, and was eventually shot and killed after broken negotiations and a SWAT team standoff.
At the same time, the negligence of prison medical staff sometimes seems baffling in its callousness. Predating Shansky's report, in the spring of 2012 an inmate in Illinois's Taylorville Correctional Center, who had lost 42 pounds in three years, was diagnosed for a second time with hemorrhoids after he complained of bleeding from his rectum. Within weeks he was placed in diapers and having up to 40 bloody and watery bowel movements a day. Not until July was the man sent to a hospital, where he was diagnosed with late-stage colon cancer that had metastasized to his liver and lungs. He died one month later.
In his report, Shansky documented numerous deaths similar to this one that he said were caused by a "failure to identify serious instability"—a severe case of internal bleeding that went unmanaged, sepsis that went undiagnosed. In sum, he found "an unacceptably high rate of deviations from the standard of care." (Shansky declined a request for comment, as he will likely be called to testify in the case. The state corrections department, which criticized his report, and Wexford Health Sources both declined to comment.)
After his findings were released in 2014, both the plaintiffs and the state of Illinois began moving toward a consent order that included court oversight of prison health care, according to Bennett from the ACLU. But the election of Republican Governor Bruce Rauner shifted the political winds. Rauner's administration, she suggested, preferred a private settlement that precluded that oversight, which "was a deal-breaker." Negotiation fell apart and the case returned to active litigation.
Class-action suits over prison health care are not uncommon; some target the system as a whole, others focus on a failure to provide one or another specific treatment or service. Illinois, for instance, settled a suit focused on the provision of mental health in 2015, and a similar case is now working its way through Alabama courts. California settled a class-action lawsuit in 2017, as did Florida in 2016—though they now face another one. And Wisconsin settled a suit in 2010. "This is a pervasive nationwide problem that our class-action in Illinois is not going to solve," Stiehl said. He alleged that privatization of prison health care is one of the factors driving this litigation: "They underbid, then overrun costs, and end up having these huge gaps in the way that services are delivered."
Compounding Illinois's issues are financial woes so severe that Politico recently labeled it a "failed state." The government holds $14.6 billion in unpaid bills and, despite running a deficit of $6 billion, has been unable to negotiate a budget in nearly two years. Throughout the case, Stiehl said, the state has argued it cannot pay for many of the recommendations in Shansky's report—recommendations like hiring to fill vacancies, or updating medical equipment, or scheduling more frequent appointments for chronically ill patients. "My response," Stiehl said, "is that you shouldn't incarcerate tens of thousands of people if you can't take care of them." If the case is eventually found in the plaintiffs' favor, the state will likely be forced to comply with the orders for reform, despite its budget problems.
With class-action status now approved, the plaintiffs' lawyers are trying to determine whether the state corrections department has heeded any of the recommendations from the expert report. The team has asked the state to present a witness for deposition who is most knowledgeable on the subject. In the meantime, occasional contact with the six named plaintiffs is the only slim view of the inside they have.
Roughly two months ago, Lippert faced a "crisis situation," Stiehl said. For three days he received no insulin shots, and his blood sugar climbed dangerously high. Stiehl talked to his client on the phone, and he considered a court injunction to get Lippert back on his regimen before the prison resumed treatment. Such ongoing complications signal to him that conditions have not improved inside the facility. He checks on Lippert, but is not there to monitor his care each day. "They literally missed him for three days," Stiehl alleged. "They forgot about him."