How Democrats Would Fix Obamacare
They've said if Republicans dropped their repeal demand, they'd be willing to help repair the law. Here are some of their ideas.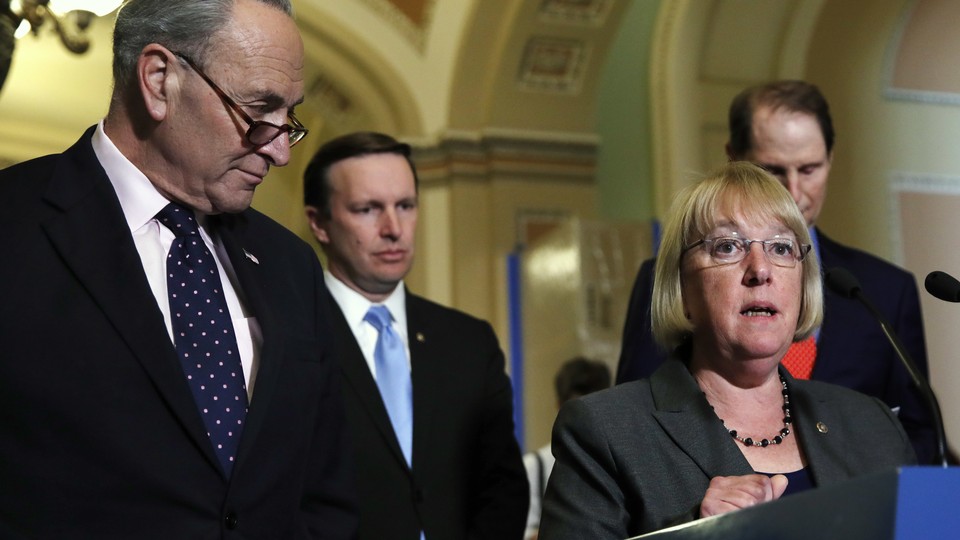 As Republicans have been casting about for legislation to eviscerate the Affordable Care Act, Democrats have offered a consistent message in public: If the GOP drops its demand for repeal, we'll work with them to improve, or fix, the current law.
Exactly how Democrats would change the bill they enacted seven years ago is less clear. Lawmakers have floated a range of options, from tackling  the cost of prescription drugs, to setting up a reinsurance program to shore up Obamacare's flagging exchanges, to reviving the idea of a "public option" that would compete with private carriers and drive down prices.
But party leaders have chosen not to endorse a specific set of reforms, in part because Republicans have shown little interest in considering their ideas and in part to avoid distracting from their more urgent imperative to save Obamacare from destruction. "We're not in the majority right now, and our whole focus right now is to keep them from sending us back to a time when insurance companies could sell plans that provided nothing and people found themselves just in a terrible bind," Senator Patty Murray of Washington state, a member of the Democratic leadership, said in an interview.
Yet the lack of a Democratic alternative also stems from a central disagreement about whether the ACA needs a legislative fix at all. Democrats have accused the Trump administration of sabotaging the law administratively by refusing to guarantee the payment of cost-sharing subsidies to insurers and by sending mixed signals about whether it would enforce the mandate that people buy insurance or pay a tax penalty. If the administration simply implemented the law as intended, they say, Congress could stand down. "There's a very good chance that it's sustainable if you just do those things," said Representative John Yarmuth of Kentucky, the top Democrat on the House Budget Committee. Murray told me she "absolutely" believed the law could stand on its own if the Trump administration implemented it properly.
Other leaders in the party, however, suggested to me the law was not quite as stable. Insurers had been pulling out of the Obamacare exchanges before the November election, and while these Democrats do not agree with Republican characterizations that the law is "collapsing," they argue that Congress needs to act at least to stabilize the individual market. "The individual market, if you're not buying through an employer—even if you do get a subsidy—is pretty unstable," Senator Tim Kaine of Virginia, the Democratic vice-presidential nominee last year, said in an interview. "I do think some legislative fixes would really send signals to the American public, as well as the stakeholders, that we're serious about finding improvements."
Kaine and Senator Tom Carper of Delaware on Wednesday introduced legislation to create a reinsurance program to help insurers offset the cost of covering older, less healthy customers. That type of program—which provides payments to insurers that enroll high-cost individuals—was originally part of Obamacare until it expired last year, and Republican legislators in Minnesota and Alaska have embraced the idea as a way to stabilize insurance markets in those states. "That's something that should have some bipartisan appeal," Kaine said.
The Democratic ideas fall roughly into two categories: proposals that might attract support from Republicans as part of a short-term fix if the repeal effort fails, and those that will only be viable if the party can retake one or both chambers of Congress in 2018. Murray's renewed call for a public insurance option— which would compete with private insurance in the marketplace—almost certainly falls in the latter bucket. Democrats fell a few votes shy of including a public option in the 2010 law, but the idea faces staunch opposition from Republicans and insurance companies who see it as a slippery slope to a completely government-run health-care system.
A push to allow the government to negotiate lower drug prices for Medicare and Medicaid would likely run into a similar blockade. But the proposal has had an unlikely ally in President Trump, who earlier this year took meetings with Democrats and pharmaceutical companies after calling for increased competition to bring down prescription costs. Representative Frank Pallone of New Jersey, the top Democrat on the House Energy and Commerce Committee, said the cost of prescription drugs was the biggest complaint he's heard from constituents about health care. Democrats, however, suspect Trump isn't serious about confronting Republicans who have long opposed the idea of allowing the government to negotiate prices. "We've never heard from the president again on this issue," said Representative David Cicilline of Rhode Island, a co-chairman of the party's policy and communications committee.
Pallone said Congress should also consider boosting the subsidies it provides to consumers under the ACA, either by increasing the income level eligible to receive them or adding to the aid itself. "We have to make sure that the tax credits or subsidies make insurance affordable," he said. Yet as Pallone is the first to acknowledge, it's hard to see Republicans switching from trying to repeal the law to agreeing to make its benefits more generous. "We're kind of in this never-never land," he told me as I pressed him for ideas that Democrats could offer. "I just want to keep stressing that there are no bipartisan discussions. It's nice to talk about, but I think it's really important—and I'm sure you are going to stress—that this is not real."
If Republicans were to launch a bipartisan effort, the more difficult decision Democrats might face is whether they would be willing to sacrifice parts of Obamacare in exchange for preserving and possibly strengthening the rest. Sometimes more begrudgingly than not, they have agreed in previous years to delay certain taxes in the law and change or repeal smaller policy provisions that proved controversial or unworkable. On that front, Yarmuth broke with many Democrats by calling for the repeal of Obamacare's requirement that large businesses offer insurance to their employees. "I don't think it's necessary," he told me. He said he thought it was "a good idea at the time" but that studies have shown that companies had not, as some predicted, opted to pay a fine instead of providing insurance. Instead, many had reduced employee hours to get around the mandate. "So it's actually hurt working families," Yarmuth said. Scrapping the mandate, he said, would "eliminate one of the negative, adverse effects of the Affordable Care Act."
All of these Democratic ideas will be moot—at least in the near term—if Republicans can pass their own health-care overhaul through the Senate on a party-line vote. But despite reports of progress in the last week, the likelihood of failure is still nearly as high as the likelihood of success. And if Republicans cannot deliver on their promise of repeal, the health-care spotlight—and some of the burden—will return to the Democrats once again.