Why Do Democrats Keep Losing in 2017?
The party has made gains in special elections, but continues to fall short of outright victory.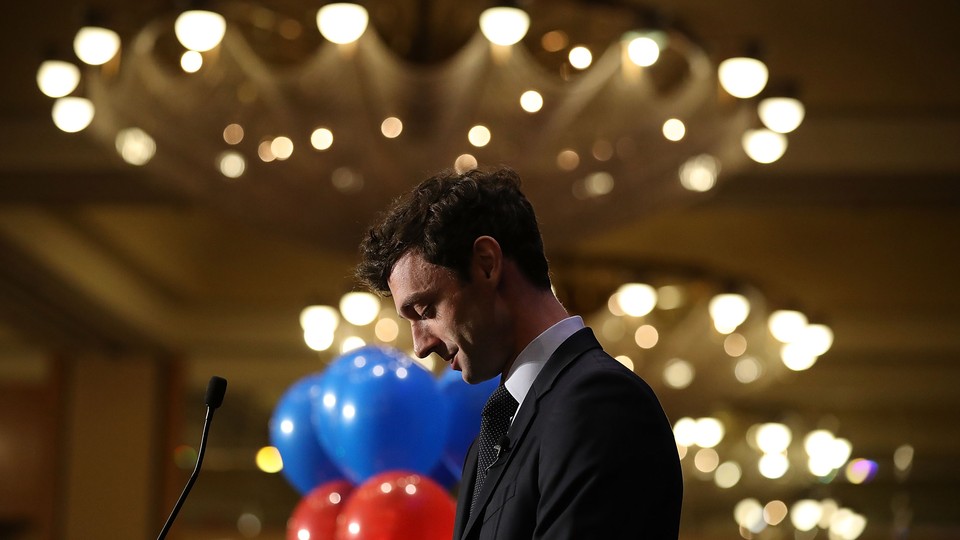 Kansas. Montana. Georgia. South Carolina. A string of special election defeats in each state, and with each one, a missed opportunity to take over a Republican House seat, has left Democrats facing the question: Why does the party keep losing elections, and when will that change?
The most obvious reason that Democrats fell short is that the special elections have taken place in conservative strongholds. In each case, Democratic candidates were vying to replace Republicans tapped by the president to serve in his administration, and in districts that Trump won. Despite the unfavorable terrain, Democrats improved on Hillary Clinton's margin in every district except in Georgia. But if the party wants to take control of the House in 2018, it needs more than just a strong showing in Republican districts. It needs to win.
"It is a bit surprising that Democrats haven't managed a single victory yet, and haven't had more success in turning their anger against the Trump administration into something tangible," said Barry Burden, the director of the Elections Research Center at the University of Wisconsin-Madison. "The party can weather that for a while, but at some point it could become demoralizing."
The special elections are a test case of the policy agendas, messages, and strategy Democrats are putting forward in the hope of winning Republican districts. The fact that candidates fared better than Clinton in races that aren't as high-stakes as a presidential election signals that Democratic voters are energized after losing the White House. Despite efforts to rebuild, however, the Democratic Party's national brand remains damaged, and it is still unclear whether the party will coalesce around a core message in the Trump era.
In Montana and Georgia, Republicans worked to make the special elections a referendum on the national Democratic Party by attempting to tie Democratic candidates to House Minority Leader Nancy Pelosi. While party leaders are often targeted during elections, there's reason to believe the national party could be a liability for Democratic candidates in upcoming races. A Washington Post-ABC News poll recently found that most Americans think the Democratic Party is out of touch with the concerns of average voters. Only 30 percent of voters approved of the job Democrats are doing in Congress in a CBS News poll earlier this month, and just 31 percent said Democratic control of Congress would be an improvement over the status quo.
"The national brand is toxic," said Democratic Representative Tim Ryan of Ohio, who unsuccessfully challenged Pelosi for the title of House minority leader last year, in an interview. "There's just no doubt about it. We are not connecting with people the way we need to connect with them."
On the campaign trail, Democrats worked to distance themselves from the national party. In Montana, Democratic candidate Rob Quist reportedly didn't want Democratic National Committee Chair Tom Perez to campaign with him, though Perez did campaign for Democratic candidates Jon Ossoff in Georgia and Archie Parnell in South Carolina. Quist instead promised that he would be "an independent voice" in Washington, while in Kansas, Democratic candidate James Thompson argued that "things aren't working no matter who's in charge."
Democrats in conservative parts of the country have long tried to prove they're not typical Washington liberals. But if candidates feel heightened pressure to separate themselves from the national brand amid public skepticism toward the party, voters may be left wondering what it is they represent.
"I think voters still don't totally trust Democrats. I think they don't know necessarily what Democrats stand for, and how they differentiate from Republicans," Democratic Representative Pramila Jayapal of Washington, who won election in November with the endorsement of Senator Bernie Sanders, said in an interview.
In the wake of the party's losses, Democrats are once again rushing to assign blame. There are rumblings among discontented House Democrats that party leaders are the problem. "It's time for Nancy Pelosi to go," Democratic Representative Kathleen Rice told CNN after Democrats lost in Georgia and South Carolina on Tuesday. Pelosi pushed back on Thursday, saying that she feels "confident in the support that I have" and that her "leadership is recognized" across the country.
Advocacy groups trying to push the party in a more progressive direction seized on the losses to argue that the party needs to put forward a bolder liberal agenda. Democracy for America Chair Jim Dean called Ossoff's message "uninspiring," after the Democrat lost in Georgia, adding "the same, tired centrist Democratic playbook that has come up short cycle after cycle will not suffice."
The problem for Democrats is that the results of the special elections have not definitively shown what playbook will succeed in capturing Republican seats. Candidates tested out different messages in districts with different demographic profiles, and all of them came up short. In an affluent, well-educated and suburban sixth congressional district in Georgia, Ossoff ran on a platform light on policy specifics, and deployed talking points with a distinctly conservative flavor. He told voters that "cutting wasteful spending is not a partisan issue," and promised to ease "the tax burden on small businesses."
In districts with a heavy concentration of rural, white-working voters in Montana and Kansas, Quist and Thompson embraced a populist message. "Did you know in Congress there are nearly 300 millionaires?" Quist asked in one campaign spot. "No wonder their so-called health reform was just another tax break for the rich." Thompson campaigned on the idea that trade deals have hurt rural communities, and told voters that "the working-class people of this country need people that represent them, and that's what I want to do."
It makes sense that candidates would tailor their messages to the district they run in. But that wasn't enough to win in Georgia, Montana, or Kansas. Further complicating the picture: The Democrat who lost by the narrowest margin did so in a largely rural district, but could hardly be described as a progressive darling. Parnell, a former Goldman Sachs executive, ran as a wonky pragmatist. The Democrat did talk about making "big corporations pay their fair share," but during his under-the-radar campaign, he also assured voters that he "know[s] how to cut taxes." And he didn't try to make his race about bold ideas. "I won't promise you the world," Parnell said in one ad, "but I'll work every day to make your life better."
Democrats in conservative parts of the country also seem unsure how to effectively talk about President Trump, even as Republicans have coalesced around an attack on Democrats as inextricably linked to a party of out-of-touch coastal liberals.
Trump's narrow win in Georgia's sixth congressional district last November convinced many Democrats that the special election was the best opportunity to win a House seat and test whether an anti-Trump message could win over Republicans and Independents who might be skeptical of the president. But Ossoff didn't run a staunchly anti-Trump campaign. His campaign launched with a promise to "Make Trump furious," but as time went on, Ossoff shied away from blunt criticism of the president. "I don't have great personal admiration for the man," he said in an April interview with MSNBC, before adding that "there's room to work across the aisle."
It's possible that kind of cautious message is best suited to the long-time Republican district. But Democrats may have missed an opportunity to test out a campaign rooted in blunt criticism of the president.
"We don't quite know yet whether an anti-Trump campaign could be successful for Democrats, or not, in districts where Clinton came close to winning, or did win, given that Ossoff didn't really run that kind of a campaign," Burden said.
Democratic candidates competing in districts Trump won by a wide margin also don't seem to have settled on a clear strategy for talking about the president. In races in Montana and Kansas, the Democratic candidates largely avoided talking about Trump, while in South Carolina, Parnell found a middle ground between Trump-bashing and Trump-avoidance by saying he would "work with President Trump if I think he's right," and "fight him tooth-and-nail if what he's doing hurts the folks back home."
There are silver linings for Democrats in the midst of the special election losses. The fact that Democratic candidates improved on Clinton's margins in Kansas, Montana, and South Carolina, and ran a close and competitive race in Georgia, indicates that the party has a chance to make inroads not only in affluent conservative suburbs, but in rural, white-working class parts of the country.
"The results of these races really throw cold water on the idea that Democrats are doomed with rural or white-working class voters," Tom Bonier, the CEO of Democratic data firm TargetSmart, said in an interview. "That suggests there's opportunity to win back some of the voters we lost in the presidential election."
Losses in 2017 don't mean the party won't compete successfully in 2018. The party out of power in the White House historically gains seats in midterm elections, and a majority of the American public continues to disapprove of the president.
Democratic Representative Ben Ray Luján, the chair of the Democratic Congressional Campaign Committee, attempted to console Democrats in the wake of losses in Georgia and South Carolina by arguing that "the House is in play." "Democrats have a real shot at taking back the House in 2018," he said in a video message on Wednesday.
There are a number of congressional districts currently held by Republicans that Democrats believe they can contest in the 2018 midterms where the political terrain may prove more favorable than the conservative strongholds where special elections have taken place. Democrats need to win 24 seats held by Republicans to gain control of the House. In a memo earlier this week, the DCCC identified "somewhere between 94 and 71 districts" as more competitive than Georgia's sixth district where Ossoff lost.
If Democrats plan to contest seats in an expansive battlefield, that makes it all the more pressing for candidates to make clear to voters exactly what they will fight for, and what they plan to fight against, in Washington.
---
Related Videos