GOP Senator Dean Heller Won't Support Senate Healthcare Bill
Heller is the fifth Republican senator to express opposition to the legislation.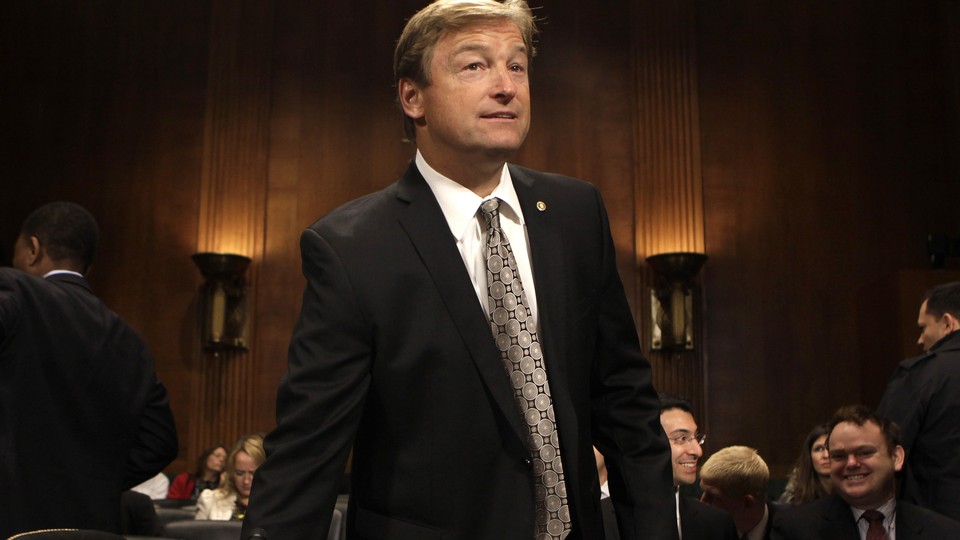 The recently unveiled Senate healthcare bill is running into the kind of opposition that could imperil its passage—and that opposition is coming from Republican senators.
Dean Heller of Nevada, one of the most politically vulnerable Republican senators facing re-election in 2018, announced on Friday that he will not support the Senate GOP healthcare bill in its current form.
"This bill would mean a loss of coverage for millions of Americans, and many Nevadans. I'm telling you right now, I cannot support a piece of legislation that takes insurance away from tens of millions of Americans, and hundreds of thousands of Nevadans," Heller said on Friday during a press conference.
Heller is the fifth Republican senator to voice opposition, following a joint statement from conservative Senators Rand Paul, Ted Cruz, Ron Johnson and Mike Lee on Thursday. The statement said that the bill did not "accomplish the most important promise that we made to Americans: to repeal Obamacare and lower their health care costs."
Senate Majority Leader Mitch McConnell can only afford to lose two Republican votes and still pass the legislation, although some have questioned how firm the opposition of the Republican dissenters actually is. Heller hedged on Friday, and said that he could not support the bill "in this form" leaving open the possibility that alterations to the bill would earn his backing before the expected vote next week.
The same holds true for the bill's more conservative critics—who said explicitly that they were "open to negotiation." But it's unclear what kind of changes GOP leadership might be willing to support, and whether those changes would jeopardize support for the bill from other lawmakers.
While the the four conservative senators who have announced opposition appear to be disappointed that the legislation does not go far enough to repeal former President Obama's signature healthcare law, Heller's chief concern appears to be that the bill would go too far in cutting Medicaid.
"At the end of the day, it's all about Medicaid expansion, and making sure that somehow, someway we make sure that these individuals who now have this health insurance will continue to have health insurance," Heller said. "You have to protect Medicaid expansion states. That's what I want," he added.
"It's going to be very difficult to get me to a 'yes,'" Heller noted.
In 2012, Republican governor Brian Sandoval announced that Nevada would expand Medicaid under the Affordable Care Act. As my colleague Vann Newkirk wrote on Thursday, the Senate's version of the American Health Care Act, which the House passed in May, "restricts and slashes Medicaid funding deeply over the next decade."
Heller's Nevada Senate seat is viewed as one of the few potential pickup opportunities for Democrats looking to expand their ranks in the Senate in the upcoming midterms. Democratic Representative Jacky Rosen is reportedly planning to challenge Heller in 2018.