Getting Along Despite the Threat of Deportation
Maria Hinojosa's bittersweet celebration of immigrant perseverance in America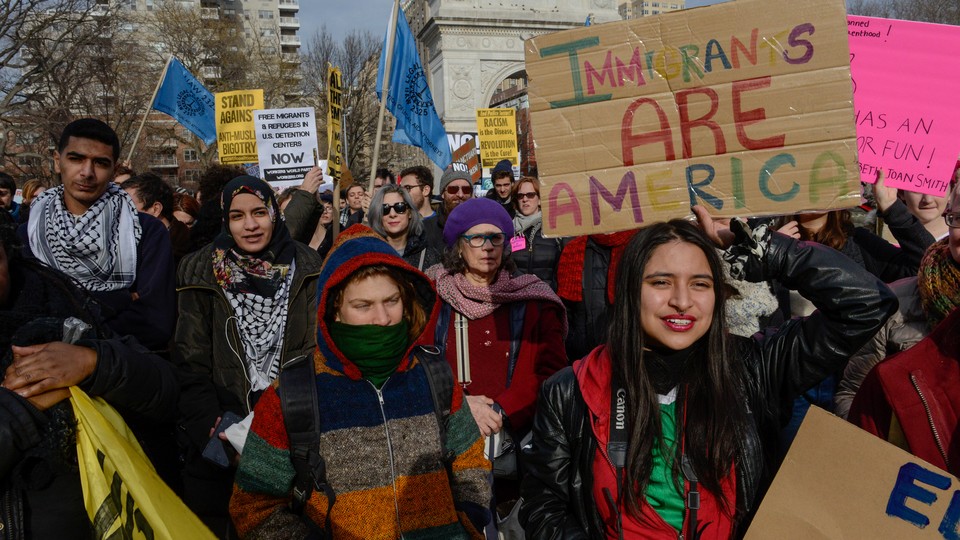 For Maria Hinojosa, the anchor and executive producer of "Latino USA," the question of how to live together in relative peace and prosperity is complicated by the ascendent political coalition that is eager to deport millions of undocumented immigrants––and the anti-immigrant fringe that bears animus toward even legal immigrants.
"Having been born in Mexico and becoming an American citizen in the 1990s, I have the unique distinction of being considered 'other' and therefore have spent a lot of time thinking about this issue," she explained. "There are times, given the recent changes in our country, when I have considered leaving this country behind for a new place. This is the opposite of 'how do we learn to live together' and it's upsetting."
That impulse is born of frustration.
"Only recently, I heard first hand the story of a Mexican man who had been deported from Arizona—after living in the U.S. for 50 years," she related. "Knowing that someone not so different from myself has been deported rips a great sadness into me, and it becomes a reminder of how it seems that we can't all live together." But the frustration doesn't overwhelm her ultimate optimism about the United States or the lives that immigrants can live here:
Then I meditate, I work out, and I hit the road to see all parts of this country, which makes me fall in love with my adopted home all over again.

When people say we can't live together, I can see that we can and that we are everyday. People think of Iowa, Minnesota, Alabama or Tennessee and imagine that life for Latino immigrants must be absolutely terrible there.

But I have been there and it isn't terrible for them.

Do they live in DAILY FEAR of being picked up by ICE? Yes! But that doesn't stop them from living their lives full of hope. They are opening businesses, like the K-Mart sized Mexican food big box grocery store right outside of Birmingham, and La Michoacana Ice Cream on Main Street in the tiny town of Albertville, Alabama. In central Minnesota, I found a small Mexican store that also sells prayer rugs for Somali Muslim refugees. Here, white folks, Mexican immigrants, and Somali born American citizens are in town halls working together on their local politics.

In Republican Steve King's district of Iowa, 40% of the people there are Latinos who love Iowa and aren't going anywhere. This is a scene playing out across our country, from Atlanta to Anchorage. It shows me how we all learn to live together; and gives me hope for our future. I have seen how people across our country are doing it everyday. Neighbor by neighbor, house-by-house, classroom-by-classroom, business-by-business; the country that has always made it through our differences will make it through them once again. It is our historic and proven trajectory.

Unfortunately, it is also clear that the hatred of difference that we are living through today creates victims and tragedies. However, we cannot allow ourselves to be filled with hate. We must be true to ourselves and who we are no matter the circumstance. This is the age old US Mambo—three steps forward and 45 steps back. It's hard to dance that dance; but we are here to stay and partake in the Dance Marathon of the 21st Century. They're playing our song and we have no intention of stopping anytime soon.