A High-Stakes Test of Liberal Backlash in the Trump Era
Democrats and Republicans are under intense pressure to pull out a win in Tuesday's closely-watched special election.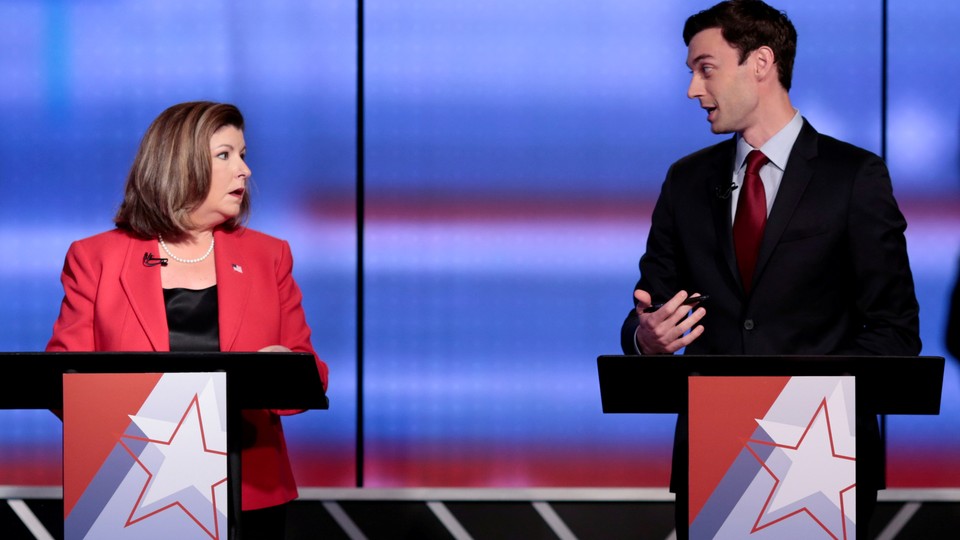 After failing to win special elections in Montana and Kansas, Democrats hope to send a message that liberal discontent can win congressional seats  in the highly-anticipated race for Georgia's sixth congressional district.
The special election between Democrat Jon Ossoff and Republican Karen Handel is down to the wire and too close to call as voters head to the polls on Tuesday to decide who will replace former Republican representative Tom Price, who now serves as President Trump's Secretary of Health and Human Services.
Polls indicate that Ossoff, a former congressional aide and virtual political unknown prior to the election, and Handel, a former Georgia Secretary of State, are locked in a tight race, despite the fact that the sixth district has been a reliable Republican stronghold for over a decade. Several public surveys have even shown Ossoff with a slight lead over the past month.
A Democratic victory wouldn't significantly alter the balance of power in Congress, but could still deliver an immediate payoff for liberals. If Ossoff wins in a conservative district, congressional Republicans may become increasingly reluctant to support the president's agenda or take tough votes for controversial legislation, including the GOP effort to dismantle the Affordable Care Act.
Republicans hope they can stave off an upset to send a message of their own. If the GOP prevails, it could reassure anxious congressional Republicans worried about keeping their seats. That might help Republican leaders keep members of their party in line by making it easier to prevent the kind of defections that could sink a legislative agenda.
The results of a single special election aren't enough on their own to reliably predict what will happen in the upcoming 2018 midterms. But Georgia's affluent, well-educated, and suburban, sixth congressional district fits the profile of the kind of districts Democrats may need to flip if they want to regain control of the House of Representatives.
A Democratic win would energize the party's grassroots. That could help with fundraising and candidate recruitment in the run-up to 2018. A loss, on the other hand, could leave Democratic voters frustrated and dejected, while Republicans would be able to claim another early special election victory.
Democrats and Republicans alike have framed the race as a referendum on the president and a sign of what's to come. "This is a harbinger of national politics. The world is looking, the nation is looking," Sonny Perdue, Trump's Agriculture Secretary and a former Georgia Republican governor told an audience over the weekend at a rally for Handel. "Want to stop Trump? Help Ossoff!" Neera Tanden, a Hillary Clinton ally and president of the left-leaning think tank the Center for American Progress, tweeted on Monday. Earlier in the month, David Axelrod, who previously served as a senior advisor to former President Obama, described the race as "a true bellwether."
A number of signs point to high stakes in the race. There has been a surge in early voter turnout, and the special election has earned the distinction of becoming the most expensive House race of all time as money floods into the district.
The political climate in Georgia has grown increasingly tense and hostile in the closing days of the race. Both candidates have received threats. A suspicious package arrived at Handel's residence a day after a shooting at a Republican congressional baseball practice in Virginia left GOP congressman Steve Scalise in the hospital. Handel called the incident "disturbing," and stated that it "remains under investigation" in a June 15 Facebook post. Following the Virginia shooting, Brad Carver, the Republican Party chair for Georgia's eleventh congressional district, reportedly went so far as to seize on the attack to argue that the GOP would prevail in the special election. "I'll tell you what: I think the shooting is going to win this election for us … moderates and independents in this district are tired of left-wing extremism," Carver said, according to The Washington Post. (Carver later apologized, saying that he should "not have said what I said.")
The president has loomed over the special election. Trump himself weighed in on the race on Monday. "Vote now for Karen H," he tweeted in the morning. Later in the day, Trump  attacked Ossoff as a candidate who "wants to raise taxes and kill healthcare" in a series of tweets that initially misspelled Handel's name.
When Ossoff jumped into the race in January, his campaign worked to rally support with a pledge to "Make Trump Furious." "When president Trump embarrasses our country, or acts recklessly, I'll hold him accountable," Ossoff said in one ad. The Democratic candidate has tried to reach a broad audience, however, by hitting moderate notes on the campaign trail. He has vowed to work with anyone in Washington who "respects your tax dollars," and said that "cutting wasteful spending is not a partisan issue."
Anti-Trump sentiment has united Democrats, but only to a point. Ossoff has won support from progressive groups, and on Sunday Bernie Sanders, the left's leading icon in Congress, said he "absolutely" wanted to see the Democrat succeed. "I very much want Ossoff to win," the Vermont senator told CNN. The words of encouragement come just weeks after Sanders told The Wall Street Journal that he couldn't say whether Ossoff is a progressive, a comment that sparked criticism from within the party and prompted the senator to clarify his belief that it is "imperative" that Ossoff win his race.
Handel has seemed wary of embracing the president or going very far in defending him. The Republican candidate appeared with Trump at a fundraiser in April, where he reportedly told her "you'd better win," but the event was held behind closed doors, and Handel has said publicly that she is "not an extension of the White House." The political calculation is a reflection of the fact that Trump himself fared poorly in the district in November's presidential election relative to Mitt Romney in 2012. Trump won by less than two percentage points in 2016. Romney won by a double digit margin.
Instead, Handel has largely focused on her own political experience. The Republican candidate has pitched herself as a more experienced alternative to the Democrat in the race. Handel has argued that Obamacare is "collapsing." And her website offers qualified support for the congressional Republican effort to repeal and replace former President Obama's signature healthcare law, describing the House GOP proposal as "a work in progress," that is "on the right track."(Ossoff has said that repeal "makes no sense."  In one ad, the Democrat says: "we can find common ground to fix Obamacare, while keeping what works.")
Tuesday's election follows an initial contest in April when a crowded field of Republicans and Democrats faced off. Handel and Ossoff advanced to the June election as the top two vote getters after Ossoff fell just below the 50 percent threshold needed to win the race outright.
Amid all the hype, election analysts have cautioned against reading too much into the result of the election. "An Ossoff win would not by itself mean a Democratic wave is coming, nor would a Handel win mean that Democrats will come up short in 2018," Kyle Kondik of the University of Virginia's Center for Politics wrote in an assessment of the race.
That caveat, of course, won't stop partisans from arguing that the election results on Tuesday are a vindication of their preferred political strategy, and a sign of future victories to come if their party prevails.