What Pro-Life Democrats Want from the DNC
Democrats for Life of America is asking the Democratic National Committee to alter its pro-choice party platform and make clear it supports candidates who oppose abortion.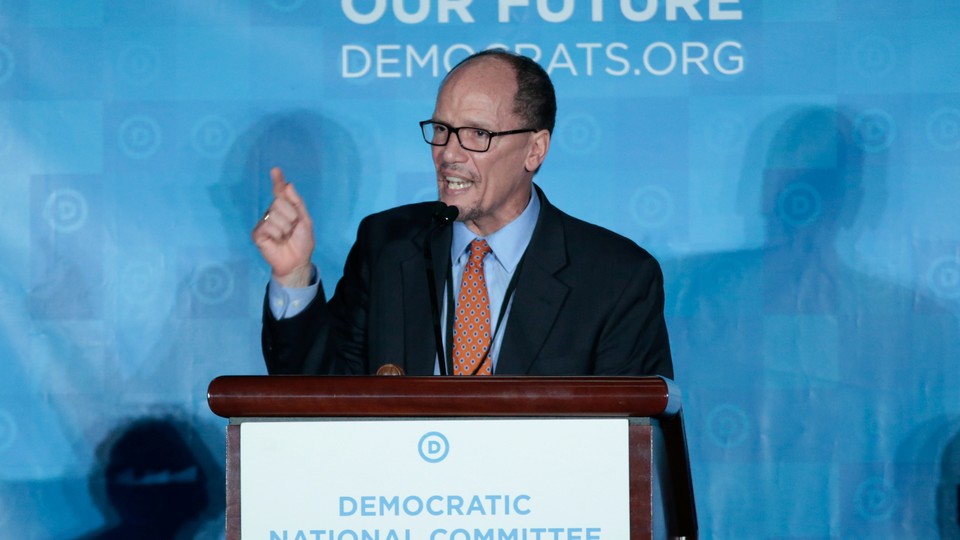 A group of pro-life Democrats met with Democratic National Committee Chair Tom Perez at DNC headquarters in Washington, DC on Tuesday, according to Kristen Day, the executive director of pro-life group Democrats for Life of America. Day said that members of her organization as well as other Democrats who identify as pro-life, including Democratic congressman Daniel Lipinski of Illinois and other current and former elected officials, attended the meeting, which takes place as the party is struggling to win back power in Washington.
Democrats for Life of America delivered a list of requests to Perez that the group wants the DNC to fulfill in order to reach out to, and welcome, more pro-life Democrats into the party, according to Day.
A copy of the list shared with The Atlantic calls for "a public statement on the Democratic National Committee website and a letter from the chairman to all state and local party chairs explaining that the party does not support an abortion litmus test and pressuring people to change their position on life" as one in a series of actions the pro-life group wants to see from the DNC. The group also wants the party to drop the section of its platform opposing the Hyde Amendment, which bars federal funding of abortion in most circumstances.
Asked for comment on the meeting, the DNC did not explicitly address any of the requests.  "Our party has always welcomed different opinions on several issues and Tom is committed to listening to all Democrats as we work to rebuild our party. Our party platform makes clear that Democrats trust women to make their own choices about their body and their health and Tom stand by this," DNC spokeswoman Xochitl Hinojosa said.
"At a time when 13 Republican men are making decisions about women's health care and women and families are under historic threat, we must come together and speak as loudly as ever to fight for dignity and justice for everyone," Hinojosa added.
The meeting was set up at the request of Democrats for Life. A spokesman for Representative Lipinski confirmed that he attended Tuesday's meeting.
An aide to Perez added that the DNC chair also met with more than 30 women leaders in May to "discuss the future of the Democratic party and working together to protect women's reproductive health."
Following the 2016 presidential election, the Democratic Party's stance on abortion has come under scrutiny and has been the subject of controversy and debate.
The Democratic Party's current platform is unequivocal in its support for "safe and legal abortion." In the wake of the election, however, party leaders have attempted to walk a fine line between affirming the official party platform and suggesting that there is still a place in the party for pro-life Democrats at a time when the party has been shut out of power in the White House, Congress and state legislatures across the country.
In April, Perez suggested that the Democratic Party should not "demand fealty on every issue," including abortion. Not long after, however, NARAL Pro-Choice America criticized the DNC over its support for a Nebraska mayoral candidate who identified as "personally pro-life," as "not only disappointing" but "politically stupid."NARAL president Ilyse Hogue said in a statement that "if Democrats think the path forward following the 2016 election is to support candidates who substitute their own judgement and ideology for that of their female constituents, they have learned all the wrong lessons and are bound to lose."
Following that backlash, Perez issued a statement that was widely viewed within the party as a litmus test on abortion. "Every Democrat, like every American, should support a woman's right to make her own choices about her body and her health" the chair said. "That is not negotiable and should not change city by city or state by state."
House Democratic Leader Nancy Pelosi responded to the controversy in April by saying "of course" it's possible to be pro-life and have the support of the Democratic Party. Senate Democratic Leader Chuck Schumer said that the Democrats are a "big-tent party," but, he added that Democrats are "let's make no mistake about it, we're a pro-choice party, a strongly pro-choice party."
The DNC has since sought to clarify its stance. "The party does not believe in a litmus test," Hinojosa told The Atlantic in May. An aide to Perez told The Atlantic in April that the DNC Chair had never said he did not support pro-life candidates.
Evidently, however, some pro-life Democrats do not feel the party has made it clear where the chair stands. As part of a push for additional clarification, Democrats for Life wants the party to make other commitments to pro-life Democrats as well, though the DNC has so far given no public indication it will comply.
In addition to ​a request for a statement direct from Perez that the party does not ​​have a litmus test, Democrats for Life's ​list calls for t​he party to make resources available to support pro-life Democrats. The list asks for "the establishment of a Democratic Pro-Life Political Action Committee to be used specifically to support pro-life Democratic candidates." It also requests that the 2020 Democratic Party platform be "inclusive to Democrats who oppose abortion," and calls for eliminating language currently in the 2016 platform "opposing the Hyde Amendment."
In an interview on Wednesday, Day emphasized that she hopes Tuesday's meeting will be just the start of a broader conversation within the party over how to expand its coalition to include more pro-life Democrats.
"I think it's fair to say that we still have a lot of work to do to educate people within the party on what it means to be a pro-life Democrat, and how to win races as a pro-life Democrat," she said, adding that the meeting was "productive" and that the DNC "heard our concerns on the DNC platform and the DNC message on abortion."
Democrats for Life board member Charles Camosy wrote in Crux on Wednesday that the meeting with Perez "suggests the party may be ready to rethink its approach, at least in terms of tolerance for pro-life voices." Camosy described the focus of the meeting as a conversation about: "How Democrats can open the big tent and start winning again" and added: "the Democratic Party needs to fundamentally rethink its relationship with NARAL-style abortion orthodoxy. It has killed the party in the past, it is killing the party today, and spells doom for the party's future with young people as well."
In response for a request for comment, NARAL's senior vice president for campaigns and strategies Sasha Bruce said: "The Democratic Party has and will always include people who don't personally believe that abortion is an option for them or their families. But the Democratic Party should draw the line on supporting legislators or candidates who seek to impose those personal views on their constituents and the country. Autonomy over our own bodies is a human right and we can't have economic security without it."