Federal Watchdog Agency: Tweets Can't Be Endorsements
The U.S. Office of Special Counsel issued a warning to the White House social-media director, Dan Scavino, for calling for a Michigan congressman's defeat on Twitter.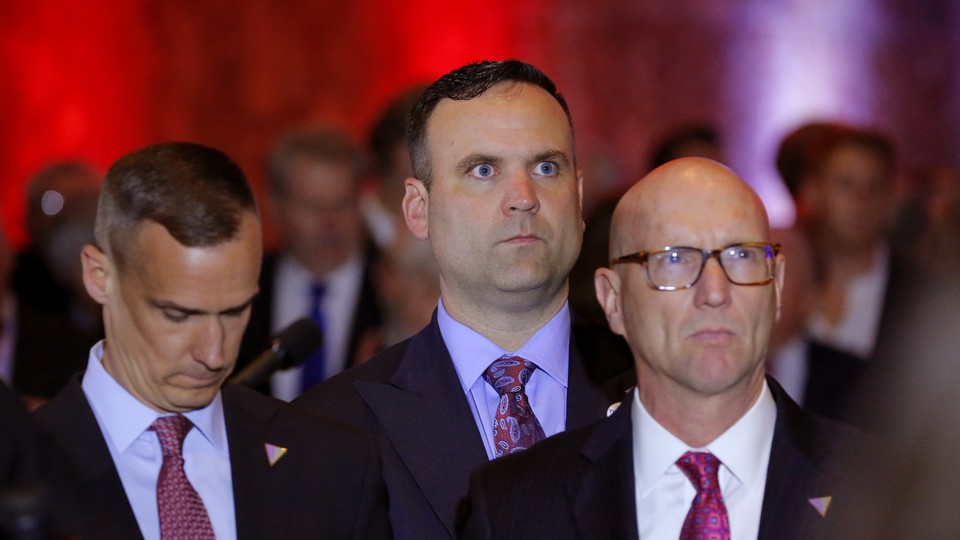 A top White House staffer broke a federal law that bars most government officials from engaging in political activities by calling for a member of Congress's defeat on Twitter two months ago, a federal watchdog agency said Friday.
The U.S. Office of Special Counsel said Dan Scavino, a White House communications official who oversees President Trump's social-media accounts, violated the Hatch Act on April 1 by posting the following message on Twitter, targeted at voters in Michigan Representative Justin Amash's district:
The tweet immediately raised red flags: "As a former congressional press secretary I can confidently tell you that you have violated the Hatch Act with this tweet," read one reply to Scavino's post, from journalist Jim Heath. Citizens for Responsibility and Ethics in Washington, a nonprofit watchdog organization that has frequently criticized the Trump administration's approach to ethics issues, filed a complaint with the OSC following Scavino's tweet. Ana Galindo-Marrone, who leads the agency's Hatch Act unit, said in a letter to CREW on June 5 that the tweet had indeed crossed a legal line.
"Accordingly, we issued Mr. Scavino a warning letter," Galindo-Marrone wrote. "In addition, we note that Mr. Scavino was recently counseled about the Hatch Act by the Office of the White House Counsel." She also noted that Scavino had not posted any potentially unlawful messages since the April 1 tweet.
The OSC is an independent agency that supervises federal civil servants for violations of laws governing their merit-based hiring or their political neutrality. It is unrelated to Special Counsel Robert Mueller, whose powers are derived from the Justice Department, and his investigation into Russian interference in the 2016 presidential election.
Under the Hatch Act, executive-branch employees are generally barred from engaging in certain kinds of "partisan political activity," which includes making campaign speeches or organizing rallies. Those restrictions are typically strongest when specifically calling for a candidate's election or defeat. Scavino used his verified personal account, not a formal White House account, to post his message about Amash.
Galindo-Marrone said Scavino "has been advised that if in the future he engages in prohibited political activity while employed in a position covered by the Hatch Act, we will consider such activity to be a willful and knowing violation of the law," and that "further action" could be pursued against him in those circumstances. Employees who violate the Hatch Act can face suspensions, formal reprimands, or dismissals.
Scavino isn't the first White House official to face public reprimand for an ethics violation. The Office of Government Ethics recommended disciplinary action against Kellyanne Conway, one of Trump's top advisers, less than a month after the inauguration. Conway, a frequent media surrogate, came under immediate criticism after she urged viewers to purchase items from Ivanka Trump's jewelry and clothing lines during a Fox News interview in February.
Conway was asked to address reports of a boycott against department stores carrying the president's daughter's fashion line. "Go buy Ivanka's stuff is what I would tell you," she responded, "I hate shopping and I'm going to go get some for myself today." As the interview progressed, Conway went even further: "It's a wonderful [clothing] line, I own some of it, I fully—I'm going to give a free commercial here: Go buy it today, everybody. You can find it online," she said.
In a letter to the White House Counsel's office, OGE Director Walter Schaub said there was "strong reason" to believe Conway "has violated the Standards of Conduct and that disciplinary action is warranted" for her remarks during the interview. The White House eventually declined to discipline Conway, prompting Schaub to express his concerns that the administration's inaction "risks undermining the ethics program."