Criminal-Justice Reformers Pin Their Hopes on Jared Kushner
On the Hill, the president's adviser and son-in-law is seen as the best chance to get support from the White House.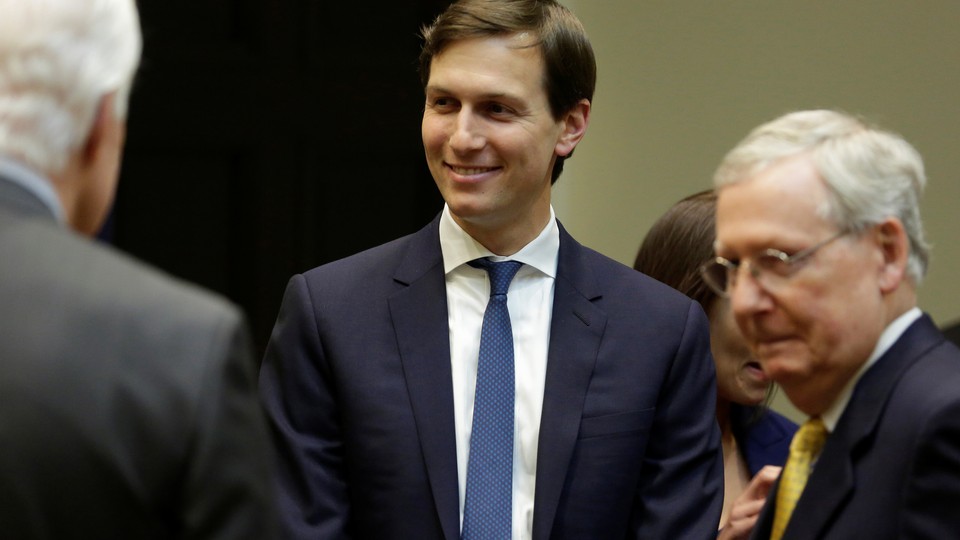 You know a policy's prospects are shaky when lawmakers on both teams are praying for Jared Kushner to ride in and save the day.
Not that Kushner isn't a swell guy. But Trump's all-purpose son-in-law already had a pretty full plate (e.g., solving that whole Middle East thing) even before the feds started poking into his relations with Russia. It seems unlikely he'll have much bandwidth in the coming months to weigh in on Congress's mundane domestic squabbles.
Which is why advocates of criminal-justice reform might want to take a moment to wave adios to any prospect of action in the foreseeable future.
It's tragic, really. In today's hyper-polarized Washington, it's tough to get bipartisan agreement on where to go for coffee, much less on a significant policy issue. One of the few notable exceptions has been the swelling consensus on the need for criminal-justice reform.
While cramming nonviolent, petty offenders into overcrowded prison for as long as possible still strikes some folks as a capital idea, many lawmakers have begun pushing more sensible alternatives. Reform champions include Democratic, bleeding-heart types (Senators Cory Booker and Dick Durbin, ex-Attorney General Eric Holder, his former boss Barack Obama) but also tough-on-crime conservatives (Texas Governor cum Energy Secretary Rick Perry, Senators Mike Lee, John Cornyn, and Chuck Grassley, the Koch brothers).
Different lawmakers prioritize different reforms. Some prefer "front-end" measures (rethinking mandatory-minimum sentencing, especially for minor drug offenses). Others favor "back-end" changes (recidivism-reduction programs like job training and drug rehab). Last Congress, in a flash of legislative genius, Senate Judiciary Chairman Chuck Grassley thought: Why not maximize support by combining front-end and back-end reforms into one bill?
The result was the Sentencing Reform and Corrections Act, which passed the Judiciary Committee in October 2015 and ultimately drew three dozen co-sponsors from both Senate teams. Of course, not everyone loved it, most notably GOP hard-liners such as Senators Tom Cotton and Jeff Sessions. As such, although the bill was seen as having the votes to pass, Senate Majority Leader Mitch McConnell never brought it to the floor last year in order to avoid causing waves in his conference during all the campaign craziness. Supporters nonetheless remained encouraged that, post-election, things would settle down enough to revisit the bill.
You see where this is headed, right?
Donald Trump strutted into office vowing to be the toughest of law-and-order presidents. To aid in his crusade, he chose the staunchly anti-reform Jeff Sessions as his attorney general. During his confirmation proceedings, Sessions was asked about his opposition to reform. (The Alabama senator was one of only a handful of judiciary members to oppose SRCA.) He assured former colleagues that it was their job to make the laws; as AG, he would just be there to enforce them.
This may be technically correct. But as Hill folks will tell you (rather grumpily), the AG has a heap of wiggle room in how laws are enforced—and, more broadly, in the message he sends about the state of U.S. law enforcement both to the public and to the president. Pretty much everyone regarded Sessions's appointment as a blow to reform. Even so, Grassley gamely insisted in January that he would revive SRCA sooner rather than later.
Desperate for administration allies, reform advocates were tickled pink when Jared Kushner came to the Capitol in late March to talk reform with Grassley, Durbin, and Lee. (The dream is that Kushner is sympathetic to reform because his dad did a stint in federal prison.) Senate aides say it was more a listening session than an offer of support. But it gave disheartened advocates a shred of hope and emboldened them to renew their quest for backers. Post-meeting, Grassley announced that he would know the administration's position on reform legislation "in three weeks."
Two-plus months later, the White House has yet to offer further guidance.
Meanwhile, Attorney General Sessions has jammed his thumb deep into reformers' eye sockets. Last month, his office issued a directive that federal prosecutors should pursue the toughest possible charges and sentences for even nonviolent drug offenders (a reversal of Obama-era policy). Reform fans on and off the Hill were dismayed. (A trio of Senate Democrats from the Judiciary Committee had publicly petitioned Sessions not to go in this direction.)
Democratic and even a few Republican lawmakers criticized the move. This Wednesday, Senators Lee, Booker, Durbin, and Rand Paul went so far as to send Sessions an open letter, questioning the logic behind the May 10 memorandum and fretting that it "will result in counterproductive sentences that will do nothing to make the public safer." They have given the attorney general 30 days to respond to laundry list of questions regarding the new policy.
Complicating matters further, one of last year's key SRCA backers, Senator John Cornyn, has begun toying with a new bill of his own. Cornyn is collaborating with House Homeland Security Chairman Michael McCaul on a measure that would jack up mandatory minimums for certain immigrants and for people who commit violent crimes against law enforcement officials. This move isn't a total about-face for Cornyn. Last year, he introduced a "Back the Blue" bill establishing steep mandatory minimums for crimes against law enforcement. More broadly, multiple Hill aides point out that Cornyn has always been in the "back-end" reform camp and has made clear he'd be just as happy to split his pet programs back off of SRCA.
At this point, folks on both sides of the aisle see Cornyn's emerging proposal as more of a messaging move than an attempt at serious legislation. Even so, a competing bill is hardly welcome news to his reform colleagues. As a Judiciary Committee staffer noted, "A good amount of work went into putting together [SRCA]. It's like an ecosystem: Change one thing and something else is changed."
Bottom line, say Hill aides: For anything to happen on criminal-justice reform, Congress will need a kick in the pants from the other end of Pennsylvania Avenue. "It's going to be difficult to move forward if we're not able to build support in the administration," said the Judiciary Committee staffer.
With Sessions charging in the opposite direction, Kushner is seen as the cause's last, best hope. If Trump's beloved son-in-law would climb on board, say aides, the situation could get super interesting in a Jared vs. Jeff reality TV-style smackdown. Said a senior Democratic staffer, "If Kushner gets behind this effort and decides this is good for Trump, we're gonna find out whether he has any influence with the president or not."
Alas, for now Kushner is preoccupied with his own "drama," sighed a Republican aide, noting, "We're still trying to get a face-to-face with him."
Of course, with each passing day, it matters less what Kushner does. Congress is grotesquely behind in handling even its top priorities of healthcare and tax reform, and things will get exponentially worse as the fall budget battles approach. Even the most upbeat reform advocates sound blue when discussing the congressional calendar. "The pace at which the Senate is moving right now is a problem," acknowledged the Judiciary Committee staffer.
Translation: Despite its lovely, bipartisan promise, the prospects for significant criminal-justice reform are—if not totally dead—only slightly worse than the odds that Kushner will go down in history as father of the Israeli-Palestinian peace accords.