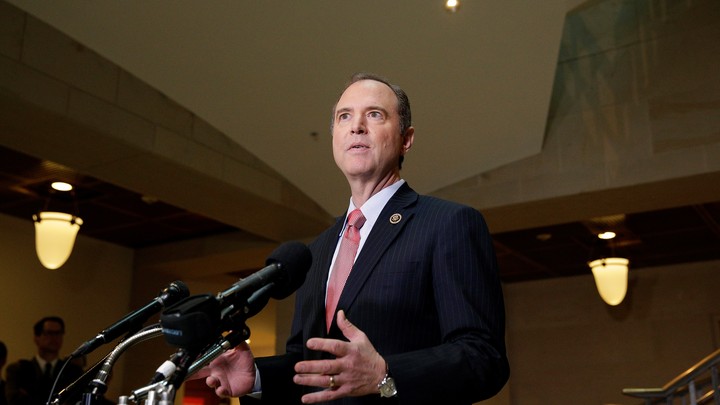 Democrats and Republicans reacted very differently to the Wednesday release of former FBI Director James Comey's testimony detailing interactions with President Trump, including a meeting in which Comey claims Trump told him "I need loyalty, I expect loyalty," with Democrats expressing alarm while Republicans rushing to the president's defense.
Comey, who was abruptly fired by Trump in May, is scheduled to testify in front of the Senate Intelligence Committee during a highly-anticipated hearing on Thursday where he will deliver his full remarks and respond to questions from lawmakers on the panel. On Wednesday, however, Comey's prepared opening statement was publicly released on the committee website, reportedly at Comey's request.
The White House initially pointed to criticism of the FBI director's handling of the investigation into Hillary Clinton's private email server as a justification for firing him. Later, however, Trump told NBC News' Lester Holt that he had the Russia investigation in mind when he decided to let Comey go.
High-ranking Democrats and Republicans on the House and Senate Intelligence Committee, two congressional panels investigating potential links between Russia and Trump campaign associates, had sharply divergent responses to the testimony.
"Former FBI Director Comey's written testimony confirms a host of troubling allegations concerning the President's conduct," Representative Adam Schiff, the top Democrat on the House Intelligence Committee, said in a statement.
In contrast, Senator Richard Burr, the top Republican on the Senate Intelligence Committee, reportedly reacted to the testimony by saying "I don't think from what I've read there's anything of wrongdoing," according to The Guardian's Lauren Gambino. Burr reportedly added: "I don't think it's wrong to ask for loyalty from anybody inside the administration."
In the testimony, Comey writes that the president brought up former national security advisor Michael Flynn during a meeting at the Oval Office, and asked the then-FBI director to "let this go," a request that Comey took to mean that Trump wanted the FBI to "drop any investigation of Flynn in connection with false statements about his conversation with the Russian ambassador."
In another recounted exchange, Comey writes that in March the president called him up to say that the federal investigation into Russian interference in the presidential election had created a ''cloud' that was impairing his ability to act on behalf of the country" and "asked what we could do to 'lift the cloud.'"
In his statement reacting to the testimony, Schiff added: "it is not the [FBI] Director's job to lift the cloud of suspicion over the President's conduct or that of his associates. The request by the President to do so  … represents yet another improper effort to coerce the intelligence agencies to do public relations for the White House and to undermine the independence and integrity of the intelligence community."
Democratic Senator Ron Wyden told CNN in an interview that the testimony portrays "almost a Watergate-level effort to interfere with an ongoing investigation."
Democratic Representative Joaquin Castro of Texas told BuzzFeed News reporter Lissandra Villa that Comey's testimony "raises very troubling and disturbing questions about the president's attempts to make the investigation into Michael Flynn go away."
While Democrats criticized the president and voiced concerns, however, some congressional Republicans downplayed the suggestion of impropriety and instead focused attention on Comey's testimony that he "offered" an "assurance" to the president during a January briefing that "we did not have an open counter-intelligence case on him," a notably qualified statement that would not preclude any other kind of investigation, or the opening of such an investigation in the future.
"Former FBI Director Comey's statement proves what we have already known: President Trump is not under investigation," Republican Representative Jeff Duncan tweeted.
"Reality check: Comey testimony - he told @POTUS Trump he was not being investigated; POTUS did not ask him to stop Russia investigation," Republican Representative Peter King wrote on Twitter.
That reaction echoed the response from the Republican National Committee. "President Trump was right," RNC Chairwoman Ronna McDaniel said in a statement. "Director Comey's statement reconfirmed what the president has been saying all along - he was never under investigation."
Emphasizing that he himself is not under federal investigation does indeed appear to be important to Trump as evidenced by the fact that the president himself noted in the letter he sent to fire Comey in May that he "greatly appreciate[d] you informing me, on three separate occasions, that I am not under investigation."
Yet while Comey may have assured Trump that he was not a subject of federal investigation during his recorded interactions with the president, the investigation into Russian involvement in the election is ongoing and could be expanded in the future. Comey himself nods to this possibility in his testimony, writing: "the FBI and the Department of Justice had been reluctant to make public statements that we did not have an open case on President Trump for a number of reasons, most importantly because it would create a duty to correct, should that change."
Not every Republican lawmaker seemed entirely unconcerned, however. According to BuzzFeed's Emma Loop, Republican Senate Judiciary Chairman Chuck Grassley said that "no president should expect a person in Comey's position to compromise anything in their job because of quote-on-quote loyalty," though he added that "if it's a general statement of loyalty, that's one thing."
We want to hear what you think about this article. Submit a letter to the editor or write to letters@theatlantic.com.
Clare Foran
is a former associate editor at
The Atlantic
.