Why Boston Is Paying Ex-Gang Members to Go to College
The deal: $400 a week to stay in school. Is it worth it?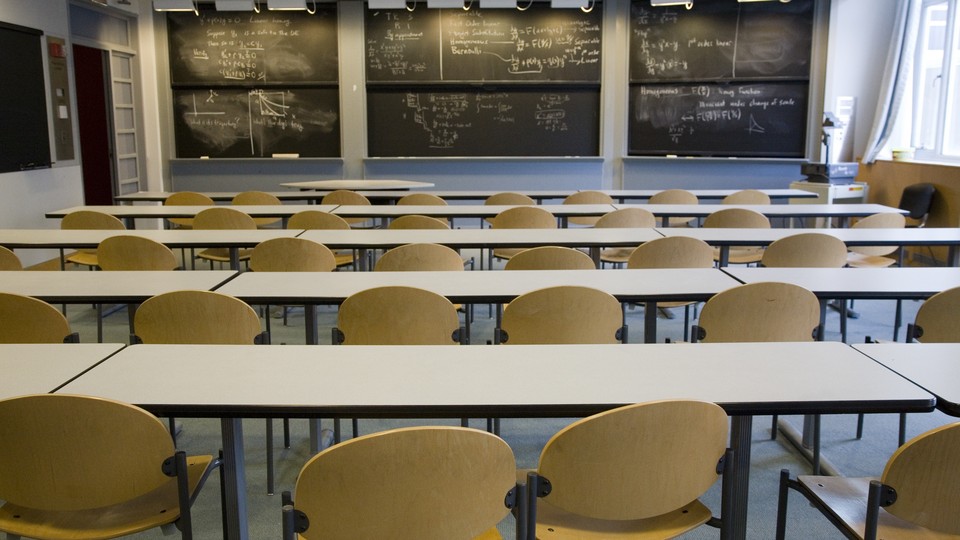 On a Tuesday in late May, Antonio Franklin sits in a makeshift classroom in Boston's Dorchester neighborhood, 10 years to the day after he stepped foot inside Massachusetts Correctional Institution at Norfolk to serve nine years for aggravated assault against a cop. Pencil in hand, he looks on as instructor Ismail Abdurrashid fills a whiteboard with algebra equations. A year ago, Franklin left prison. Now, at 31, he's brushing up on high-school-level math with about a dozen other classmates, preparing to attend Bunker Hill Community College in the fall.
Many of Franklin's classmates dropped out of high school, and many were incarcerated. Some, like Franklin, earned their GED while serving time; some are taking this math class to prepare for the corresponding HiSET, or High School Equivalency Test (a new test, similar to the GED). Some, also like Franklin, ended up in prison after being on the streets, engaging in gunplay and selling narcotics. All of them are now being paid to attend class and go to college.
Franklin and about 40 other students are members of Boston Uncornered, a three-year pilot program launched in May and run by the education nonprofit College Bound Dorchester. The participants earn a $400 weekly stipend by attending class every day, passing their HiSETs, and matriculating to college. Once in college, the stipend continues for as long as it takes them to graduate with an associate's degree. The program seeks to address one key factor—lack of income—that might lure ex-offenders and former gang members back on the street. "As much as we want to do good in school, we need money," says Franklin, whose stipend goes toward his rent, groceries, and probation fees. "I love this school stuff, but how can you live life without being financially stable as well?"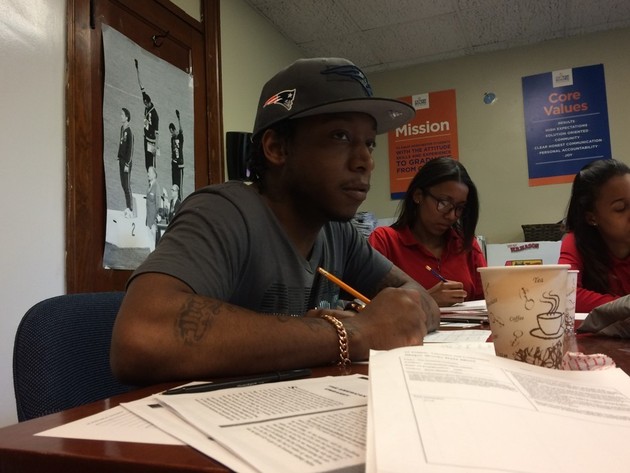 Whether the program can put a dent into the overall gang activity on Boston's streets remains to be seen. According to CBD, the city's estimated 2,600 gang members are responsible for half the city's homicides and close to three-quarters of all shootings. In 2016, there were 135 total homicides in Boston, a slightly higher tally than the previous year, and local law enforcement say gang feuds were responsible for the uptick.
In Dorchester, the issues of gang activity and crime in general are felt more acutely. Boston's largest neighborhood is home to about one-quarter of the city's impoverished residents; they are more likely to be stopped-and-frisked by police and "are jailed at about twice the rate of the city as a whole," according to the Boston Globe.
The prospect of paying former gang members to go to school is sure to have eyes rolling far into the backs of many people's heads. But Mark Culliton, an educator with 20 years' experience and current CEO of College Bound Dorchester, has heard all the counter-arguments. He doesn't buy any of them.
"Financial incentives, as a society, we believe are for hedge fund guys, for Wall Street guys," he says. "But for poor kids, we suddenly think that's wrong. It seems to work pretty well for a lot of other industries."
Through Boston Uncornered, the hope is that the $400 weekly stipend is enough incentive to keep kids off the corners and out of jail. Over the next three years, the nonprofit will reach out specifically to what it calls "core influencers" in a half-dozen hotspots of crime and gang activity as identified by the City of Boston's Office of Public Safety. It'll do this work by using current CBD employees who are themselves former gang members—they're now college graduates or gainfully employed. The thinking is that ex-gang members can convince current ones to follow in their footsteps.
"A highly disengaged, highly disruptive group of young people makes a bad neighborhood. If you serve them, though, it'll unlock the potential of the whole neighborhood," Culliton says. "Boston Uncornered is not about individual transformation. It's ultimately about, can some of these hotspots go from places of fear and violence to places of true opportunity?"
The concept behind the program echoes anti-violence efforts in other cities. Most famously, the Chicago-based organization Cure Violence, developed by epidemiologist Gary Slutkin in the mid-1990s, employs ex-felons to do street-level mediation between drug dealers and gang members in an effort to stop shootings. Variants of that model have had success in several cities. In Baltimore, for example, the city's Safe Streets program has operated since 2007, and currently has five sites around the city. Overall, neighborhoods with Safe Streets have lower levels of homicides and less gun crime compared to other neighborhoods, according to research done by the Johns Hopkins Bloomberg School of Public Health.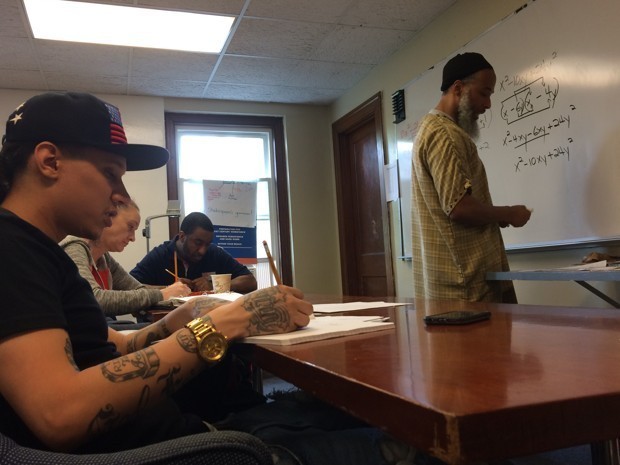 But where those other programs seek to stop neighborhood shootings by walking the beat, so to speak, the influencers of Boston Uncornered try to directly pull players off the street and into the classroom. Participants are paired with a College Readiness Advisor, or CRA—College Bound Dorchester team members who have successfully left behind their own troubled pasts. They work individually with participants to set up college plans, making goals for a gamut of benchmarks, including how to pass HiSETs, make it into community college, and apply for financial aid to help offset additional college costs.
"It's a great opportunity for individuals like me who were stuck in the streets and were thinking, 'This is it,'" says Francisco Depina, a 32-year-old CRA who's been involved with CBD since 2006, when he was a student working toward his GED.
Now he works with students like Franklin to keep them on a path toward college. This isn't always easy. Many of the Boston Uncornered participants under Depina's supervision grew up like he did. At age 2 his father abandoned his family, and by high school he was involved with a gang, selling drugs. His penchant for brawling in the hallways eventually got him kicked out of the Boston public school system. "In school I remember being told that by the time I'm 18, I'll either be dead or in jail," Depina says. "I really believed that once—that school wasn't for me, that education wasn't for me, that the street was it."
Intervention from a CBD employee eventually turned Depina from the streets. Simple things, he says, slowly chiseled away his hard exterior: games of chess on a stoop, or casual phone calls just to check up on him. It's those experiences Depina now draws from to go back to the corners and convince those who grew up like him to follow his lead. "When they see that someone cares for them the way someone cared for me, they'll listen to you," he says. "Eventually, they'll follow."
What College Bound Dorchester is attempting through Boston Uncornered is not without risks. As in other programs built around similar models, some participants may not have entirely left their lives of crime behind. (In 2015, for example, guns and drugs were discovered in a Safe Streets office in East Baltimore.) CBD did a trial run of the program January 2016, when it took seven core influencers who had either a GED or high-school diploma and began paying them to attend classes at Bunker Hill Community College or Benjamin Franklin Institute of Technology. Of those seven, two were rearrested. One had to be rushed out of the state on a Sunday morning after his former gang put a bounty on his head. Another one, as Culliton says, "just played us": He pocketed the $400 a week and lied about going to classes. Only three stayed the course. Of those, two are still in college, while the third recently got his HVAC certificate and is now working.
Since that trial, the nonprofit has worked with about 200 core influencers. About 85 percent of them are still taking classes at CBD, and roughly half are enrolled in college. Participants so far have shown a 71 percent drop in recidivism. With the launch of Boston Uncornered in May, CBD plans on scaling this work to reach about 600 core influencers. That would cost $18 million over the three years, $5 million of which goes toward paying student stipends alone. (So far, CBD has raised $4.8 million.)
Is that money well spent? Considering that the state of Massachusetts spends about $53,000 per year on a single prison inmate, it could be. The worry from some critics is that Boston Uncornered participants who can't stay the course might obstruct the education of their college peers. "Lots of kids spend lots of money to go to school," Brian Kyes, chief of the Chelsea, Massachusetts, police department, told the Boston Herald. "I hope there is no disruption."
But Culliton emphasizes the more intangible benefit of the program: He's seen participants grab hold of the second chance they've been given after realizing that, for so many years, they actively played a role in hurting their own communities. "We know that when you give people the means to make a choice to focus on education, they do," Culliton says.
As Franklin can attest, he's now on a path he never thought he'd walk. Growing up in Dorchester, Franklin was raised by a mother and grandmother who were addicted to drugs. By age 12, he was involved in a gang. By age 21, he was in prison. A decade later, he's getting ready to study sociology and psychology en route to earning his associate's degree. He says he'd like to use his education to reach out to kids living the sort of hard life he knows all too well.
"I always wanted to do good in my life. I just felt like because of the area I lived in, because I got involved in gangs, I couldn't do it," he says. "This program is giving us a stepping stool to better our life."