Between the Lines of Jim Comey's Testimony
The former FBI director left a number of hints about where the investigation into Russian interference in the 2016 election could go.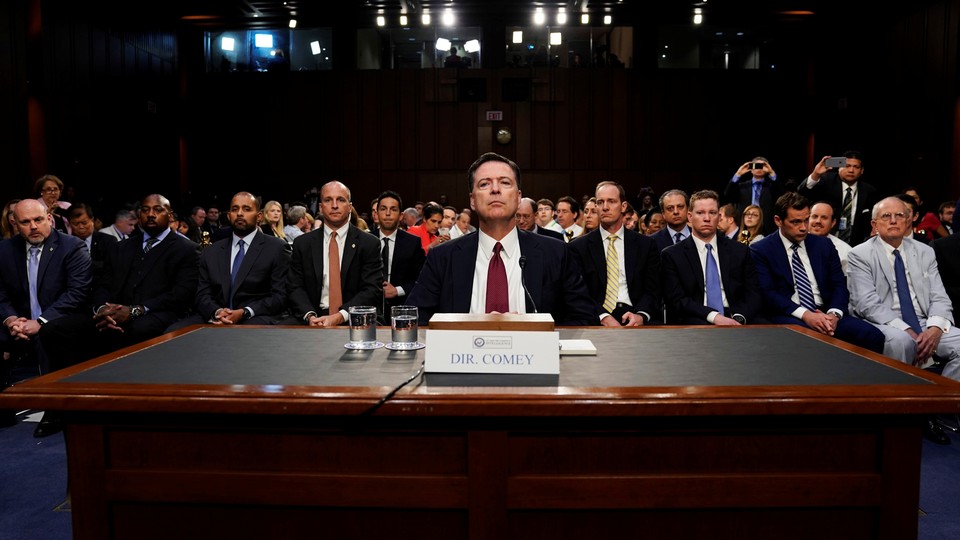 Following former FBI director James Comey's Senate testimony last week, President Trump took to Twitter, claiming "total and complete vindication."
The White House did get some good news: Comey said that the president was not personally under investigation while he led the bureau, and that a New York Times article detailing contacts between Russian intelligence and the Trump campaign was "in the main … not true."
But that is by no means the end of the story. As Comey was careful to point out, it was not the function of his testimony to prove or disprove any case against Trump or anyone else. Building such a case remains within the jurisdiction of Robert Mueller, the newly appointed special prosecutor and former FBI director. Moreover, as a former FBI agent, I know the importance of reading between the lines; and in this case, a great deal went unsaid both about the ongoing investigation into Russian interference in the 2016 election, and the peril the president himself could face.
First, consider the deafening silence that greeted Comey's revelation that, even before Trump took office, the FBI director began taking copious notes of his conversations with the president-elect. Invited to explain, Comey said that he made the record in part because he was "honestly concerned that [Trump] might lie about the nature of our meeting," a fear that the director did not feel in his dealings with either of Trump's immediate predecessors. And here is the remarkable thing: Not one single senator, of either party, questioned the characterization of the president of the United States as someone likely to tell lies. We know why, of course: The president has made clear, again and again, that his word cannot be trusted. And, Comey said, the president did indeed lie about their conversations, prompting the director to release his contemporaneous, unclassified account.
Second, Comey's much-vaunted statement that Trump was not personally under investigation comes with at least two very important qualifications. One: Comey made clear that at least one senior FBI figure disagreed with his assessment that Trump was not being investigated, on the grounds that the campaign was under investigation and Trump was head of the campaign. A different director may well have shared this (quite legitimate) view, and informed Trump that he was, in fact, under investigation. Two: I know from experience that whenever you are investigating an organization, be it a political campaign, an organized crime family, or a terror group, you almost never start at the top. Instead, you seek to "turn" more junior lieutenants and work your way up the chain from there.
It's possible to read what's publicly known about the investigation as reflecting that kind of progression. For example, during the campaign itself, the FBI reportedly received a warrant to monitor Carter Page, then one of then-candidate Trump's foreign-policy advisers. Then there's Michael Flynn, the former national-security adviser who was ousted after lying about his communications with Russian officials during the transition. Late last month, it emerged that Jared Kushner, Trump's son-in-law and an adviser firmly in Trump's inner circle, had reportedly become a focus of the investigation.
There is every possibility that the president may already face personal investigation by special counsel Mueller. Bear in mind, too, that obstruction of justice is just as much a crime as collusion with a foreign power. I have seen many cases begin by looking for evidence of one offense, only to end with quite different charges; even Al Capone was ultimately jailed not for murder or bootlegging but for tax evasion.
Third, over the course of his nine one-on-one meetings and conversations with Comey, not once did the president ask to be briefed on the main focus of the FBI's investigation, Russian interference in American democracy. Instead, he allegedly concentrated on getting his own adviser off the hook and attempted to extract a pledge of loyalty from the FBI director. This is bizarre conduct from the leader of a country facing massive national-security challenges emanating from the Kremlin—challenges the FBI is at the forefront of countering. By behaving in this way, the president implied that his focus is not on protecting the nation he is sworn to serve.
Trump's mendacity, selfishness, and personality-cult politics did not develop in a vacuum; they were enabled, in part, by a culture of impunity in Washington. We have seen no real accountability for the Iraq War, the Bush-era torture program, or the many other national-security disasters of the past two decades; Trump could be forgiven for assuming that he will prove similarly immune in this case.
But there is one hope, and that is the integrity of public servants like James Comey. Where Trump is focused on fending off accusations instead of countering Russian aggression, Comey has shown himself prepared to sacrifice his own career in order to uphold the rule of law and protect the integrity and investigative independence of the FBI.  In a political environment hopelessly polluted by "alternative facts," Americans desperately need real ones. That is what Comey said he was offering on Wednesday, and it is why his testimony left a mark.