Will Bears Ears Remain a National Monument?
If Interior Secretary Ryan Zinke decides to revoke its status, it would be the latest example of the federal government setting aside land in conjunction with tribes, only to break the agreement.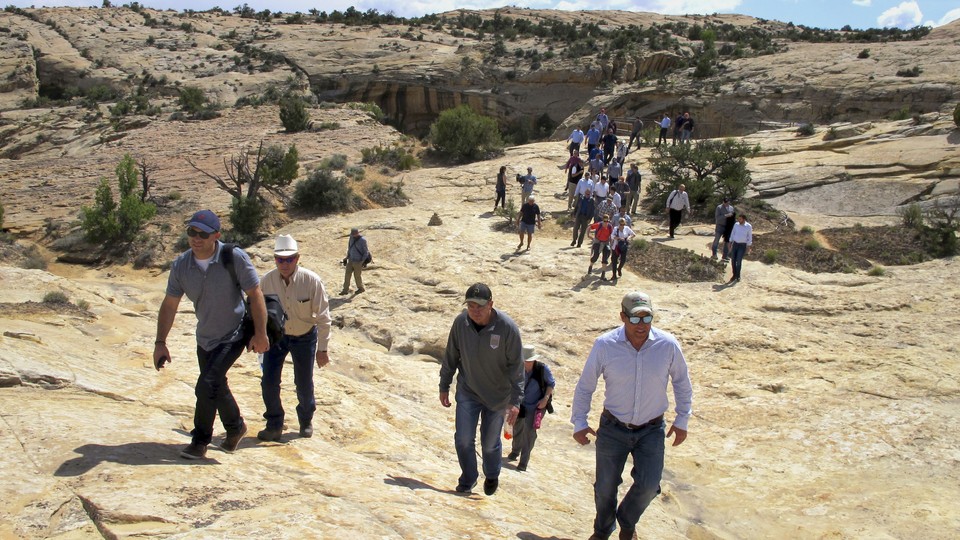 Jonah Yellowman lives in the north end of the Navajo Nation, between Monument Valley, the famous backdrop of many Western movies, and Mexican Hat, Utah, named for a nearby red-rock formation that looks like a sombrero. Yellowman is one of about 70,000 Navajo who live in homes without running water. His house also lacks electricity. Trees are sparse on the Navajo reservation, so to gather wood for cooking and heating, Yellowman goes to the woods in Bears Ears National Monument, about 50 miles north of his home.
"We survive off that land," Yellowman said of Bears Ears, a 1.35 million-acre expanse of high-desert plateaus in southeast Utah. "Where I live, we don't have any trees. Also, we use different kinds of plants and herbs for basket weaving—people survive on that. People use it for hunting."
Yellowman is a board member of Utah Diné Bikéyah, a Native American-led organization that in 2011 called for the federally owned Bears Ears region to be protected from mineral extraction, commercial forestry, and most vehicle use. Numerous Southwest tribes lived in Bears Ears and consider it sacred, and Utah Diné Bikéyah's proposal sought to preserve traditional uses of the land while giving tribes a role in managing the area. When legislative efforts to conserve the area failed, leaders from the Navajo, Hopi, Zuni, and Ute tribes joined Diné Bikéyah in lobbying former President Barack Obama to designate Bears Ears a national monument. The monument, announced last December, was a watershed moment in U.S.-tribal relations: Obama's proclamation took the unprecedented step of designating a commission of tribal leaders to consult on management of the monument.
That diplomacy is now in jeopardy. In late April, President Donald Trump signed an executive order calling for the Department of the Interior to review national monuments created under previous administrations, dating back to 1996. The deadline for Interior Secretary Ryan Zinke's review of the monument is June 10.
The 1906 Antiquities Act grants the president the power to create national monuments. During his time in office, Obama designated more national monuments than any other president. In response, Trump has taken a cue from Utah political leaders and criticized his predecessor. Announcing the monument review in April, with Utah Governor Gary Herbert and much of the state's congressional delegation by his side, Trump chided Obama's use of the Antiquities Act. "It's gotten worse and worse and worse, and now we're going to free it up," he said. "This should never have happened."
Should the Bears Ears review result in a downsizing, or outright revocation of the monument status, it would be the latest example of the federal government setting aside land in conjunction with tribes, only to break the agreement.
"Take the example of the Ute tribes," said Monte Mills, an assistant professor of American Indian law at the University of Montana. Prior to European-American settlement, the Ute territory stretched across much of Colorado and Utah—Bears Ears included—and as far south as New Mexico. "As non-Indian settlers moved in, the federal government negotiated a treaty in 1868 that recognized their reservation boundaries essentially as the western third of Colorado. Within five years, there was a portion cut out because of the discovery of gold and silver." A Ute attack on an Indian agency led the government to evict northern Utes from Colorado; their reservation is now in Utah's oil and gas country. The Southern and Ute Mountain Ute reservations are in Southwest Colorado, south of the mineral-rich San Juan Mountains.
Similar scenarios have unfolded in other parts of the United States, as well. An 1855 treaty granted many Washington state tribes the "right of taking fish at usual and accustomed grounds," but Native American fishing was nonetheless regulated by the state. Immigrants with larger commercial fishing vessels quickly displaced tribal fishing operations, and Indians were required to purchase recreational fishing licenses. Tribes responded with the  "Fish War" protests in the 1960s and 1970s, and in 1974, a district court ruling granted tribes half of Washington's fish harvest.
In 1868, the federal government promised the Sioux tribes the western part of South Dakota; nine years later, it would seize the Black Hills region after gold was discovered there. The Supreme Court ruled in 1980 that the land was illegally taken and that the Sioux should be compensated. The tribe refused to take the federal money, saying the land was never for sale.
Since the 19th century, nearly every Native American reservation has shrunk in size. In 1881, tribes held claim to 156 million acres; today, Indian reservations take up 56.2 million acres.
Bonnie Duran, the director of the Center for Indigenous Health Research at the University of Washington, said the constriction of tribal lands, among other factors, constitutes historical trauma that affects Indians through generations. "All of these systems of life were taken away from tribal people," Duran said. She recently surveyed collaborators at more than 20 tribal colleges to develop a mental-health assessment tailored to Indian culture. Those surveyed made it clear that land access has a direct link to Native American mental health. "They said, 'The biggest impact on our mental health is a lack of access to our traditional homelands for ceremonies, for traditional forms of exercise, for access to fish or wildlife."
Bears Ears opponents also see their land access curtailed. Land management has long been a contentious issue in Utah, where 63 percent of land is federally owned. The state's Republican lawmakers were incensed when former President Bill Clinton designated the 1.7 million-acre Grand Staircase-Escalante National Monument in 1996, and they saw Obama's Bears Ears proclamation as yet another example of federal overreach. "These colossal abuses have soured the appetite for national monument designations, making the Antiquities Act synonymous with overreach rather than a tool to be celebrated for protecting our national heritage," Utah's congressional delegation wrote in a letter to Zinke in May.
Lawmakers in Utah and some residents of San Juan County, where the monument is located, argue the monument designation is an unjust restriction on resource development, ranching, and motorized access to trails. But Native Americans who petitioned for the monument seek to protect sacred sites, artifacts from ancient dwellings (theft is rampant in the area), and their traditional uses of the land. Gathering herbs, they argue, is impossible on an oil derrick.
Furthering the divide between the two groups is the prescriptive language used by politicians, and the racial undertones that sometimes appear to accompany it. "The Indians, they don't fully understand that a lot of the things that they currently take for granted on those lands, they won't be able to do if it's made clearly into a monument or a wilderness," Senator Orrin Hatch said last month, though the Bears Ears monument designation explicitly preserves traditional Native uses of the land. The Utah League of Native American Voters condemned Hatch's remarks, calling on him to apologize for his "blatantly racist, misinformed and condescending tone and words."
On a tour of the region last month, Zinke spent one hour with the Bears Ears Inter-Tribal Coalition. He was there four days; the rest of the visit included meetings with Utah federal, state, and county leaders opposed to the monument.
During a press event in Washington, D.C. last month, tribal leaders pledged to challenge any changes to the monument in court. Arguments, Mills said, would likely center on presidential authority to change monuments—the Antiquities Act mentions only monument creation, not alteration. Furthermore, the Obama administration's engagement with tribes could help preserve Bears Ears by showing the administration exercised due diligence in crafting the smallest appropriate monument, as the Antiquities Act requires. Indeed, the monument as designated is nearly 600,000 acres smaller than the Bears Ears Inter-Tribal Coalition's proposal.
"The effort that went into the original proclamation and the development of those boundaries are going to be pretty hard to overcome," Mills said. "Given the fact that [the review] is going to be done in 45 days makes it seem somewhat arbitrary no matter what."
Not all Native Americans in the region support Bears Ears National Monument. San Juan County Commissioner Rebecca Benally has been the strongest Navajo voice in opposition to the monument. "Trusting the federal government has historically resulted in broken promises for Native Americans," she wrote in an op-ed in the local newspaper. While tribal leaders in the area see Bears Ears as a chance for the government and tribes to collaborate, Benally sees it as a chance for the U.S. to renege on a promise.
The review process is another frustrating example of federal questioning of Indian sentiment. "They make you feel like you don't even know how to use the land," Yellowman said. "My people got driven off these lands and put on the reservations, and now they are asking us, 'How are you connected to this land?' My ancestors lived up there. Our home structures are sitting up there.
"It's like somebody chases you out of your home and tells you to sleep on the porch."