Five Involuntary Manslaughter Charges in the Flint Water Crisis
Michigan Health Director Nick Lyon and four other officials are accused of failing to act on a Legionnaires' disease outbreak associated with the city's lead-poisoning problems.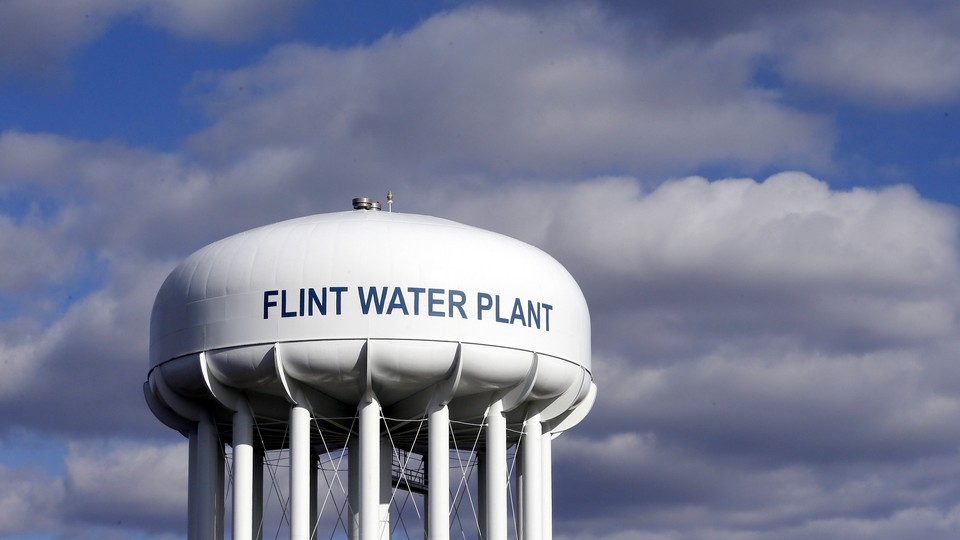 Updated on June 14 at 11:35 a.m. ET
On Wednesday morning, Michigan Department of Health and Human Services Director Nick Lyon became both the highest-ranking person charged in the ongoing Flint water-crisis investigation. He and four other Michigan officials received the first involuntary manslaughter charges in the investigation as well.
Michigan Attorney General Bill Schuette's office charged Lyon with involuntary manslaughter in court in connection to deaths caused by an outbreak of Legionnaires' disease, which many experts believe occurred because Lyon's department failed to warn Flint residents of the dangers of their crumbling water infrastructure. His subordinate Eden Wells, the chief medical officer of the department, was also charged with obstruction of justice and lying to a police officer.
Later, during a press conference, Schuette announced that he would be charging four additional officials, including former Flint Emergence Manager Darnell Earley, former state environmental official Liane Shekter-Smith, former Flint Public Works director Howard Croft, and state water supervisor Stephen Busch with manslaughter, in addition to previously announced against them. All five of the involuntary manslaughter charges, including Lyon's, are linked to the death of Robert Skidmore, who died from Legionnaires' disease in 2015 before a public outbreak notice was issued.
The Flint water crisis began in 2014, when city and state officials made the switch to using the Flint River as a temporary source of drinking water. Corrosion, a crumbling water infrastructure, a questionable water-treatment program, and now alleged malfeasance by officials in the state health department, the Michigan Department of Environmental Quality, and Flint's state-controlled municipal government, created a situation in which thousands of homes were exposed to high levels of lead, and hundreds of children potentially given high blood-lead levels. Many Flint citizens still rely on bottled water as the only safe choice.
Although the crisis has been mostly referred to as a lead-poisoning incident, a large outbreak of Legionnaires' disease and transmission of legionella bacteria have also been associated with the water crisis. Unlike the lead poisoning, that outbreak has been fatal. At least ten people in Genesee County have died from the disease since 2014, and dozens more have been infected. Internal documents indicate that multiple public-health agencies and officials, including the Michigan Health Department, had been aware of the legionella threat as early as 2014, but chose to wait over a year to inform the public.
In this morning's court proceedings, a state investigator said that Lyon "took no action to alert the public" and other officials after becoming aware of legionella cases suspected of a linkage to the Flint River. Together, Lyon and Wells join nine other officials, including two former Flint emergency managers, were brought up on a total of 48 criminal charges in the crisis in an investigation by Schuette's office that has been ongoing since January 2016. In the press conference, Schuette also announced that his office would not be filing charges against Michigan Governor Rick Snyder.