A Friend of Trump's Reports That He Is Considering Firing Robert Mueller
Is the president actually weighing the move? Chris Ruddy, a confidant of the president, has a simple answer: Yes.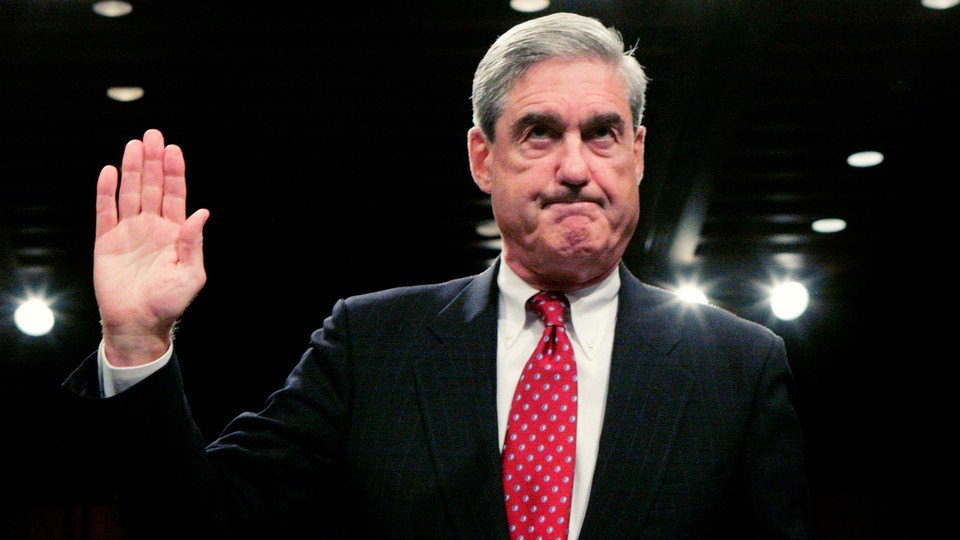 Donald Trump is considering dismissing the special counsel assigned to the Russia investigation, a confidant said on Monday.
Newsmax CEO Chris Ruddy told PBS Newshour that Trump is "considering perhaps terminating" Robert Mueller, the former FBI director who was appointed to run the investigation into Russian influence on the campaign by Deputy Attorney General Rod Rosenstein on May 17.
Asked later if Trump is really considering firing Mueller, Ruddy said: "Yes."
A White House official told me that "Chris was speaking for himself and did not speak to the president." Later on Monday night, White House Press Secretary Sean Spicer issued a statement reading, "Mr.  Ruddy never spoke to the president regarding this issue. With respect to this subject, only the president or his attorneys are authorized to comment."
CNBC's Washington correspondent tweeted that she had seen Ruddy leaving the West Wing earlier on Monday afternoon; NBC later reported that he was there for a meeting with the president that was postponed. Ruddy told NPR they spoke on Friday.
Ruddy, a member of Trump's Mar-a-Lago club in Florida, has often seemed to float trial balloons related to moves Trump is considering making. In February, after having a drink the night before with Trump at Mar-a-Lago, Ruddy criticized White House Chief of Staff Reince Priebus on CNN, saying "I think Reince Priebus, good guy, well-intentioned, but he clearly doesn't know how the federal agencies work."
In the same interview with PBS on Monday, Ruddy appeared to encourage Trump not to fire Mueller, saying "I personally think it would be a very significant mistake."
Trump allies have recently begun questioning the appointment of Mueller and suggesting or stating that he should be removed from the investigation.
Former Speaker of the House Newt Gingrich, who had initially hailed Mueller as a "superb choice," changed his tune on Monday, tweeting: "Republicans are delusional if they think the special counsel is going to be fair. Look who he is hiring.check fec reports. Time to rethink."
Asked to elaborate, Gingrich said in an email, "You should look at who Mueller is hiring."
Mueller has added several high-powered lawyers to the team, indicating to some observers that he is planning an aggressive investigation. Last week, Lawfare called his hiring of lawyer Michael Dreeben, a deputy in the office of the Solicitor General and specialist in criminal law, "the worst thing that happened to Donald Trump this week."
Jay Sekulow, a conservative lawyer and TV talking head who according to a source familiar with the situation was added to Trump's legal team last week, didn't rule out Trump removing Mueller on Sunday, saying on ABC's This Week that he was "not going to speculate" on whether Trump might make such a move.
"I can't imagine that that issue is going to arise," Sekulow said.
Ann Coulter, another top Trump supporter, tweeted on Monday that "[Attorney General Jeff] Sessions never should've recused himself. Now that we know TRUMP IS NOT UNDER INVESTIGATION, Sessions should take it back & fire Mueller."
By statute, Trump cannot directly fire Mueller. He could, however, order Deputy Attorney General Rod Rosenstein to do so; the special counsel can only be removed for "misconduct, dereliction of duty, incapacity, conflict of interest, or for other good cause, including violation of Departmental policies."
When Richard Nixon ordered the removal of Archibald Cox, the independent special prosecutor (who acted under a different statute), both the attorney general and deputy attorney general refused and resigned in protest, an event remembered as the Saturday Night Massacre. Cox was ultimately dismissed by Solicitor General Robert Bork, but Nixon was compelled to appoint a replacement. The event helped tip public opinion against Nixon.