Why Ossoff Lost
Despite the opposition Trump has galvanized, the Democrats still haven't figured out how to win in the places where they're trying to stage a comeback.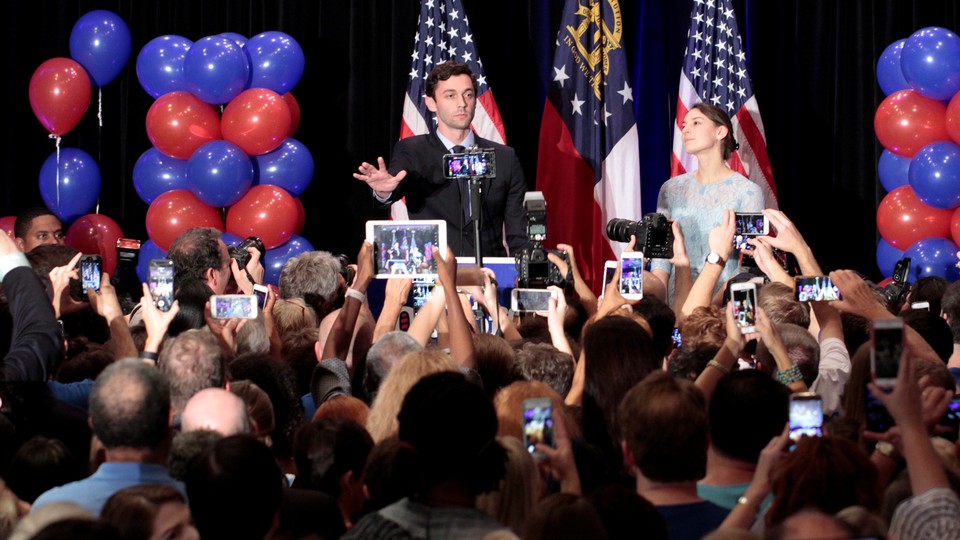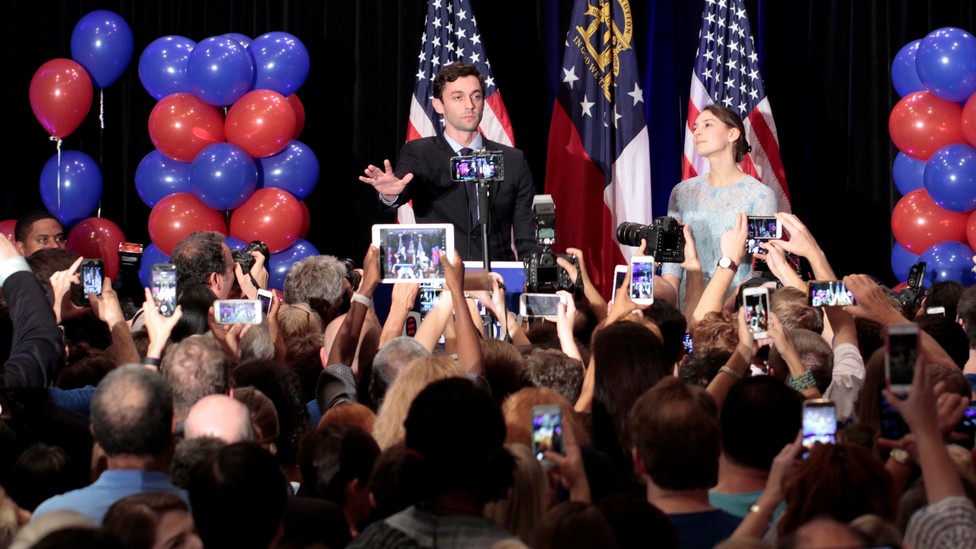 ATLANTA—Around midnight, hours after their candidate conceded he had lost the Most Important Special Election in History, the last remaining supporters of Jon Ossoff took over the stage where he had recently stood. One of them waved a bottle of vodka in the air. Together, they took up the time-honored leftist chant: "This is what democracy looks like!"
Sometimes, this is indeed what democracy looks like: you get outvoted.
Democrats were counting on Ossoff, the boy wonder of Georgia's Sixth Congressional District, to deliver the proof that, with Donald Trump in the White House, there was no limit to their political potential. But after a frenzied two-month runoff campaign between Ossoff and his Republican opponent, Karen Handel, the Democrat wound up with about the same proportion of the vote—48 percent—as Hillary Clinton got here in November. If this race was a referendum on Trump, the president won it.
It was a gut punch to Democrats' confidence, a reality check to the idea that vast swaths of the country were ready to deliver a backlash. And it was the capstone to a losing season in which Democrats failed to capture any of the four Republican-held seats vacated by Trump's cabinet appointees. Earlier in the same night, a little-watched South Carolina congressional race was also called for the Republican candidate.
But it was Georgia, in this well-off, well-educated suburban district, where Democrats had focused their attention, in a much-hyped battle that attracted the hopes and donations of activists across the country. Though both Ossoff and Handel tried to avoid it, they were cast as proxies in the national partisan fight, with enough hype and money—more than $50 million, or nearly $100 for every potential voter—poured in to make it by far the most expensive House race in history.
It was, as a somber Ossoff had told the crowd when the ballroom was still full, "something much bigger than any of us."
Her hopes dashed, a dejected Hazel Hunt made her way through the crowd carrying a canvas on which she'd painted Ossoff's portrait over an original poem, a limerick that began "There once was a country in pain." Hunt's green eyes were moist. "It's very sad," the middle-aged drama teacher told me. "It tells me that despite all the wonderful people I met in this campaign, there are still a lot of people who support the meanness and ignorance and tearing each other apart" that she saw Trump as representing.
Still, Hunt vowed to fight on, as did most of the others gathered there. They pointed out how much closer the race had been than that of the previous Republican congressman, Tom Price,who beat a token opponent by more than 20 points in November, then left Congress to serve as Health and Human Services secretary. The mood was more defiant than dejected.
"With all our hard work, I'm disappointed we didn't make a bigger dent, but we're not going back," said Jennifer Orlow, who stood near the back of the room with three other women in matching blue Ossoff shirts. Orlow, a 45-year-old technology consultant, grew up here and cast every vote of her life in the Sixth District, which has been in Republican hands since 1979. "It has been a good nine months of disappointment for us, but we have to keep fighting," she said.
They hoped to send one message to Washington; instead, they may have sent the opposite one—that the mass of American voters are in no hurry to deliver a rebuke to the chaos in Washington, and that Republican representatives still have wide leeway to pursue their policy objectives on issues like health care without losing or disheartening their base.
That is a tough pill to swallow for Democrats who have convinced themselves opposing Trump will bring them back from the brink of powerlessness. So far, they have cut into Republicans' margins, but they have not yet figured out how to win, and moral victories get no votes in Congress. There was a latent fatalism in Ossoff's parting words: "As darkness has crept across this planet," he assured his supporters, they "have provided a beacon of hope for people in Georgia and for people around the world."
Short of victory, hope would have to suffice.
Driving around the Sixth Congressional District, you feel like you could be anywhere in America, and that was kind of the point.
For all the post-election talk of the misunderstood, left-behind rural voter, or the urban liberal bubble, the most contested voters of 2016 were in the territory in between the coalfield and the ivory tower. This is the America of strip malls and big-box stores, sushi buffets and light-rail park-and-rides, a landscape dotted with charter schools and pet hospitals and retirement villages along endless straight, flat, six-lane roads.
It was voters like these on whom Clinton's campaign spent most of its advertising budget, only to have many of them conclude that Trump, for all his indecorousness, represented less of a threat to their way of life. According to exit polls, about half of the American electorate came from suburban areas in 2016, and Trump, despite losing the popular vote overall, won them by a slightly larger margin (4 points) than Romney had in 2012 (2 points).
Ossoff's army of passionate volunteers—more than 12,000, according to the campaign—were convinced their neighbors had had second thoughts over the past eight months. On the eve of the election, a contingent of those volunteers occupied most of a strip-mall taqueria in Roswell to fuel up for a last night of canvassing.
When she woke up on November 9 and saw Trump had won, Jessica Zeigler recalled, she felt sick to her stomach. Zeigler, a 32-year-old mother of three who works for a medical-device company, couldn't bring herself to tell her 7-year-old son who had won when he asked. After some weeks of feeling lost, she discovered a secret liberal moms' group on Facebook—her first foray into activism, and an emboldening hint that she was not alone.
"I just decided, this cannot be where my kids grow up, this cannot be what is happening around them," she told me over a plate of shrimp tacos. "Sometimes it takes feeling personally attacked to get people to be active."
The mothers organized into a constellation of new organizations—dozens of chapters of the national Indivisible movement; a new local group called Pave It Blue—and drew hundreds of the similarly galvanized to their meetings. Many spoke about their activism in therapeutic terms: something they could do to process and exorcise their feelings of anger, powerlessness, and fear. They made new friends and learned local politics.
Most of all, they flocked to the underdog campaign of Ossoff, a 30-year-old former congressional staffer and documentary filmmaker whose campaign was initially blindsided by the groundswell. By the end, volunteers like Zeigler were sometimes giving the campaign direction, rather than the other way around—she developed a young-voter outreach plan that Ossoff's staff adopted and funded. (Such outreach frequently involved knocking on the doors of these young adults' Republican parents, who called the police on more than one occasion.)
Zeigler told me the volunteers hoped to build a model they could export to similar districts across the country. "We're going to grab 'em by the midterms," she said. "This is the most important work I've ever done." Just then, a chant of "Flip the Sixth!" went up as three blue-shirted women headed out to their cars. "That's Patricia and Liz and Jenny—they knocked on 450 doors today," Zeigler told the other volunteers at the table.
By the end, the scale of the Ossoff campaign was staggering, with dozens of staffers, a sophisticated voter-turnout operation, and six field offices—the sort of footprint normally reserved for presidential campaigns. Most of the Ossoff volunteers I met were local residents who had grown up somewhere else, longtime Democrats who had long felt outnumbered.
In the end, they were no match for their neighbors' deeply rooted political allegiances, and they may have become a self-reinforcing feedback loop.
A few miles down the road, at a different strip-mall restaurant, Handel was holding her own election-eve rally, where a woman in her 60s named Debbie Moscato told me how tired she was of all the canvassers marching around her neighborhood, often knocking and asking for people's voting-age offspring. "They are harassing people," she said. "I have heard so many stories of people our age with grown children getting harassed."
The Republican voters' normally quiet neighborhoods were covered in campaign signs and mailers, their phones ringing off the hook. It was unnerving. "It's a different environment since November," the area's Republican state senator, Kay Kirkpatrick, told me. "The Democrats have been much more energized." A physician, Kirkpatrick easily won a runoff last month against an upstart activist Democrat; she predicted Handel would do the same.
Sandy Capparell, 65, wore a neckful of sparkling gold chains and a red dress with a button reading "I'm an Adorable Deplorable." She fretted about her 25-year-old son who had, after 16 years of private school and college, moved to California and been brainwashed by the liberals. Capparell, a retired hospital administrator, wished Trump would do more to bring people together—"I don't know that he even is considering that"—but nonetheless said she was "not unhappy" with his performance so far.
I spotted only two red Trump hats in the room. One of them belonged to Joe Webb, a 70-year-old retired IBM manager with a white-blond beard and ponytail. "I worked my way up by myself, first generation off the tobacco farm," he said. Now his children both have college degrees and work in science-related fields. Drawn to Trump for his stance on immigration, Webb's only complaint with Handel was that she never seemed to mention the president.
For both of the candidates, Trump was He Who Must Not Be Named as the race wound down. "This race—it's not about what's going on around the rest of the country," Handel told her supporters in the restaurant. "It's about you and about the people of the Sixth District." Earlier that day, the president had repeatedly tweeted in support of her.
Ossoff, too, seemed to spend most of his time deflecting questions about Trump, pivoting ceaselessly back to well-worn talking points about "fresh leadership" and "quality of life" and "bipartisanship delivering solutions." "There are a lot of folks trying to look for national implications," he told me, sitting in a back room of his campaign office in Chamblee, hands folded in his lap. "But that's not what voters in the Sixth District are focused on."
Despite their agreement on this point, the two candidates had found themselves bit players in a high-stakes contest whose stakes, to the audience outside the Sixth District, were almost entirely symbolic. Win or lose, either of them would be just one vote in a deadlocked Congress. But what would it mean for everyone else?
A documentary crew that was making a film about Ossoff had set up cameras in the room where I was interviewing him, trying to find something more than the same answers to the same questions, which he answered with annoyingly unflappable discipline. To get to the campaign office, I had driven past a Baptist church offering services in English, Spanish, and Korean, as well as gated developments of newly built brick McMansions.
As our interview concluded and I started to leave, Ossoff called me back into the room. "Can I ask you a question?" he said. "Everyone talks about how Ossoff won't mention Trump, right? But when I give a speech about respect and civility and kindness and decency, am I not talking about Trump? I mean, I think everyone in the room understands the contrast, with perhaps a little subtlety, while building a coalition that doesn't want hair-on-fire partisanship."
Just as Handel aspired to be as generic a Republican as possible, Ossoff hoped to be, as much as possible, a blank slate, a nice young man in whom disgruntled voters of all stripes could see the alternative they wanted. His campaign slogan proclaimed him "Humble. Kind. Ready to Fight"—a positionless vessel of 2017's cross-cutting political angst. It was a decision many would second-guess after the results were in. For this district, at least, Ossoff believed it was the only way he could possibly win.