Why Won't Susan Rice Testify to Congress?
The former national-security adviser is caught up in a political fight over surveillance again.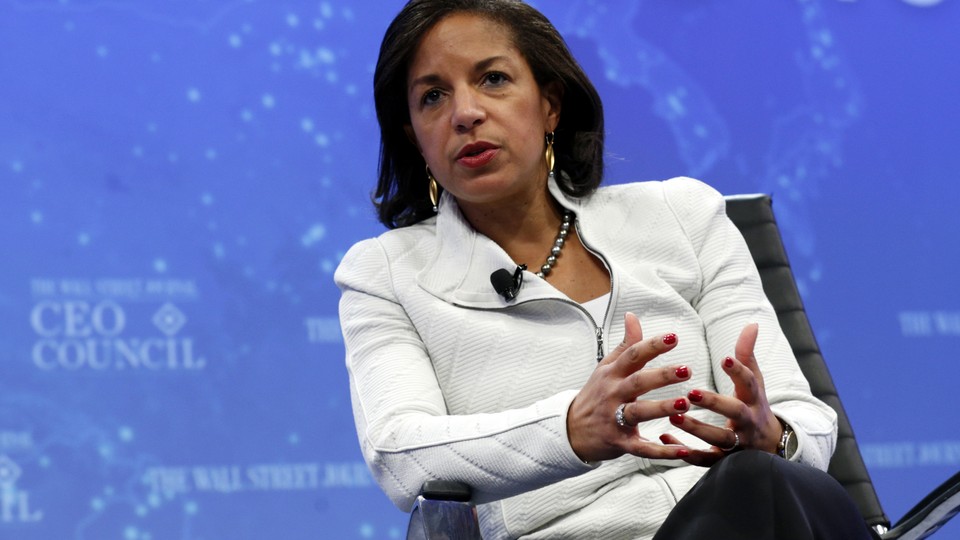 In the latest strange twist in the investigation of Russian interference into the election, former Obama National Security Advisor Susan Rice has declined to appear before the Senate Subcommittee on Crime and Terrorism on Monday.
Senator Lindsey Graham, the subcommittee's Republican chair, announced on Tuesday that he wanted Rice to testify alongside former Deputy Attorney General Sally Yates and former Director of National Intelligence James Clapper. But on Wednesday, Rice declined the invitation.
That drew a pair of tweets from President Trump Thursday morning:
Susan Rice, the former National Security Advisor to President Obama, is refusing to testify before a Senate Subcommittee next week on.....

— Donald J. Trump (@realDonaldTrump) May 4, 2017
...allegations of unmasking Trump transition officials. Not good!

— Donald J. Trump (@realDonaldTrump) May 4, 2017
By Trump standards, that's positively restrained. But the reasons why Rice declined the invitation make for an interesting story.
In March, Representative Devin Nunes, the chair of the House Intelligence Committee, made vague accusations that the Obama White House had acted inappropriately with intelligence involving members of the Trump transition team. Nunes's allegations were tough to parse: He argued that Trump aides' information had been "incidentally collected," the intelligence community jargon for what happens when American citizens who are not subject to warrants are swept up in surveillance of lawful targets. Names and information about people who are incidentally collected are supposed to be redacted, or "masked," unless officials request to see them through a formal process. Nunes claimed there had been excessive unmasking. (Nunes was later forced to recuse himself from the investigation after ethics complaints about his handling of it.)
Not long after Nunes's allegations, White House aides accused Rice of having been behind improper unmasking. Rice has not denied some unmasking—indeed, there's nothing untoward about a national-security adviser unmasking names per se, which is why a process exists to allow it—but she insisted she had not done so for political reasons, as some Republicans allege.
In a letter declining the invitation to testify, Rice's lawyer cited a procedural objection: The Democratic ranking member of the subcommittee, Senator Sheldon Whitehouse of Rhode Island, had not agreed to the invitation, and in fact opposed it. Such disagreement between chairs and ranking members on invitations is unusual. The letter complained about two aspects of the invitation: first, that it was unusual for a former presidential adviser to testify, and second, that the invitation came on short notice, well after the hearing was scheduled and other witnesses called.
"Notwithstanding the significance of these concerns, Ambassador Rice is prepared to assist Congressional inquiries into Russian election interference because of the important national interests at stake, provided they are conducted in a bipartisan manner, and as appropriate, in classified session," the letter states. But after Whitehouse informed Rice that he had not agreed, she changed her mind. "Under these circumstances, Ambassador Rice respectfully declines Senator Graham's invitation to testify."
Rice, whom many Republicans have long despised, keeps ending up in situations in which she looks like she has something to hide. Take the accusation that she improperly unmasked Trump aides. She can deny that she did anything political or improper, but because much of the material in question is classified, she's not at liberty to defend herself publicly. Reports from both CNN and NBC News say that Democratic and Republican investigators alike have found no evidence that Rice did anything wrong.
But by declining to testify, Rice again risks looking like she's hiding something—as Trump surely understands and wished to highlight in his tweets. Notably, her attorney is Kathy Ruemmler, who served as White House counsel under President Obama. Perhaps Rice really does have something to hide, though she says she is willing to testify in theory—simply not on Monday.
Rice might simply be caught up in a partisan fight. What is it that Democrats would want to avoid distracting from? The likely answer is Yates's testimony. The career prosecutor reportedly warned the White House as early as January 26 that Trump National Security Advisor Michael Flynn had lied about his discussions with Russian Ambassador Sergei Kislyak. Flynn said he had not talked about sanctions on Russia prior to the inauguration, but Yates told White House Counsel Don McGahn that was not true. On February 13, Flynn was forced to resign.
Yates is expected to give dramatic testimony at odds with the Trump administration's series of events. Democrats would, of course, rather that testimony get as much attention as possible. Trump's allies in the GOP are likely to feel differently, and some contentious questioning of Rice—especially if she declines to answer questions, citing secrecy rules—could divert the focus of coverage. (Graham, no relation to this writer, has been one of the leading Republican voices demanding thorough investigation of Russian interference in the election.)
"We've got a specific focus for this hearing that both the former deputy attorney general and the former director of national intelligence can speak to," Whitehouse told Politico on Wednesday. "She wasn't one of the witnesses that we noticed the hearing for." Whitehouse's spokesman did not immediately respond to questions about whether he would support calling Rice to testify at another time, or whether he's disagreed with Graham about invitations in other cases.
Amidst the Russia investigation, Republicans have sought to also investigate the Obama administration's handling of intelligence in the president's final months in office. During his final days, the White House expanded the National Security Agency's leeway to share raw intelligence across agencies. The administration said the decision was an attempt to avoid siloing of information, which has been blamed for U.S. failure to stop terrorist attacks in the past. But civil libertarians worried it was eroding important protections. And after reports that the Obama team sought to spread intelligence around so as to avoid the Trump administration destroying it, Republicans mounted accusations of politicization.
The typically tight-lipped Rice would probably try to sidestep offering any illuminating answers about these questions before a Senate subcommittee. But the testimony is hardly the point. Rice's most important role in the controversy so far has not been her words or her actions, but her status as a political football for the Trump administration, Republicans in Congress, and their Democratic counterparts alike.