How Trump Is Torturing Capitol Hill
As Republicans in Congress try to fend off the flurry of scandals, they are haunted by a question: Is this as good as it's going to get?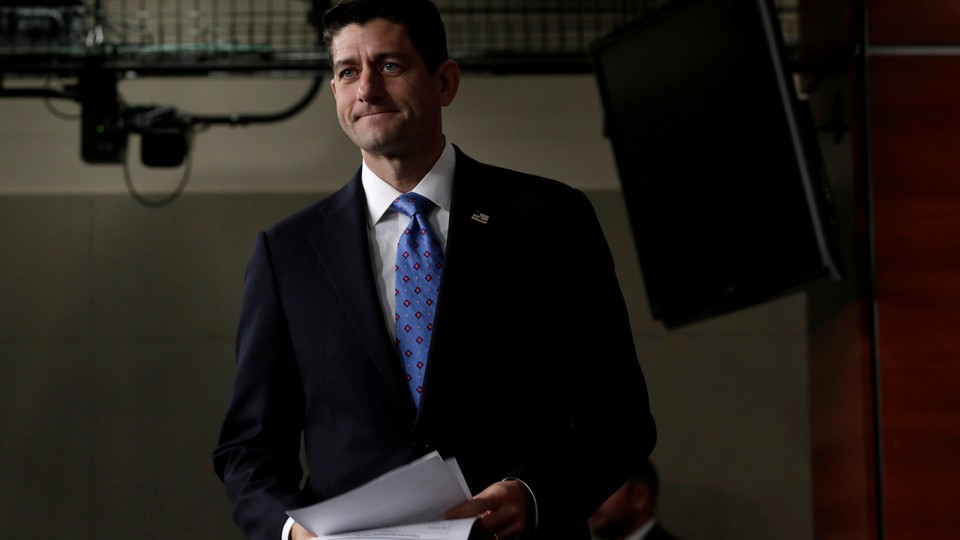 The speaker of the House strode to his lectern on a recent Thursday to confront another totally normal day on Capitol Hill: health care, tax reform, a president under investigation, rumblings of impeachment.
"Morning, everybody!" Paul Ryan chirped. "Busy week!"
It was indeed: Less than a day had passed since the appointment of a special prosecutor to investigate Russia's involvement in the presidential campaign; just a few hours since President Trump angrily tweeted that the investigation was "the single greatest witch hunt of a politician in American history!"; and only minutes since the Russia-linked former national-security adviser, Michael Flynn, had begun defying congressional subpoenas. A few days prior, the president had been accused of revealing sensitive intelligence information to the Russian foreign minister.
As Ryan earnestly touted his party's work on "landmark federal IT reform legislation," there was a grim, haunted look in his bright-blue eyes, and it wasn't hard to imagine why. What ought to have been the salad days of Republican-led government had instead become a ceaseless, disorienting swirl of scandal, 120 days of self-inflicted chaos and crisis.
At the fifth question of the press conference—what was his view on the idea that Republicans might be better off with the vice president, Mike Pence, in the White House instead of Trump?—Ryan shook his head in exasperation. "Oh, good grief," he said. "I'm not even going to give credence to that."
"But your members are saying that!" the reporter said. Republican members of Congress were buzzing about this idea, openly wondering, as the presidential mess threatened to consume their careers and priorities, whether it might be possible to remove the president and move on.
Congress, Ryan insisted, was perfectly capable of doing its job. "I know people can be consumed with the news of the day," he said, as though a potential impeachment were the latest celebrity scandal, or the time everyone was up in arms for 24 hours about avocado toast. "But we are here working on people's problems every day. We have all these committees that do different jobs, and our job is to make sure that we still make progress for the American people, and we're doing that. It's just not what we're being asked about."
Ryan listed more accomplishments underway—streamlining the Pentagon, sanctions on Syria, workforce-development programs—and insisted the House could "walk and chew gum at the same time." But Trump's troubles have cast a long shadow over the 291 members of his party in the House and Senate, who see their agenda going up in smoke in what is generally a presidential party's most productive year.
A flawed, unpopular health-care bill is stalled in the Senate, the president's budget proposal has been dismissed out of hand, and hope is fading for other priorities such as tax reform and infrastructure. "How do you pack all that in?" Senator John McCain asked last week, adding, "So far, I've seen no strategy for doing so. I'm seeing no plan for doing so." One Republican congressman suggested that what was needed was for the president to throw "a temper tantrum" to get lawmakers to act—this congressman happened to be named Brat.
Meanwhile Democrats sit back and watch it burn, with no small amount of schadenfreude, and the Republicans who never liked Trump see their worst predictions fulfilled. "You bought this bad pony. You ride it," the anti-Trump consultant Rick Wilson tweeted recently. A staffer to a Senate Republican who did not vote for Trump told me, "We didn't have high expectations, so we're not disappointed. We tried to warn you."
But Paul Ryan, with his long-cultivated persona as the party's resident idealist, has always had high expectations. He watched last year as Trump ate his party; now he must watch as the president consumes his dreams. "Paul wants to govern, he's trying to get what's possible to get done, and he's got a lot of credibility on the line," Ryan's friend Jimmy Kemp, the son of the late former Representative Jack Kemp, told me. "He's been working on these issues for so long."
Kemp, who wrote in Ryan's name on his presidential ballot, described the speaker as burdened but steady. "He's frustrated and it's wearing on him, but he's not throwing in the towel," he said. "He just has to answer questions about so many things he doesn't want to answer questions about."
For the Republicans running the government, Capitol Hill has become a workplace with extremely poor morale. The moderates fear for their careers, while the conservative true believers see little to hope for. When the liberal magazine Mother Jones credited Representative Justin Amash of Michigan with being the first Republican to raise the possibility of impeachment, the office of Representative Carlos Curbelo of Florida called to request a correction: Curbelo had gone there first.
But for the most part, his party has not openly turned on Trump. What would be the point? Behind closed doors, a longtime House Republican staffer told me, a few lawmakers still wholeheartedly defend the president; among the rest, there are differing degrees of fatalism. One group thinks it is possible to fight through the crisis, while another is resigned to "a long slow death," as this staffer put it, potentially culminating in a Democratic-controlled House beginning impeachment proceedings in 2019. "This is like Reservoir Dogs," the staffer said. "Everyone ends up dead on the floor."
Later that day, a few hours after Ryan's press conference, a dozen television cameras and perhaps 30 reporters crowded into the Capitol basement, where subway cars run from the building that houses the Senate to the buildings where senators keep their offices. In a secure chamber nearby, Rod Rosenstein—the deputy attorney general whose three-page memo had argued for the firing of the FBI director, James Comey, the previous week, and who had appointed the special counsel the day before—was briefing the senators.
The appointment of the counsel, Robert Mueller, was a glimmer of hope to Republicans badly in need of it. Several GOP staffers described the feeling to me in the same terms—a nearly audible "sigh of relief" that swept through a Capitol on edge. For a while, new developments related to the Comey firing had been coming at such a furious pace that the Capitol press corps nearly turned into a mob. Roving swarms of cameras and microphones pursued lawmakers, prompting Capitol administrators to send a memo warning, "Collectively, press following senators have become large and aggressive. We are concerned someone may get hurt."
The senators crossed the microphone gauntlet as they trickled out of the Rosenstein briefing. Lindsey Graham, the jocular, Trump-skeptical South Carolinian, was asked about the president's statement that the special counsel "hurts our country terribly." "Well, he's entitled to his opinion," Graham said. "If I were the president, I'd focus on defending the nation and trying to get his legislative agenda through the Congress."
The Mueller appointment meant different things to different Republicans. To those wary of Trump, it put the investigation in the hands of someone they trusted to do the job seriously—critics had charged that congressional Republicans were not exactly pulling out the throttle to investigate their own party's president. For members more publicly loyal to the president, it took the heat off, at least for the moment.
The White House had not been giving them much to go on to answer all those unpleasant questions: The previous day's list of talking points issued to congressional Republicans urged them to take up the president's claim that the leaks were the real scandal. The document included a numbered section entitled "Top Ten Politically Motivated Criminal Leaks of Classified Information." (A House Republican staffer likened this defense to "It's not that I'm beating my wife, it's that my kids are telling the cops about it.") But now they could simply say that the whole thing was out of their hands.
Inside the briefing, some Democrats pressed Rosenstein for more information, and once they emerged, they declared themselves less than satisfied by his answers. "He declined to answer in any meaningful way questions about the process that led to the decision to fire Jim Comey—the preparation of his memo, who he consulted, who told him to prepare it—we must have asked that question about 25 different ways," said Senator Chris Coons of Delaware.
Democrats stressed the importance of continuing the congressional investigations and having them in the open. "The public deserves a strong, open, public oversight by Congress on how Russia was trying to influence our country, and whether it is still trying influence our country," declared Pat Leahy of Vermont.
"There is mounting evidence of obstruction of justice," said Senator Richard Blumenthal of Connecticut. "The special counsel must pursue all the evidence."
Democrats and Republicans alike praised the choice of Mueller. The Republicans, as they emerged, were more apt to stress the importance of deferring to him: "Director Mueller, as special counsel, is doing this investigation, and we don't want to do anything to get in the way," said Senator John Cornyn of Texas. With all of the oversight investigations occurring in various committees and subcommittees, he said, "that is a train wreck waiting to happen."
Senator Marco Rubio of Florida was asked whether the Rosenstein briefing had made him more or less "comfortable" with the events of the week. "Well, I don't know if it's a level of comfort," he said. "I think it's a level of the fact that we are a nation of laws, and we have institutions, and irrespective of people's political views, those laws and those rules are going to be followed."
As Rubio walked away from the microphones, I asked him if he thought Trump's presidency was in crisis. He blinked and mumbled, "Um, we're not at that point," before dashing away.
It has become a Capitol Hill cliché lately that the days feel like weeks and the weeks feel like years. Lulls in the news feel ominous, and you never know what is going to happen. Tempers are fraying: the GOP's congressional candidate in Montana's special election last week tackled a reporter for pressing for his position on health care (and still won the election). "There is total weirdness out there," Representative Mark Sanford of South Carolina said after the Montana incident. Trump, Sanford said, had "unearthed some demons."
As the senators hurried away from their briefing, Trump was holding a press conference of his own. He once again decried the "witch hunt," declared there had been "no collusion" with the Russians, and expressed surprise at the controversy over the firing of Comey, who "was very unpopular with most people."
"I'm fine with whatever people want to do," Trump said, "but we have to get back to running this country really, really well."
In the White House, the mood consists of "panic and finger pointing," one outside adviser told me, with shakeup rumors rampant and the palace intrigue as ugly and chaotic as it has been from the start. Attempts to get Trump to bring in an old Washington hand to impose order have failed. Instead, presidential strategists are building a "war room" to aggressively combat all the negative stories—a seeming admission that the administration considers itself to be in a permanent state of emergency.
Comey still plans to testify before Congress, though no date has been set. The president's son-in-law, Jared Kushner, is the subject of increasing scrutiny after revelations about his dealings with Russian representatives post-election. Trump's strongest supporters may be peeling away, according to polls; those who remain say they support him "partly because he is under fire," and that they take it personally when Trump is criticized.
Trump spent last week out of town, on his first foreign trip, where he had tense interactions with such traditional American allies as Israel, the United Kingdom, and Germany. With the president away, life on Capitol Hill was markedly quieter. More than one Republican privately noted how much easier life was without him around. But, of course, he will be back.
Washington's turbulence has yet to redound to the benefit of Democrats, and the Montana victory soothed some Republican nerves. But one GOP lobbyist wondered to me whether longtime members of Congress might soon take the opportunity to retire if the situation doesn't improve. "You finally have united Republican government, and this is as good as it gets? Why bother?" he said. "A malaise is setting in."