Trump Trolls His Critics
Accused of being Nixonian and trying to bury an investigation of ties to Russia, the president meets and greets Russian officials and Nixon's most famous aide.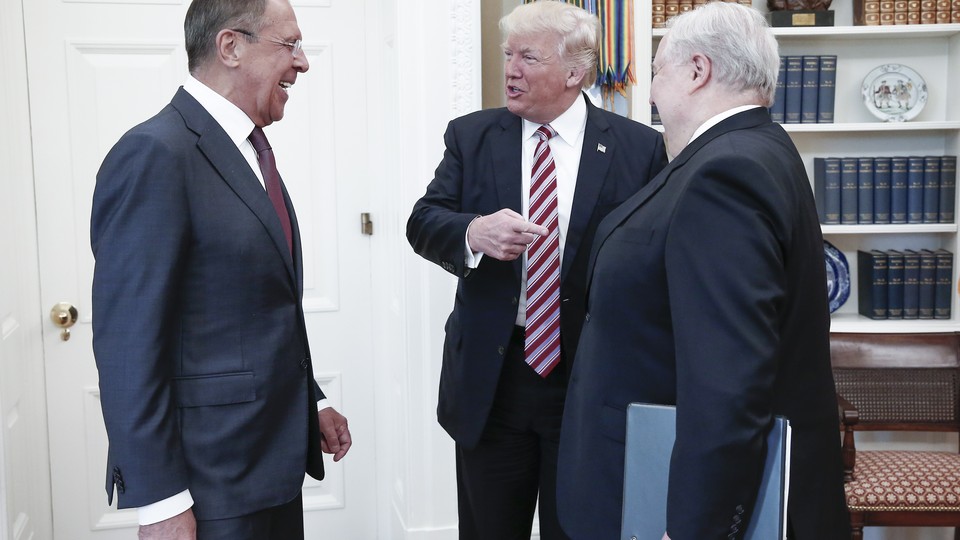 Imagine you are the president of the United States. Now, imagine you have just fired the director of the FBI, for a nonsensical rationale. You are being accused of firing the director in order to stifle an investigation into your campaign's ties to Russia, in a move a wide range of critics are calling Nixonian. What do you do?
If you are Donald Trump, the answer is clear: You make sure the first people you're seen with are a pair of Russian officials and Henry Kissinger, Nixon's former right-hand man.
In a crisis, a president has several options. He can act contrite. He can go on the offensive. He can simply hunker down and try to let it blow over. But Trump's favorite option is often simply to troll.
How else to interpret his moves Wednesday? The meeting with Russian Foreign Minister Sergei Lavrov was long planned, of course, but Trump chose to fire Comey on the eve of the meeting, and could have done it at another time. Joining them in the Oval Office was Russia's ambassador to the U.S., Sergei Kislyak. It's not surprising that the ambassador would be present, but his presence adds some depth to the proceeding. Trump's first national-security adviser, Michael Flynn, was fired in February for lying about his conversations with Kislyak. He had spoken with the diplomat in December about new U.S. sanctions on Russia, but Flynn lied to Vice President Pence about what they'd discussed. Attorney General Jeff Sessions, meanwhile, had to recuse himself from investigations into Russian interference after acknowledging that he had failed to disclose a meeting with Kislyak to Congress during his confirmation process.
And then there's Kissinger, the maraschino troll cherry on top of the troll sundae.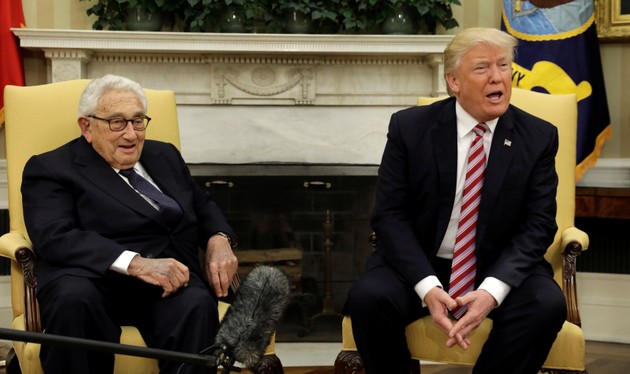 Trump's firing of Comey, at a time when the FBI was investigating his campaign (although, the president asserted in his letter to Comey, it was not investigating him personally), drew natural comparisons with the 1973 Saturday Night Massacre, when Nixon tried to fire Watergate special prosecutor Archibald Cox. When two deputies refused to do so, they had to resign, leaving Robert Bork to dismiss Cox.
Kissinger managed to escape culpability in Watergate, and it was Kissinger to whom Nixon eventually submitted his resignation from the presidency. But the dour doctor is inextricably linked with Tricky Dick. Kissinger's survival of Watergate was one of a series of shrewd reinventions; despite the vast gulf between himself and Trump, he managed not to alienate the president during the campaign and has reportedly helped to broker meetings between the Trump White House and Chinese leaders. As perhaps the most famous (if not universally well-regarded) foreign-policy figure in America, his presence at the Russian meeting isn't totally shocking.
And yet Trump, despite his lack of interest in history, and moreover his aides, had to have known that Kissinger's appearance would spark shock and only inflame the Nixon comparisons. Even the staid, sober Peter Baker of The New York Times seemed surprised. "Which White House aide thought the two people Trump should be seen with today are Russia's foreign minister and Henry Kissinger?" he tweeted. The most logical explanation is that the White House staff is actively seeking to troll the press, and the public. It wouldn't be the first time. Say what you will about Nixon, but he never had such a sense of humor.
Trump, however, is not the only one with the impulse to troll.
First thing this morning, Lavrov did a brief photo op with Secretary of State Rex Tillerson, where a reporter asked him about the Comey dismissal. "Was he fired? You are kidding, you are kidding," Lavrov smirked. Later, he told reporters, "I thought we are all adults here. I didn't know I would have to answer these types of questions in your democratic America."
The Russian Embassy hastened to put out a photo of Trump and Kislyak, each beaming:
Russia's TASS news agency pushed out several more pics. Later, at the Russian Embassy, reporters waited while being treated to recordings of "Respect" and "(I Can't Get No) Satisfaction."
Even President Vladimir Putin got in on the act, speaking briefly to CBS News while dressed for a hockey match.
"Your question looks very funny to me," Putin said through a translator. "We have nothing to do with that. President Trump is acting in accordance with his competence and in accordance with his law and constitution."
No matter how much Trump may love to troll, he cannot outdo the Russians at their own game.