Trump's First Spending Deal Passes the House With Democrats' Help
The $1.1 trillion bill advanced despite opposition from conservatives who believed the GOP got the short end of the bipartisan agreement.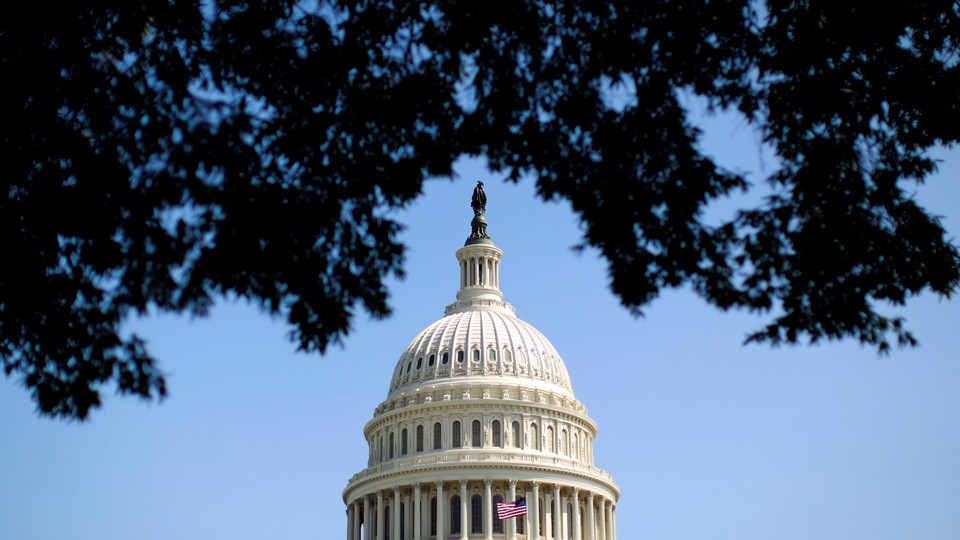 Annoyed at Democratic boasting, President Trump and congressional Republicans have scrambled to claim victories in the first bipartisan spending deal of the new administration.
But the true score could be found in the House vote on the bill on Wednesday, as Democrats overwhelmingly embraced the $1.1 trillion agreement while the GOP split. The legislation passed easily on a tally of 309 to 118 and now goes to the Senate, which is expected to sign off before a Friday deadline to avert a government shutdown. More than 100 Republicans broke with Trump to oppose the deal; all but 15 of the chamber's 191 Democrats supported the measure.
The White House had championed an increase of $15 billion in military spending and a down payment of $1.5 billion for border security, aspects of the deal that budget director Mick Mulvaney declared a "huge victory" for Trump. But it was Democrats who bragged about denying the president money for his southern border wall and rejecting $18 billion in cuts to domestic agencies he sought in the deal. Trump responded by blaming the Senate filibuster that gave Democrats leverage in the negotiations and calling for a "good 'shutdown'" in September when Congress must debate federal funding for 2018.
By Tuesday, White House officials were chastising reporters for their coverage of the agreement and displaying charts and photographs showing how the administration could use the border-security money to lay the groundwork for a physical wall even if the funding cannot be used for its actual construction.
Conservatives, however, weren't buying the White House spin. Members of the House Freedom Caucus voted against the bill, and despite the urging of Speaker Paul Ryan, only a slim majority of Republicans overall supported it. "When spending bills provide more funding to the National Institutes of Health (NIH) than border security, as this bill does, it's fair for conservatives to ask if this resembles more of an Obama administration-era spending bill than a Trump one," the conservative Heritage Action said in a statement urging Republicans to vote no.
Indeed, the vote in the House appeared little different than spending bills that Republicans negotiated in the final years of former President Barack Obama's tenure: Despite unified Republican control of the White House and Congress for the first time in a decade, it was again Democrats that carried the votes.