The Trump Organization Says It's 'Not Practical' to Comply With the Emoluments Clause
The president's business tells lawmakers it is too difficult to track all its foreign revenue in accordance with constitutional requirements, and it hasn't asked Congress for a permission slip.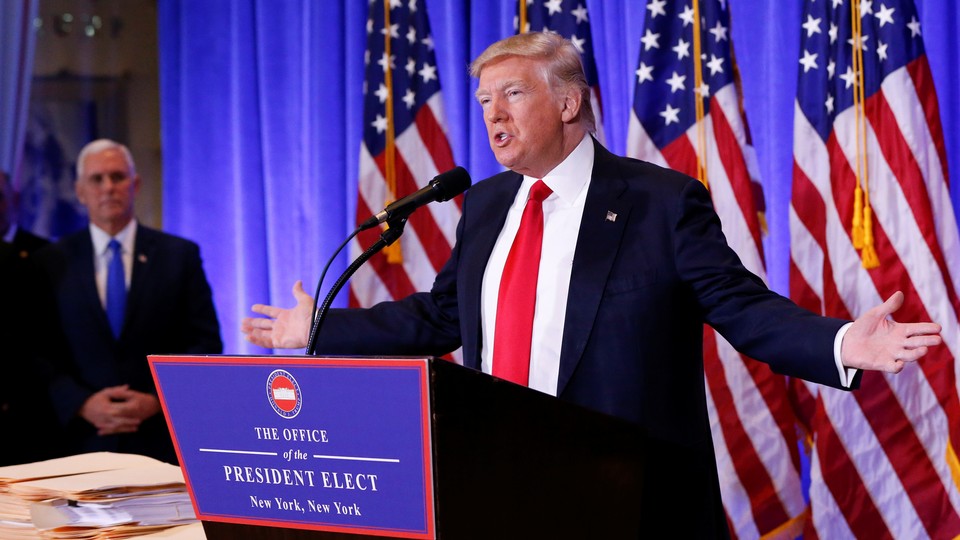 Days before taking office, Donald Trump said his company would donate all profits from foreign governments to the U.S. Treasury, part of an effort to avoid even the appearance of a conflict with the Constitution's emoluments clause.
Now, however, the Trump Organization is telling Congress that determining exactly how much of its profits come from foreign governments is simply more trouble than it's worth.
In response to a document request from the House Oversight Committee, Trump's company sent a copy of an eight-page pamphlet detailing how it plans to track payments it receives from foreign governments at the firm's many hotels, golf courses, and restaurants across the globe. But while the Trump Organization said it would set aside all the money it collects from customers that identify themselves as representing a foreign government, it would not undertake a more intensive effort to determine whether a payment would violate the Constitution's prohibition on officeholders' accepting an "emolument" from a foreign state.
"To fully and completely identify all patronage at our Properties by customer type is impractical in the service industry and putting forth a policy that requires all guests to identify themselves would impede upon personal privacy and diminish the guest experience of our brand," the Trump Organization wrote in its policy pamphlet, which the company's chief compliance officer said had been distributed to general managers and senior officials at all of its properties.
The statement drew an angry response from the top Democrat on the Oversight Committee, Representative Elijah Cummings of Maryland, who said the policy "raised grave concerns about the president's refusal to comply with the Constitution." In a letter replying to the company, Cummings said it would be easy for a government like Russia to funnel money to the Trump Organization through unofficial entities, such as RT, its state-run television station. "Those payments would not be tracked in any way and would be hidden from the American public," the Democrat wrote.
Although the committee's Republican Representative Jason Chaffetz, of Utah, joined Cummings in the original request for documents from the Trump Organization, he did not sign the latest missive in response. Chaffetz has announced he will resign from Congress at the end of June. A spokeswoman did not immediately respond to a request for comment on Wednesday.
In a statement accompanying his letter, Cummings said the president had two options if his company could not adequately track payments from foreign governments. One would be to do what Democrats and independent ethics officials have long urged: fully divest from his businesses. Short of that, Trump could submit a proposal to Congress asking for its consent to a different arrangement.
The president has given no indication he intends to do either, and his attorneys have described his decision to donate foreign-government profits to the Treasury as voluntary, because they argue the president is not subject to the emoluments clause, or other conflicts-of-interest laws governing most federal employees. Ethics experts in both parties, however, have disagreed with that interpretation. "Rep. Cummings is right," tweeted Noah Bookbinder, the executive director of the Citizens for Responsibility and Ethics in Washington. "This is a wholly inadequate response to the president's constitutional violations."
---
Related Videos