Trump Told the Russians That 'Nut Job' Comey's Firing Relieved 'Great Pressure'
The president told the Russian foreign minister and ambassador that firing his FBI director had "taken off" the pressure he had faced, The New York Times reports.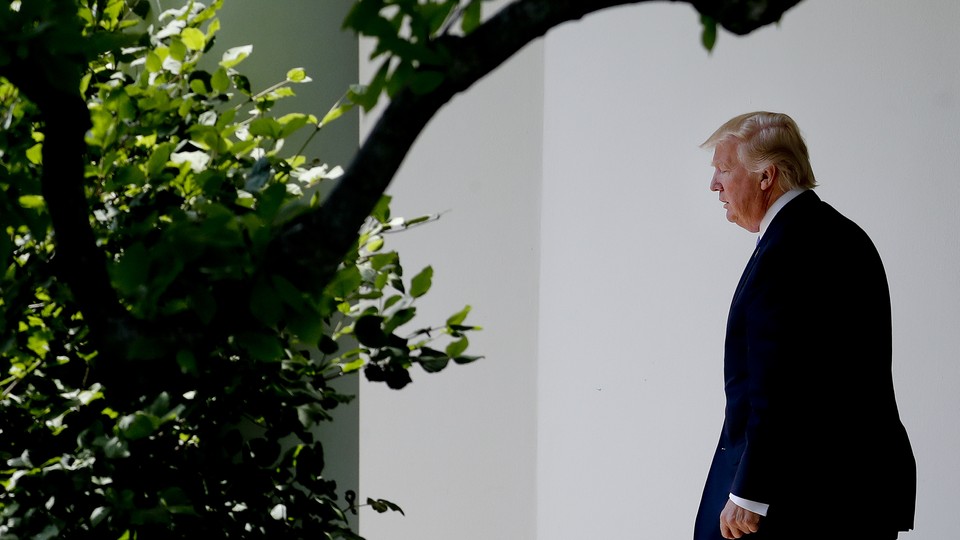 Updated on May 19 at 5:36 p.m.
During a meeting with Russian Foreign Minister Sergei Lavrov and Ambassador Sergey Kislyak last week, President Trump told the men that fired FBI Director James Comey was a "nut job," and that his removal would relieve pressure on his administration over its ties to Russia.
The New York Times reported the exchange on Friday, and the White House did not dispute it—an unusual move for a communications staff that has offered at least token pushback and often serious dispute even on stories that are unmistakably correct. During the same meeting, Trump revealed highly sensitive classified information, shared with the U.S. by an ally, about an ISIS plot.
In a statement, Press Secretary Sean Spicer acknowledged that Trump believed dismissing Comey would distract from the Russia probe.
"By grandstanding and politicizing the investigation into Russia's actions, James Comey created unnecessary pressure on our ability to engage and negotiate with Russia," Spicer said. "The investigation would have always continued, and obviously, the termination of Comey would not have ended it. Once again, the real story is that our national security has been undermined by the leaking of private and highly classified conversations."
Meanwhile, The Washington Post reports that the ongoing probe into ties between the Trump campaign and Russia has "identified a current White House official as a significant person of interest." The paper reported that its sources say the person is a current senior staffer, but would not further identify who it is. Trump has repeatedly denied that he had any ties to Russian interference in the campaign, and says he has no business ties to Russia, either.
By acknowledging the exchange with the Russians, the White House has effectively admitted it lied in explaining why Comey was fired. The "nut job" conversation is the latest confirmation that Trump's motivation in firing Comey was not, as he and his aides initially claimed, Comey's handling of the investigation into Hillary Clinton's emails; nor was it, as they subsequently claimed, a result of Comey losing the confidence of FBI agents. Instead, as Trump suggested in an interview with NBC News's Lester Holt, he was upset about the Russia probe. A slew of other reports confirmed that behind closed doors, Trump was upset about the investigation, and Comey's testimony under oath that Barack Obama had not "wiretapped" Trump, as the president claimed without evidence. His comments, and Spicer's statement, also bolster allegations of political tampering and perhaps obstruction of justice by the president.
"If he knows that he personally faces criminal prosecution and his purpose in trying to shut down or slow down the investigation is to prevent him from getting caught, or if he knows that someone he knows or cares about is at criminal risk, like a friend or a family member, and the purpose is to protect them from criminal indictment, then I think anyone would view that as obstruction," said Bruce Green, a law professor at Fordham and a former associate counsel for the independent counsel in the Iran-Contra case. Although it's not clear a sitting president could be prosecuted for obstruction, both that and related charges would turn on Trump's state of mind, and whether he had what the law terms "corrupt intent."
"It does reflect intent to slow down a criminal investigation, but the ostensible purpose reflected in the article isn't necessarily a corrupt one, it seems to be his notion that the criminal investigation is interfering with foreign policy." Green said. "That's not necessarily corrupt intent."
John Q. Barrett, a law professor at St. John's University and a former associate counsel for the special prosecutor in the Iran-Contra affair, offered a one-word assessment. "Oy," he wrote in an email. Barrett added, "This is one more detail, potentially important as evidence of the president's state of mind and his purpose in firing FBI Director Comey, that both Special Counsel Mueller and Congressional committees need to investigate further and evaluate."
Comey's approach to the Clinton investigation was subject to withering criticism by a bipartisan group of Justice Department veterans who felt it was too public. In a memo to Trump on May 9, Deputy Attorney General Rod Rosenstein sharply criticized Comey, and Trump initially offered the memo as his justification for firing the FBI director.
Despite Spicer's charge of "grandstanding," the few public statements Comey made about the Russia investigation were under oath in front of congressional panels. Comey also said he had been authorized by the Justice Department to confirm the existence of a probe into collusion between the Trump campaign and Russia. Presumably, that means he received approval from Rosenstein.
In testimony to Congress this week, Rosenstein sought to distance himself from the Comey firing. He said that while he had long disagreed with Comey's handling of the Clinton case, he only wrote the memo on May 8 after learning that Trump had decided to fire Comey. Rosenstein also said he had discussed firing Comey in his first meetings with Sessions, before the attorney general was confirmed. Finally, in what read as a dig at the White House parading the memo publicly, he described it as a "candid internal memorandum." Rosenstein was reportedly upset about his words being used as the public pretext for firing Comey.
If Trump believed that the Comey firing would remove pressure, however, he was deeply mistaken. The dismissal has set off a cascade of damaging stories, and more leaks—including the one to the Post on Friday—adding fuel to Russia stories. And most consequentially, it led to the Justice Department on Wednesday appointing Robert Mueller, the former director of the FBI, as a special counsel to investigate ties between the Trump campaign and Russia.
Trump has long denied that he or his campaign have any ties to Russia. But while there is no public evidence thus far that the president himself has any involvement in interference in the election, there is a growing mountain of evidence to show that many members of his orbit have had unusual interactions with the Russians.
Former National-Security Adviser Michael Flynn was fired for lying to Vice President Mike Pence about conversations with Kislyak. A federal grand jury in Virginia recently issued subpoenas for records related to Flynn. Attorney General Jeff Sessions has been forced to recuse himself from the Justice Department's investigation on Russia after acknowledging he failed to disclose a meeting with Kislyak to Congress. Paul Manafort, who served as Trump's campaign chairman during the summer of 2016 and previously did worked with or for Kremlin clients in both business and politics, is also under investigation. So is Carter Page, a former low-ranking foreign-policy adviser whom Russian intelligence agents once tried to recruit. Reuters reported that there are at least 18 undisclosed contacts between Trump campaign officials and Kremlin-related individuals.
One person very close to Trump who is also tied up with Russia is the president's son-in-law and senior adviser Jared Kushner. He acknowledged in April that he, too, had failed to disclose dozens of contacts with foreign leaders and officials. Among them are Kislyak and an executive at Vnesheconombank, a Russian state-owned bank. The Wall Street Journal reported this week that the bank financed a large deal with a business partner of Trump's. While Trump ultimately issued a conciliatory and bland statement about Mueller's appointment as special counsel, the Times reports that Kushner pushed, unsuccessfully, for Trump to fire back hotly at the decision.
Even if that were not all so, Trump's friendliness toward the Russian officials would remain perplexing, especially given that he understood that the appearance of Russian collusion was politically damaging. Trump aides have tried to excuse it as simple naïveté. National-Security Adviser H.R. McMaster says that the president would not have known if information he gave to the Russians was classified or not, a not-very-comforting excuse that nevertheless comports with various reports that the president is disengaged in briefings and does not hold information well. Trump met with Lavrov and Kislyak in person because Putin had asked him to do so. Foreign countries have been seeking face-to-face meetings with Trump as they realize that he often makes major concessions in such settings.
Despite Spicer's complaint about leaks, the White House continues to produce a torrent of unauthorized disclosures to reporters. This has been true since the early days of the Trump administration, but it has become every more dangerous to the president as the leaked material moves from mere infighting to major errors on the president's part. The White House has also not explained how leaks about classified information are more dangerous than his decision to spontaneously reveal that information to Russian officials.
Trump may have seen Comey, whom he also labeled "crazy," as a danger to him or to his agenda as FBI director, but Comey has become a more urgent threat since his firing. A scrupulous lawyer, Comey is famous for keeping careful notes, and his associates have gradually revealed damaging information over the last few days. Among other things, friends say that Trump asked Comey to pledge personal loyalty and that Comey demurred. According to a memo that Comey wrote, which has been read to reporters, Trump met with Comey the day after he Flynn was fired, and asked that the FBI let go of its investigation into Flynn.
Comey has not yet spoken publicly since his firing, though he has been invited to testify before the Senate Intelligence Committee. Several congressional panels are seeking his memos about conversations with Trump.
Mueller is viewed as a meticulous and staunchly independent operator, and was appointed to serve as FBI director by both George W. Bush and Barack Obama. He is empowered not only to look at potential collusion but also to pursue crimes, such as obstruction of justice, that occurred in connection with the investigation. According to the Post, the probe is already "entering a more overtly active phase, with investigators shifting from work that has remained largely hidden from the public to conducting interviews and using a grand jury to issue subpoenas. The intensity of the probe is expected to accelerate in the coming weeks, the people said." McClatchy, meanwhile, reported on Friday afternoon that in a briefing to members of the House, Rosenstein indicated that investigators are now "probing whether White House officials have engaged in a cover-up."
Less than four months into his administration, Trump's presidency is stalled and appears to be breaking apart at the seams. Even without the special counsel's investigation, some members of Congress are discussing impeachment or comparing his misdeeds to Richard Nixon's, and Trump's policy agenda is frozen.
The Post and Times both published their stories as Trump took off for Saudi Arabia, the first stop on his first foreign trip as president. The journey is unlikely to offer much respite for Trump. His second stop is Israel, which was reportedly the source of the information that Trump divulged to the Russians. Israeli intelligence officials have long been concerned Trump would disclose things to Russia, which would then pass them on to Iran, a Russian ally but fierce Israeli enemy. Later, Trump will head to Europe, including to meetings of NATO and the G7, where he'll meet with allies with whom he has sometimes clashed. Meanwhile, the investigations back home will continue moving forward. If the last two weeks are any indication, so will the damaging leaks.
Adam Serwer contributed reporting.