Democrats Say Trump Committed Obstruction of Justice
Congressional Democrats renewed calls for an independent commission into the Russia investigation in response new revelations in The New York Times and The Washington Post.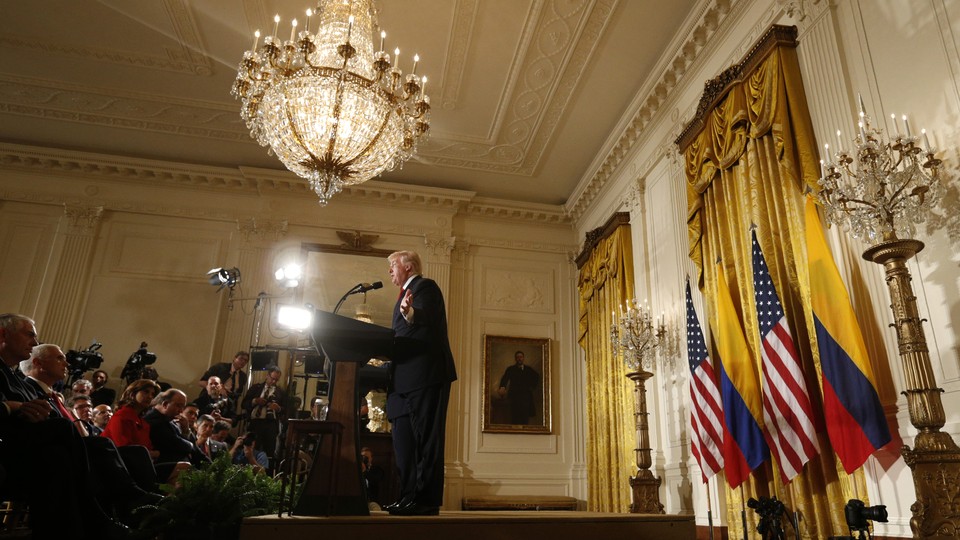 Updated on May 19 at 5:05 p.m. EST
Democrats reacted with a mixture of shock and anger to instantly controversial reports in The New York Times and The Washington Post on Friday afternoon involving President Trump and the federal investigation into whether coordination existed between his campaign associates and the Russian government.
"This is what OBSTRUCTION looks like," Democratic Senator Patrick Leahy tweeted in response to the Times report that Trump informed Russian officials that his decision to fire FBI Director James Comey eased "great pressure." The Times further reported that Trump called Comey "crazy, a real nut job," and said "I faced great pressure because of Russia. That's taken off" during the interaction.
"If there was any question as to why Comey was really fired, @realDonaldTrump just answered it. As I said, Nixonian," Democratic Senator Bob Casey wrote on Twitter in response to the report.
"The truth is coming out," Democratic Representative Jim McGovern tweeted in reference to a separate Washington Post report stating that "the law enforcement investigation into possible coordination between Russia and the Trump campaign has identified a current White House official as a significant person of interest."
Democratic Senator Ed Markey said in an MSNBC interview that the reports have created "an inflection point in the entire Russia-collusion investigation," adding: "it makes it very clear that what Donald Trump was trying to do was to end the Russian investigation."
A number of congressional Democrats responded to the reports by reviving calls for an independent commission to investigate potential Trump-Russia ties.
Others called for Congress to take action in other ways: Representative Elijah Cummings, the top Democrat on the House Oversight Committee, urged the panel's GOP Chairman Jason Chaffetz to "obtain copies immediately" of any White House documents that might exist "memorializing the President's statements to the Russians."
The revelations follow a tumultuous period for the Trump administration that has unfolded over the past two weeks.
It started last week when the president abruptly fired Comey, who was then charged with oversight of the bureau's investigation into potential ties between Trump campaign associates and the Russian government. American intelligence agencies concluded in January that the Russian government engaged in an influence operation intended to undermine Hillary Clinton during the 2016 election. Although it remains ongoing, the Russia inquiry has caused significant political troubles for the Trump administration in its early days.
Comey's firing was followed in quick succession by reports that Trump had shared highly classified information with Russian diplomats at the White House that endangered a source of intelligence on ISIS, and that Trump had privately asked Comey to halt an investigation into his former national security advisor Michael Flynn.
The Department of Justice announced on Wednesday that Deputy Attorney General Rosenstein had appointed former FBI Director Robert Mueller as special counsel to investigate possible links between Trump associates and Russian officials. The president reacted angrily to the news on Twitter early Thursday morning, calling it "the single greatest witch hunt of a politician in American history!"
The White House has struggled to limit the damage, as Trump has  undermined much of the official administration messaging in either interviews or tweets.  In an interview with NBC News that took place several days after firing Comey, Trump indicated that the Russia investigation was on his mind when he decided to fire Comey, saying "when I decided to just do it, I said to myself, I said you know, this Russia thing with Trump and Russia is a made up story."  The president appeared to confirm that he had disclosed information related to terrorism with Russian officials in a series of tweets on Tuesday.
During a press conference on Thursday, however, Trump insisted that "there was no collusion" with Russia, and responded "no, no, next question," when asked if he had urged Comey back down from investigating Flynn.
In reaction to the Times' report that Trump had said firing Comey had taken off "pressure," White House press secretary Sean Spicer said that the "real story is that our national security has been undermined by the leaking of private and highly classified conversations."
Responding to the Post, Spicer said that "a thorough investigation will confirm that there was no collusion between the campaign and any foreign entity."