Did Trump Know Flynn Was Under FBI Investigation When He Appointed Him?
According to The New York Times, the former national-security adviser informed the presidential transition on January 4 that his undisclosed lobbying for Turkey was under scrutiny.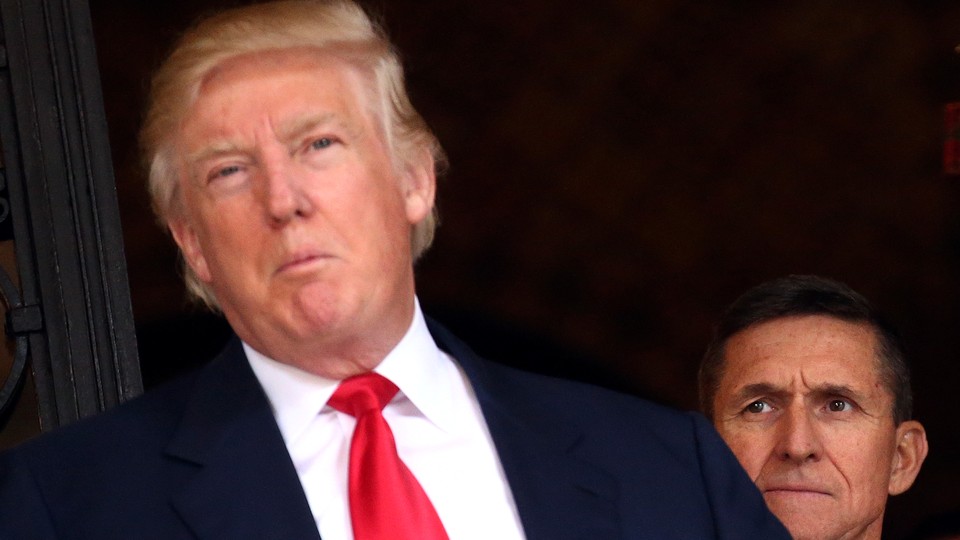 The Trump administration installed Michael Flynn as the national-security adviser despite knowing the retired general was under FBI investigation for undisclosed lobbying on behalf of the Turkish government, The New York Times reported Wednesday.
The paper cited two sources who said Flynn informed White House counsel Don McGahn on January 4 that the FBI was looking into his work for Turkey, for which he was paid more than $500,000 through a Netherlands company. The White House, buffeted by a string of scandals and the Wednesday announcement of a special counsel investigating the Trump campaign, did not immediately comment.
It's the latest bizarre revelation about Flynn, who was fired just 24 days into his job, after it became known publicly that he had lied to Vice President Mike Pence about his conversations with Russian Ambassador Sergey Kislyak. A grand jury in Virginia recently issued subpoenas for records pertaining to Flynn. In addition to the FBI, the House Oversight Committee is also investigating Flynn, and its chairman and ranking member have said publicly that they believe Flynn broke the law by failing to seek permission to receive money from Turkey and also from Russia, for a 2015 trip.
The Times reports help flesh out the timeline of what the Trump administration knew about Flynn, but it makes the decision to hire Flynn—despite an express warning from President Barack Obama not to do so—even more baffling. It also raises questions about the administration's process in firing Flynn.
Flynn is the former head of the Defense Intelligence Agency, but was fired by Obama in 2014. He began lobbying for Turkey in August, at which point he was already a high-profile surrogate for Trump, having spoken at the Republican National Convention in July. Flynn had once been a strident critic of Turkish President Recep Tayyip Erdogan, but he published a column in The Hill on Election Day floridly praising Erdogan. On November 17, Trump announced his intention to appoint Flynn national-security adviser, a position that does not require Senate confirmation.
The op-ed attracted attention from Trump lawyers and others, and on November 30, the Justice Department informed Flynn it was looking into his lobbying. Still, Flynn did not hire a lawyer for another three weeks. (Flynn seems to have been quite casual with rules. Despite receiving tens of thousands of dollars to travel to Russia to celebrate the anniversary of the Kremlin-backed RT, he had not disclosed the payments in early 2016, when he reapplied for security clearance.) Then, on December 29, the Obama administration announced new sanctions on Russia. Flynn had several conversations with Kisylak that day, and discussed the sanctions.
Finally, on January 4, Flynn told McGahn that he was under investigation, six days after his fateful chats with Kislyak. Some time between then and January 15, he told Vice President-elect Mike Pence that his conversations with Kislyak had not involved the sanctions, a claim that Pence, believing it true, repeated on Face the Nation on January 15. (Kislyak was one of two Russian officials to whom Trump revealed highly sensitive classified information during a May 10 meeting.)
The FBI interviewed Flynn, apparently at the White House, on January 25. The following day, Acting Attorney General Sally Yates visited McGahn, and informed him that Flynn was lying, and that intercepted communications proved it. Yates believed this was news to McGahn. "When I told him General Flynn had been interviewed [by the FBI] it was clear to me that this was not something he already knew about," Yates told The New Yorker's Ryan Lizza this week. However, if the Times story is correct, McGahn at least knew that Flynn was under scrutiny.
Peculiarly, McGahn's response to this, Yates said under oath on May 9, was to ask why the Justice Department cared if one White House official (Flynn) lied to another (Pence). Yates said that she was concerned the American people were being lied to, but also that Flynn was opening himself to blackmail, because he had had lied publicly, the Russians knew he had lied, and, the Justice Department believed, the Russians probably had a recording.
What happened over the ensuing 18 days is one of the great mysteries of the Flynn case. Despite knowing that Flynn had lied, and despite the warnings of blackmail, Flynn was only fired after it became publicly known, via a Washington Post report, that Flynn had lied to Pence. The gap is even more peculiar given that the White House also apparently knew about Flynn's unreported lobbying. It was only in March that Flynn filed required legal disclosures for the work.
Flynn was finally fired on February 13, but the Trump administration did not mention either the undisclosed lobbying or the threat of blackmail. Instead, it focused on Flynn's lie to Pence, despite the 18-day gap between when the lie was revealed and when Flynn was fired. The White House has offered no clear explanation for the lag. Press Secretary Sean Spicer has stated that administration officials were only able to view the evidence of Flynn's lying in early February, but that still leaves more than 10 days of mystery.
The day after Flynn was dismissed, Trump met with FBI Director James Comey. According to a memo that Comey wrote after the meeting, which has been read to reporters, Trump pressured Comey to drop the FBI's probe into Flynn. "I hope you can see your way clear to letting this go, to letting Flynn go," Trump reportedly said. "He is a good guy. I hope you can let this go." That memo was first reported Tuesday, and many lawyers have interpreted it to suggest Trump was obstructing justice. Since it was revealed, some members of Congress have begun mentioning the prospect of impeaching Trump.
The White House has repeatedly refused to discuss its vetting process for executive-branch appointments. Spicer and Trump have both suggested that because the Obama administration had renewed Flynn's clearance in early 2016—and despite Obama's personal warning—any lapses in vetting are Obama's fault. That reasoning fails both because the Turkish lobbying work began after the clearance renewal and because it implies the Trump administration did no additional vetting. If, however, the administration was aware of Flynn's legal troubles and appointed him anyway, it would explain its reluctance to discuss background checks.
McClatchy also reports that one of Flynn's first decisions as national-security adviser, 10 days before Trump's inauguration, was to reject a long-planned military operation in Syria, in which Kurdish fighters would conquer the ISIS capital of Raqqa. Turkey, which views the Kurds as a threat because of separatist violence in Turkey, opposed the plan. Flynn quickly asked that it be put on hold. His reasoning is not clear. The plan finally moved forward after Flynn was fired.
Flynn's appointment as national-security adviser was always questionable, despite his close bond with Trump. Although he has a reputation as a brilliant intelligence officer, Flynn had proved a poor manager while head of DIA. He was prone to believing conspiracy theories. And he had a closet full of skeletons.
One important question is what Pence knew. The vice president was the head of the transition, and on November 18, Democratic Representative Elijah Cummings wrote to Pence asking about Flynn's ties to the Turkish government.
Even more important is what Trump knew. The great mystery is why Trump has gone to such lengths to help Flynn out. His administration should have known about Flynn's lobbying, which was reported in the press, as early as November. Trump's counsel reportedly knew about the FBI investigation in early January. And by the end of the month, the president knew that Flynn had lied to Pence. Since then, Trump and Spicer have offered kind words for Flynn and praised him for his service; when reports indicated that Flynn was seeking immunity in order to testify in investigations, Trump tweeted that he should.
Yet despite these three strikes, Trump not only declined to fire Flynn until his dishonesty became public, but in fact may have tampered with an FBI investigation, triggering the most serious crisis of a presidency that has been a long string of mostly self-inflicted crises. With aides like this in top national-security jobs, who needs enemies?