The Questions About Obstruction Now Spread to White House Staff
Reports that presidential aides asked senior intelligence officials to help shut down the FBI investigation put those staffers in legal jeopardy.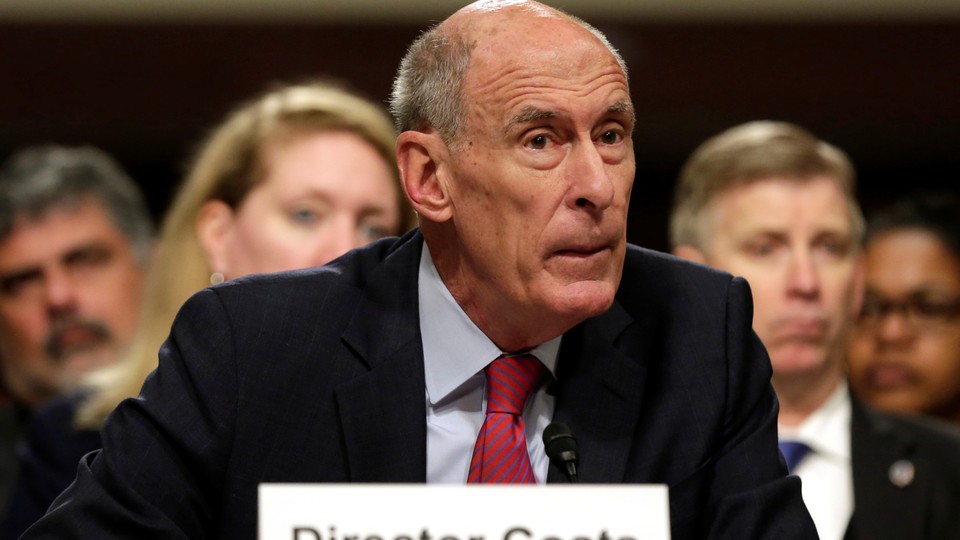 The Washington Post report that White House staffers were involved in President Trump's alleged effort to shut down the FBI's investigation into ousted National Security Adviser Michael Flynn increases the legal and political peril for the administration as Robert Mueller's inquiry moves forward.
On Monday, the Post reported that Trump had asked Director of National Intelligence Dan Coats and National Security Director Mike Rogers to push back on the testimony of the March then-FBI Director Jim Comey that Trump campaign associates were being scrutinized as a part of the investigation into Russian interference with the 2016 election. Both officials reportedly refused.
"This is very close to what Nixon tried to do in drawing in the CIA to short circuit the FBI investigation during Watergate," said a former high-ranking Justice Department official. "His advisers could be very much at risk if they played a role in the alleged interference."  The Post did not mention whether Trump-appointed CIA Director Mike Pompeo received a similar request.
Trump was already facing accusations from Democrats that he engaged in obstruction of justice for firing Comey after asking him to shut down the investigation into Flynn, lying about the reasons why Comey was pushed out, and then acknowledging that the Russia inquiry had been a factor. The New York Times reported last week that Trump told Russian officials during an Oval Office visit that firing Comey had "taken off" pressure caused by the Russia investigation.
Legal experts are divided over whether a sitting president can face obstruction charges; it's possible that impeachment would be the only remedy for a president still in office committing a crime. Obstruction and related charges are also difficult to prove, because they necessarily turn on an individual's state of mind.
Monday's report indicates that Trump attempted to enlist other administration officials in efforts to both shut down the Flynn investigation and to contain the fallout from Comey's testimony that Trump associates were being investigated. During a Senate Armed Services Committee hearing on Tuesday, Coats said that he wouldn't comment on the Post's specific allegation, but added that "any political shaping of that presentation or intelligence would not be appropriate," and that "I have made my position clear on that to this administration, and I intend to maintain that position."
Clint Watts, a former FBI agent who is now a fellow at the Foreign Policy Research Institute, said that the report suggested that top intelligence officials "have had the same reaction as Comey, covering their backs against inappropriate presidential influence and potentially obstruction of justice." The allegation that Trump pressured Comey to shut down the Flynn investigation was reportedly documented in contemporaneous notes taken by Comey, who said no to the request.
According to the Post, "In addition to the requests to Coats and Rogers, senior White House officials sounded out top intelligence officials about the possibility of intervening directly with Comey to encourage the FBI to drop its probe of Michael Flynn." The Post quoted one official who characterized the  White House's line of questioning as: "Can we ask him to shut down the investigation? Are you able to assist in this matter?"
Flynn appears to be facing serious legal peril. On Monday he invoked the Fifth Amendment to avoid turning in documents to the Senate intelligence committee; House Democrats released a letter stating they had concrete evidence that Flynn lied to federal investigators about receiving payments from the Russian government.
While the conversations between Trump and Comey might come down to one man's word against another, the involvement of White House officials in an effort to enlist intelligence officials to help shut down the Flynn inquiry increases the odds that investigators could compel their cooperation.
"I think that as they all get called before the special prosecutor and the FBI begins questioning them, and they get representation, the pressure begins to mount, it's going to create a situation where they may be inclined to cooperate with the investigation as opposed to being a fall guy for the president," said David Gomez, a former FBI agent who is now a senior fellow at George Washington University's Center for Cyber and Homeland Security. "The senior staffers may have some culpability in obstruction of justice; of course their defense is that they were acting on the orders of the president."
The question of whether, if staffers were acting on the president's orders, they could be said to have acted "corruptly" and therefore be guilty of obstruction of justice could be even more difficult to prove in a court of law. On the other hand, officials cooperating with investigators could do political damage to the administration even without being tried or going to prison. Attempting to enlist intelligence agencies in political warfare has also backfired for presidents in the past.
When President Nixon attempted to shut down the FBI investigation into the break-in of the Democratic headquarters at the Watergate by Nixon cronies, he enlisted the then-deputy director of the CIA, Vernon Walters, to suggest to the FBI that the break-in was a CIA operation. The scheme failed, and "endeavouring to misuse the Central Intelligence Agency" was among the articles of impeachment adopted by the House Judiciary Committee in 1974.
"Everybody who is involved in this," said Ali Soufan, a former FBI agent who now runs the Soufan Group security firm, "might be a potential witness."