Democrats Are Split Over Impeachment
A divide has emerged among congressional Democrats over how far to go in attempting to make a case against the president.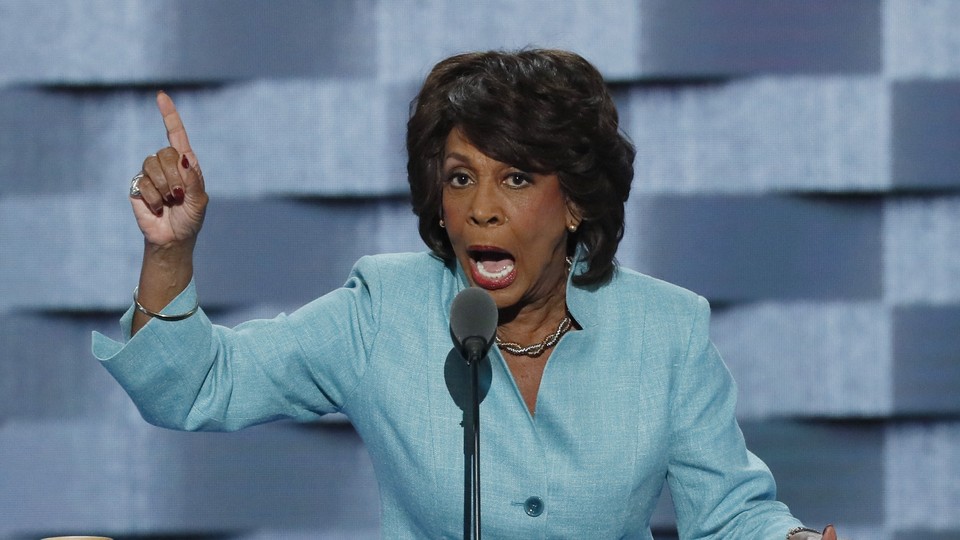 Congressional Democrats have unified around calls for an independent investigation into Russian involvement in the 2016 presidential election, but they're split over whether to talk publicly about the possibility that President Trump will face impeachment.
Party leaders have warned against getting ahead of the facts. But Trump's abrupt decision to fire FBI Director James Comey, and allegations that Trump pressured Comey to drop a federal investigation into former National Security Adviser Michael Flynn have pushed some Democratic lawmakers to go further. A small but vocal group of lawmakers are now either explicitly calling for Trump to be impeached, or suggesting that impeachment may loom in the not-so-distant future.
On Wednesday morning, Democratic Representative Al Green of Texas took the dramatic step of publicly urging Trump's impeachment in a speech on the House floor. "The president must be impeached," he said, alleging "obstruction of justice" as his reason.
Last week, Trump fired Comey, who was then the official charged with overseeing the bureau's investigation into potential links between Trump associates and the Russian government. The White House initially claimed Comey was dismissed over conduct during the 2016 election related to the FBI's investigation into former Democratic presidential nominee Hillary Clinton. But two days later, the president told NBC News that he thought to himself "this Russia thing with Trump and Russia is a made up story," when he made the decision.
Then on Tuesday, the New York Times reported that Trump attempted to halt the FBI's investigation into Flynn, who was ousted after falsely asserting he had not discussed sanctions with Russian ambassador Sergey Kislyak. The White House has denied that the president ever told Comey to end the investigation.
For now, a number of unanswered questions remain. Initial reports that Trump attempted to halt an investigation into Flynn cited a memo created by Comey that has not yet surfaced publicly. There are currently efforts underway in Congress to find out exactly what did happen between Trump and Comey.
The House Oversight Committee, as well as the Senate Intelligence Committee, and the Senate Judiciary Committee, have requested the Comey memos, and the former FBI director has been asked to testify in front of Congress. It may take some time before a fuller picture emerges of exactly what transpired. And as colleague Matt Ford has noted, legal scholars have emphasized that more information, and further investigation, would be necessary to conclude that the president had obstructed justice.
In his floor speech, Green, however, offered this summary of events: "We are talking about a president who fired the FBI director who was investigating the president for his connections to Russian involvement in the president's election."
Democratic party leaders, however, have not joined in the call for impeachment, and are actively warning against invoking the concept without first understanding exactly what transpired between the president and the former FBI director.
"That's not something that we should be rushing into, or rushing to suggest," Representative Adam Schiff, the top Democrat on the House Intelligence Committee, which is also probing Russian involvement in the election, told CNN in an interview, adding that would be "a wrenching experience" for the country.
Though even in arguing for a thorough accounting before rushing to judgement, Schiff engaged in speculation: "We need to get to the bottom of what took place ... Was he trying to shut down a legitimate prosecution? Was he doing it because ultimately he was worried the trail might lead back to him?"
Dianne Feinstein, the top Democrat on the Senate Judiciary Committee, has also reportedly urged caution, arguing that the "I-word should be off the table for now," as The Daily Beast's Tim Mak put it on Wednesday.
Despite the message from the Democratic leadership that it's too early to talk impeachment, at least some Democrats, particularly in the House, believe there's no need to wait.
Democratic Representative Maxine Waters has been publicly raising the possibility of impeachment for some time now. On Tuesday, Waters argued that Democrats shouldn't "be afraid to use the word impeachment," at a conference hosted by the left-leaning think tank the Center for American Progress, and delved into the topic again.
Waters noted, however, that she's gotten pushback for bringing it up. "This president is one that I have focused on in ways that some people say, 'oh my god,' she said the word impeachment,' 'oh my goodness it's too soon to say that,'" Waters said. But, she added, "we don't have to think impeachment is out of our reach."
The risk for the Democratic Party is that the more its lawmakers invoke the idea of impeachment, the more frequently Democrats who don't want to talk about the possibility will be asked to weigh in. Democrats facing tough reelection races in red states and conservative congressional districts in the 2018 midterms may prefer not to answer that question.
If Democrats get too far out ahead in making claims about what they believe investigations into Russian involvement in the election may produce, they risk losing credibility if the evidence that emerges don't support the charges they make, or the speculation they engage in.
It's not just House Democrats wading into a discussion about impeachment.
On Tuesday, Independent Senator Angus King was asked on CNN if Congress could be moving toward impeachment.  "Reluctantly … I have to say yes, simply because obstruction of justice is such a serious offense," he said, though he later sought to clarify that, telling Maine reporters, "there are a lot of facts that we need to establish."
Even Republican Representative Justin Amash of Michigan has invoked impeachment, telling reporters that "if Comey memo allegations are true, it's grounds for impeachment," according to The Hill's Katie Bo Williams.
In an interview on Monday, House Democratic Leader Nancy Pelosi took pains to argue that she doesn't "subscribe" to talking about impeachment absent a clear case.
"If you're talking about impeachment, you're talking about, what are the facts?," she said during a CNN town hall event on Monday, prior to the report that Trump attempted to intervene in the Flynn investigation. "What are the facts that you would make a case on? What are the rules that he may have violated? If you don't have that case, you're just participating in more hearsay."
Senate Democratic Leader Chuck Schumer has similarly called for sticking to the facts. "My view is we need a thorough investigation and we need to get all the facts and then we'll come to conclusions. Our step now is to get a thorough investigation," he said on Tuesday.