Trump Is Testing the GOP's Limits
After a week of controversies, and with midterms not too far away, it's no longer impossible to envision congressional Republicans turning against the president.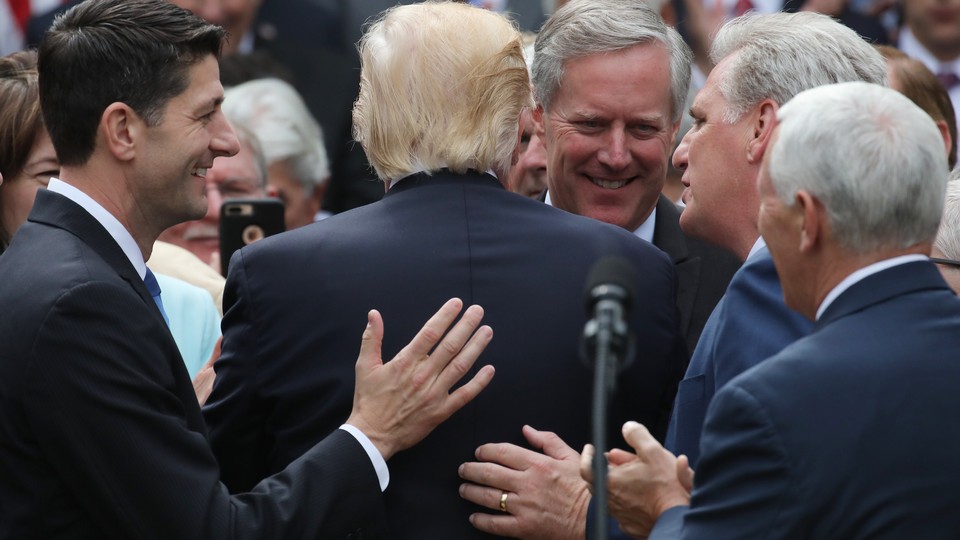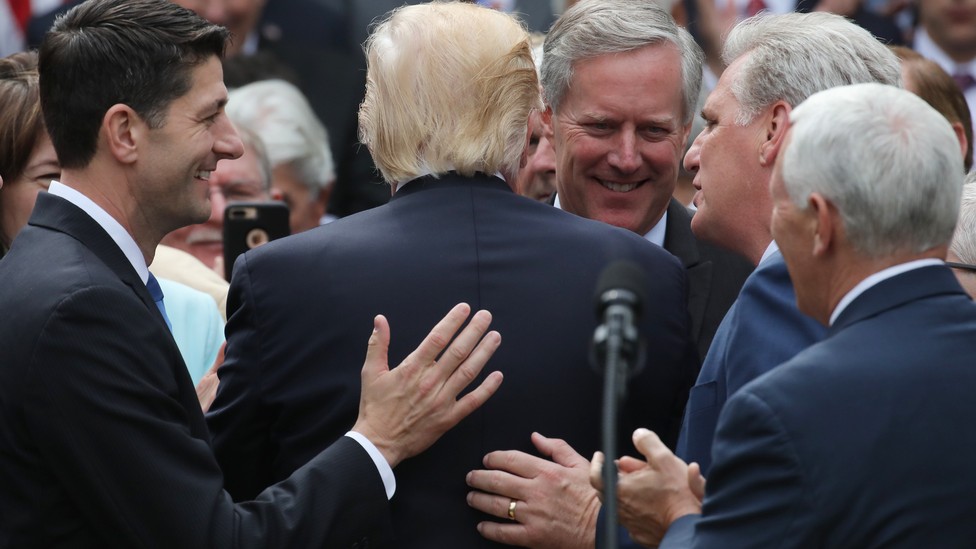 At about 3:30 p.m. on Tuesday, it seemed like a solitary flight of fancy when firebrand Democratic Representative Maxine Waters of Los Angeles told a conference of liberal activists in Washington, D.C., that "we don't have to be afraid to use the word impeachment" when talking about President Trump.
At about 5 p.m., the ground trembled when The New York Times posted its story that fired FBI Director James Comey kept contemporaneous notes that allegedly documented pressure from the president to drop the bureau's investigation into fired National Security Adviser Michael Flynn. Suddenly, across Washington, Waters had markedly more company from other elected Democrats, commentators, and former office-holders from both parties—including John Dean and David Gergen, two veterans of Richard Nixon's White House. "I think we're in impeachment territory now for the first time," Gergen said on CNN.
There are still more pundits than politicians using the "I" word. But the escalating speculation captured how rapidly the terrain is shifting for Trump amid a dizzying concatenation of controversies: ousted acting Attorney General Sally Yates's explosive testimony about Flynn last Monday before the Senate Intelligence Committee; the Comey firing one day later; the president's direct contradiction of his staff's explanation for the dismissal in an interview with NBC; this Monday's revelation that Trump disclosed extremely sensitive intelligence to Russian diplomats; and Tuesday's report on the memos Comey wrote to himself after conversations with the president. Not since Fletcher Knebel and Charles Bailey envisioned a right-wing coup in their classic 1962 novel of political conspiracy has Washington experienced, give or take, Seven Days in May like that.
Few congressional Republicans have embraced an independent investigation into the intertwined controversies squeezing Trump, much less any attempt to drive him from office by impeachment, removal through the 25th amendment, or forced resignation. But after the Comey memos appeared, the GOP started to signal the first potential limits on its willingness to defend an embattled and erratic president. "It's reaching the point where it's of Watergate size and scale," Arizona Senator John McCain said Tuesday night.
The crisis swelling around the White House shows how badly Trump has been served in office by the style and tactics he perfected in 2016. As a candidate, Trump dominated the perpetual news cycle with constant provocations and unending attacks on his opponents, from "low energy" Jeb Bush to "crooked" Hillary Clinton. Even when battered by outside revelations (the Access Hollywood tape) or storms of his own making (his attack on Judge Gonzalo Curiel), candidate Trump almost always regained control of the debate by hammering away at his rivals with his trademark bluster and belligerence. Intuitive and ferocious, he was impossible to program and was prone to self-inflicted wounds, but he almost always managed to take the offense—moving forward, not back.
In office those tactics have frequently proved counterproductive. His attacks on a kaleidoscopic array of targets—seemingly driven more by a bottomless well of personal grievance than by any strategy—have prevented the White House from sustaining focus on any other message or agenda. The unending conflicts have hardened his opponents' doubts about his temperament, compounded doubts about his credibility, and shaken his defenders' resolve. Perhaps most important, by all indications, his reflexive attempts to undermine any individual or institution he believes can challenge him has only reinforced the determination of his many critics inside the government's own law-enforcement and intelligence communities.
Trump's tumultuous first months have unfolded like a tape of earlier presidential crises played on fast-forward. The Watergate break-in occurred in June 1972; Nixon didn't resign, one step ahead of the House's impending impeachment vote, until August 1974. Trump now faces mounting threats only four months after taking office, and just seven months after U.S. intelligence agencies initially confirmed Russian meddling in the 2016 election. New controversies routinely crash into the White House before the beleaguered staff has recovered from the previous wave. The master of the accelerated news cycle is now its victim. Democratic leaders, recognizing that dynamic, are deferring talk of impeachment while pushing for an independent investigation.
Events are pressing on Trump so quickly that it's hazardous to project his current support from his party too far into the future. Congressional Republicans aren't defending Trump because of deep personal loyalty. Instead the GOP alliance with Trump is rooted in shared political interests. Congressional Republicans need him to sign the agenda of tax cuts, deregulation, and repeal of the Affordable Care Act that they have promised—if not sufficiently fleshed out—since recapturing the House in 2010.
They believe their base voters still preponderantly support him. Most of them also worry that if Trump capsizes they, too, would be submerged in the 2018 election. But that alliance could fray if more Republicans conclude that Trump's constant chaos endangers their agenda—or that defending him in 2018 will be more risky than abandoning him. If more GOP leaders, or conservative media voices, publicly renounce Trump, that could shake his approval ratings among Republican voters, potentially accelerating an unraveling.
The safe prediction is that congressional Republicans will not mount any serious attempt to force Trump from office before exhausting all other possibilities, such as an imposed staff reshuffle or even embracing demands for an independent counsel as a way to temporarily push the issue off of their plate. But the lesson of Trump's perpetual turmoil is that further developments, like compelling public testimony from Comey, may disrupt their timetable. An effort to remove him may never coalesce. But it's no longer impossible to envision that it will—and that alone measures how much damage Trump has absorbed during these tumultuous seven (or so) days in May.