Trump Tries to Blame Obama for the Flynn Scandal
Even if the previous administration erred in granting the disgraced national security adviser clearance, that doesn't excuse shoddy vetting.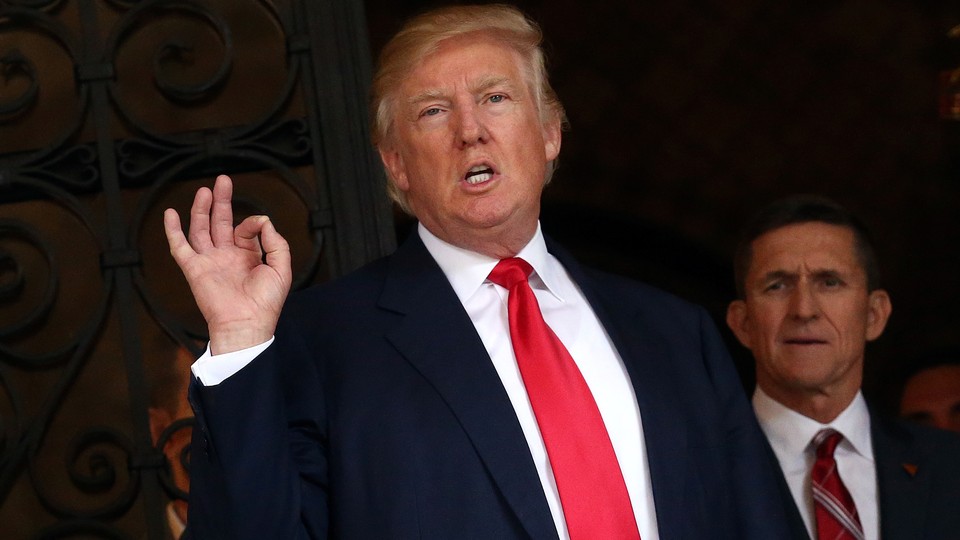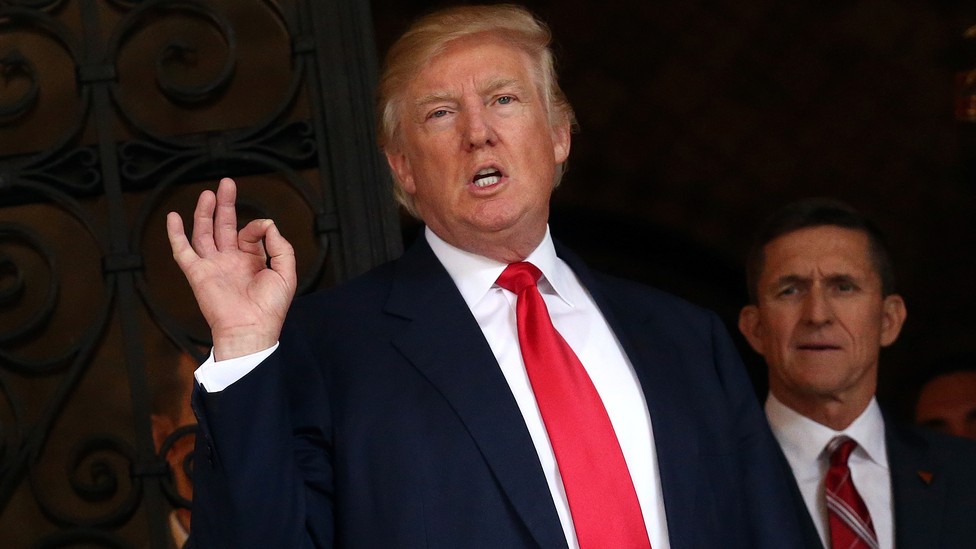 Ahead of a major hearing Monday about Russian interference in U.S. politics, President Trump is trying to shift blame away from himself—but he's likely to find that challenging.
With former Acting Attorney General Sally Yates and former Director of National Intelligence James Clapper testifying before a Senate panel Monday afternoon, Trump fired off a pair of tweets Monday morning. In one, he focused on defending his decision to hire his former national security adviser, Michael Flynn:
General Flynn was given the highest security clearance by the Obama Administration - but the Fake News seldom likes talking about that.

— Donald J. Trump (@realDonaldTrump) May 8, 2017
In another, he suggested that senators ask Yates whether she knows how information she passed to the White House about Flynn leaked to the public. Trump fired Yates, a career Justice Department official who rose to become deputy attorney general in the Obama administration, after she announced that the Justice Department would not defend his Muslim immigration ban in court.
This is not the first time that Trump has sought to pin the blame for the Flynn fiasco on his predecessor. The argument, and his evidence for it, has not gotten any stronger with time. But it looks especially weak after a series of reports that President Obama specifically warned Trump not to choose Flynn for the post of national security adviser.
Flynn, an outspoken Trump backer during the presidential campaign, was named national security adviser shortly after the election. Prior to the inauguration, Flynn was reported to have spoken with Sergei Kislyak, Russia's ambassador to the United States, about sanctions placed on Moscow over election interference. Such a conversation would have been a huge break from protocol—and, according to some analysts, a violation of a federal law against civilians conducting foreign policy, though no one has ever been prosecuted for the offense.
Flynn denied having discussed sanctions with Kislyak, both to reporters and to Vice President-elect Mike Pence, who repeated that denial in a January 15 CBS News interview. On January 26, Yates informed White House Counsel Don McGahn that intercepted communications indicated Flynn was being untruthful about the conversations. The administration took no public action. Nearly three weeks later, after news about Yates's bulletin to McGahn leaked to the press, Flynn was forced to resign.
It's easy enough to see why Trump is upset about the leak. Every president is infuriated by damaging leaks, and Trump seems to have been fine keeping Flynn on the job despite having lied to Pence—the problem was that the public knew.
Since Flynn stepped down, he has encountered more trouble. He was revealed to have lobbied for the Turkish government from summer until November 2016, but failed to register as a foreign lobbyist until March. The chairman and ranking member of the House Oversight Committee recently said they believe he broke the law by receiving payments from the Russian and Turkish governments—both because he did not seek requisite permission ahead of time, and because he did not disclose them after the fact. Flynn, who in 2016 said, "When you are given immunity, that means you probably committed a crime," has reportedly sought immunity from the bodies investigating Russian interference.
Trump's argument—setting aside his boilerplate bluster about fake news—is that it's actually Barack Obama who is to blame for the whole fracas. Flynn was head of the Defense Intelligence Agency under Obama, until he was forced out in 2014. In 2015, Flynn traveled to Moscow for a celebration of the Kremlin-backed network RT, where he was reportedly paid $45,000 and ate dinner with Vladimir Putin. He received renewed security clearances in 2010 and in 2016, both under the Obama administration.
Because of this, Trump argues that it was actually Obama who fell down on the job. There are a couple problems with this. One is that Flynn was informed ahead of time that he was obligated to seek permission before receiving the money from either Russia or Turkey. A second is that he was obligated to disclose both of those after the fact. Flynn's obligations aside, the January 2016 background check should probably have turned up the Russian trip, which was publicly known. (It's worth noting that background checks are conducted by career staff, not political appointees.)
Even if that background check was insufficiently detailed, the fact that the Obama administration approved security clearance still has little bearing on Trump's decision to make Flynn his national security adviser. As of 2013, 1.4 million people had top-secret clearance. Most of those people will not, and probably should not, ever be national security adviser. To obtain that job, one of the most important White House positions and a key element in the national security apparatus, one would expect that a candidate would be required to undergo extensive vetting—especially from a president who has emphasized national security and promised "extreme vetting" of prospective entrants to the country.
The Trump White House has, however, suggested that it did no additional vetting for Flynn beyond his clearance. During a briefing on April 27, Press Secretary Sean Spicer faulted the Obama administration for clearing Flynn, and suggested that in fact there was no further process. "The process is every government employee who is eligible for a clearance goes through the same process," he said. "So it's not—we don't have a unique process." An incredulous reporter asked, "General Flynn came in and he walked through the door with just the clearance that was conducted by the Obama administration? That doesn't make any sense."
"Sure it does," Spicer replied. "Why would you re-run a background check on someone who was the head of the department—the Defense Intelligence Agency—that had and did maintain a high-level security clearance? That's it."
Flynn is just one of several cases in which the Trump administration's vetting of nominees and appointees overlooked serious red flags. Multiple nominees have had to withdraw from consideration, most recently Mark Green, a would-be secretary of the Army, on Friday.
The fact that the Trump administration's public argument is that it did not do any further vetting of Flynn is all the more astonishing in light of the reports about Obama's warning to Trump, which was first reported by NBC News and then confirmed my multiple outlets. (The anonymously sourced story looks like pushback by Obama alumni against Trump's tweets.) It's no surprise that Obama, having fired Flynn, was not a fan. Even by those standards, though, his stark reported warning to Trump is surprising, especially since he gave the president-elect the heads-up within days of the election.
A Trump administration official confirmed the conversation to NBC, but said that Trump disregarded the comment because he believed Obama was joking.
It appears there is some confusion in the White House about when to take the Obama administration seriously, as on the clearance, and when not to do so, as on the warning. But Trump's attempt to shift blame to his predecessor is clearly hard to take seriously. Even if the Obama administration fell short in its investigation, the Trump team apparently never even bothered to try.