Trump Fires FBI Director James Comey
A White House statement said he acted on the recommendation of the deputy attorney general and the attorney general.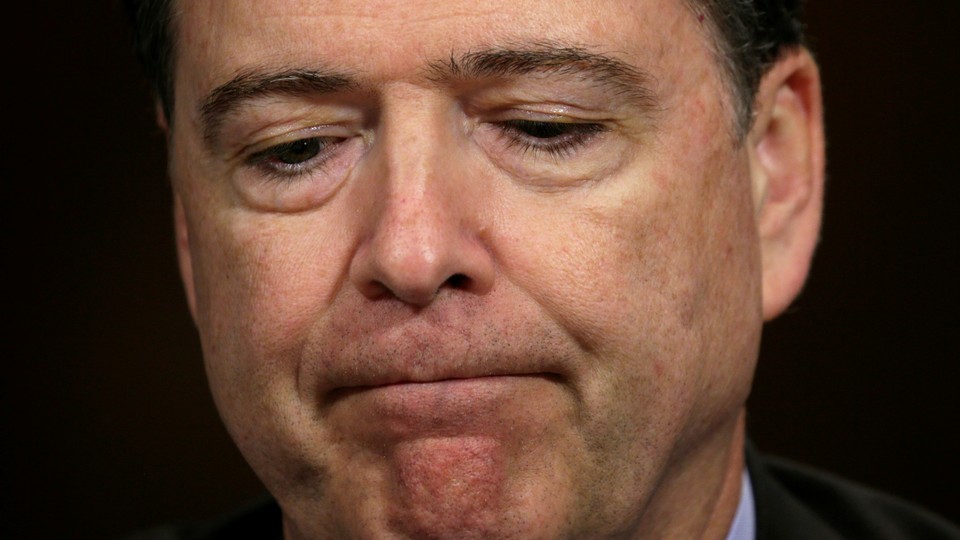 President Trump fired FBI Director James Comey on Tuesday, a shocking dismissal that removes the top federal law-enforcement official overseeing the investigation into Russian interference in the 2016 presidential election.
In a statement announcing the removal, the White House said Trump had "acted based on the clear recommendations of both Deputy Attorney General Rod Rosenstein and Attorney General Jeff Sessions."
"The FBI is one of our nation's most cherished and respected institutions and today will mark a new beginning for our crown jewel of law enforcement," Trump said in the statement.
The firing comes less than a month after Comey told a congressional committee that the FBI is investigating whether the Trump campaign coordinated with Russian intelligence services to damage Hillary Clinton's campaign during the 2016 presidential election. Trump and his associates have repeatedly denied any coordination or wrongdoing.
Comey's dismissal is likely to raise questions about whether the White House is interfering in that investigation. In a letter from Trump informing Comey of his firing, the president suggested Comey had privately assured Trump he was not being scrutinized. "While I greatly appreciate you informing me, on three separate occasions, that I am not under investigation, I nevertheless concur with the judgement of the Department of Justice that you are not able to effectively lead the Bureau," Trump said.
White House Deputy Press Secretary Sarah Huckabee Sanders told Fox News Tuesday night that Comey's firing wouldn't affect the Russia investigations by either Congress or the FBI. "But I think the bigger point on that is, when are they going to let that go?" she then added. "It's been going on for nearly a year. Frankly, it's kind of getting absurd. There's nothing there."
Later on Tuesday, CNN reported that federal prosecutors in Virginia have issued grand jury subpoenas to associates of former National Security Advisor Michael Flynn, who was fired by President Trump in February. Flynn's ouster came after news broke that he had spoken with Sergey Kislyak, the Russian ambassador to the United States, in December despite multiple denials.
The White House instead linked Comey's firing to his conduct during the investigation into Hillary Clinton's private email server last year. In a separate letter, Deputy Attorney General Rod Rosenstein chastised Comey for holding a press conference last summer to announce the FBI would not recommend charges against Clinton.
The Director was wrong to usurp the Attorney General's authority on July 5, 2016, and announce his conclusion that the case should be closed without prosecution. It is not the function of the Director to make such an announcement. At most, the Director should have said the FBI had completed its investigation and presented its findings to federal prosecutors. The Director now defends his decision by asserting that he believed Attorney General Loretta Lynch had a conflict. But the FBI Director is never empowered to supplant federal prosecutors and assume command of the Justice Department. There is a well-established process for other officials to step in when a conflict requires the recusal of the Attorney General. On July 5, however, the Director announced his own conclusions about the nation's most sensitive criminal investigation, without authorization of duly appointed Justice Department leaders.
But the explanation fell flat among congressional Democrats, who immediately demanded an independent investigation into Russian election interference after the news broke. Representative Adam Schiff, the ranking Democratic member of the House Intelligence Committee, said Comey's dismissal "raises profound questions about whether the White House is brazenly interfering in a criminal manner." Hawaii Senator Brian Schatz went further, calling the episode a "full-fledged constitutional crisis."
The FBI director's role in the Clinton investigation had already been in the news before Thursday's dismissal. Hours before his firing, Comey sent a letter to the Senate Judiciary Committee clarifying erroneous testimony he had given the previous week about the FBI investigation into Hillary Clinton's emails. Comey told the committee that Huma Abedin, a top Clinton aide, had forwarded thousands of emails to her husband Anthony Weiner, some of which included classified material. But on Tuesday, he clarified that Abedin had only forwarded a smaller number of messages, including two email chains to her husband that contained classified information, and that the remainder came from her phone's backed-up files on the laptop.
Comey has not yet publicly addressed his firing. According to the New York Times, he learned of his dismissal when the news began appearing on television screens in the bureau's field office in Los Angeles while he was addressing FBI employees. He is scheduled to testify before an open Senate Intelligence Committee hearing on Thursday, but it's unclear whether he will still participate after his dismissal.
Barack Obama nominated Comey to head the nation's preeminent federal law-enforcement agency in 2013. While FBI directors serve at the pleasure of the president, they serve 10-year terms to avoid the influence of partisanship. The only other FBI director to be fired was William Sessions, who was dismissed by Bill Clinton in 1993 amid an ethics probe.
Trump's public views towards Comey shifted over the past few months since taking office. The president frequently invoked both the FBI director's June press conference and October letter to attack Clinton's integrity and fitness for office on the campaign trail. Two days after the inauguration, Trump hugged Comey when they met at a White House reception for law-enforcement officers.
That relationship apparently frayed as it became clear the FBI was investigating the Trump campaign as part of its broader Russia probe. On May 2, Trump tweeted that the FBI director was "the best thing that ever happened to Hillary Clinton in that he gave her a free pass for many bad deeds," an apparent reference to the press conference last year.
FBI Director Comey was the best thing that ever happened to Hillary Clinton in that he gave her a free pass for many bad deeds! The phony...

— Donald J. Trump (@realDonaldTrump) May 3, 2017
The White House said a search for Comey's replacement is underway. Leadership of the FBI now falls to Deputy Director Andrew McCabe, a career civil servant who previously led the bureau's counterterrorism and national-security divisions.
Trump's next choice for the position will likely face unprecedented scrutiny over their independence from the president. "An FBI director can kill any investigation," said Ali Soufan, a former FBI agent who led the U.S.S. Cole investigation. "It does not look good when the White House fires an FBI director who is investigating the White House. It is a tenured job to insulate the director from politics."