Did President Trump Obstruct Justice?
He may have, legal scholars said cautiously. But further investigations would be necessary to know for sure.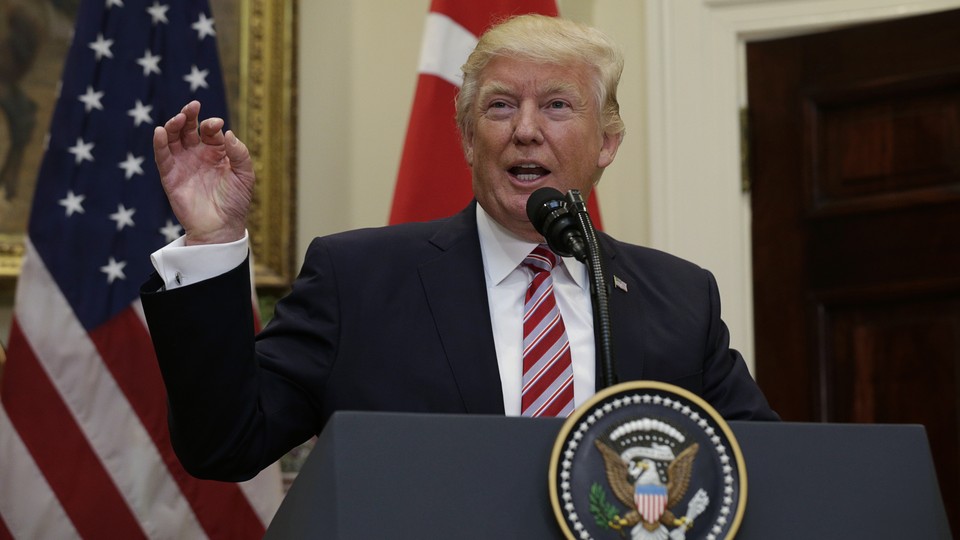 Tuesday's bombshell report that President Trump asked former FBI Director James Comey to drop the federal investigation into former National Security Advisor Michael Flynn will almost certainly strengthen a growing consensus among legal scholars that the president may have committed obstruction of justice, an impeachable offense.
The New York Times reported Tuesday afternoon that Comey kept memos of conversations he had with Trump, including one of a conversation in which the president allegedly urged the then-director of the FBI to drop the ongoing federal probe into Flynn. Multiple media outlets have reported the investigation is examining Flynn's conversations with Russian Ambassador Sergey Kislyak as well as the retired general's foreign sources of income prior to joining the Trump administration.
"[Flynn] is a good guy," Trump reportedly told Comey in February in the Oval Office after a routine national-security briefing. "I hope you can let this go." (The White House, for its part, told the Times that description was "not a truthful or accurate portrayal of the conversation between the president and Mr. Comey.")
Comey's memos could bolster calls for an obstruction-of-justice investigation into Trump himself, either by the Justice Department or by Congress. "It helps meet the burden that has to be shown that the president engaged in some kind of misconduct," said Michael Gerhardt, a University of North Carolina law professor who testified during the Clinton impeachment hearings. "At this point, the burden is shifting over to the president to explain how this might've been done in good faith or how this is not misconduct."
John Q. Barrett, a St. Johns University law professor who worked as an associate counsel for the independent counsel's office during the Iran-Contra affair, said he wouldn't flatly declare that what the Times reported was a crime. But he also emphasized the potential implications of Trump's alleged comments.
"Much will depend on how Comey, and any other witnesses, understood the statement as they heard it," Barrett said. "But this, as reported, is a piece of serious evidence of possible criminality. It is plainly a basis for criminal investigation and evaluation."
The current firestorm erupted after Trump suddenly dismissed Comey last week, three months after the February memo would have been drafted. The White House's initial explanation centered around a different memo drafted by Deputy Attorney General Rod Rosenstein that castigated Comey for his behavior during the 2016 presidential election, which some observers believe cost Hillary Clinton the presidency. But Trump himself began to undercut the administration's public stance almost immediately.
"[Rosenstein] made a recommendation, but regardless of the recommendation, I was going to fire Comey knowing there was no good time to do it," Trump said in an interview with NBC's Lester Holt two days after Comey's sudden ouster. "And in fact when I decided to just do it, I said to myself, you know, this Russia thing with Trump and Russia is a made up story, it's an excuse by the Democrats for having lost an election that they should have won."
Trump's statement that he had been considering the Russia investigation when making the decision to fire Comey immediately drew criticism. Laurence Tribe, a prominent Harvard Law professor, published an op-ed in the Washington Post in which he declared the "time has come for Congress to launch an impeachment investigation of President Trump for obstruction of justice."
But other legal scholars were more circumspect about the implications of Holt's interview. "I think we need to know more about Trump's reasons for firing Comey, but if one puts the worst face on it, yes, it would be obstruction of justice," said Peter Schuck, a Yale Law School professor. "That is to say, if he was attempting to intimidate Comey or exact loyalty from him in connection with the investigation, that would be obstruction of justice."
Gerhardt said there was a "good chance" Trump's comments in the interview could be considered obstruction of justice. But Gerhardt also noted the interview could be interpreted multiple ways. "It seems to sort of suggest he was obviously thinking about it, but it still requires some further elaboration," he noted. "Was he trying to stop it? Did this have the effect of trying to stop it? What does it reveal about his mindset?"
Those caveats would make it challenging for federal prosecutors to use the Holt interview as conclusive proof against him in a federal case. Obtaining an obstruction-of-justice conviction requires evidence the official in question acted with a "corrupt" purpose. Because Trump could lawfully fire Comey as the president, federal prosecutors would have to prove he acted "with an improper purpose" when removing the FBI director from office. Those thresholds amount to a "high burden of proof," Gerhardt said.
Bruce Green, a law professor at Fordham and former federal prosecutor who worked as an associate counsel for the prosecutor's office in the Iran-Contra affair, said that as far as Trump's exchange with Comey goes, "if it emerges that he was trying to shut down the investigation to stop Flynn from implicating him in criminal conduct, that would be a different story."
Green noted that "corrupt intent" can only be proven circumstantially. "That President Trump asked others to leave the room is some evidence from which, together with other evidence (if it exists), one might infer that he had a corrupt intent rather than an innocent one," Green said. "But really - what rational person tries to obstruct a federal criminal investigation in front of the FBI director?"
Congressional efforts to remove Trump from power, on the other hand, would have far fewer restrictions. The Constitution allows legislators to remove federal officials from office for "high crimes and misdemeanors," but leaves it to Congress to decide what exactly falls under that category. "In impeachment, there's no standard of proof," Schuck said. "You simply have to get a majority of the House and two-thirds of the Senate. Each of those individuals can apply whatever standards of proof he or she thinks is appropriate."
Three presidents in American history have either faced impeachment or the imminent threat of it. Two of them faced obstruction-of-justice charges: Richard Nixon resigned in 1974 before the House could consider four articles of impeachment related to Watergate; Bill Clinton came within 17 votes in the Senate of being removed for office on obstruction of justice during the Monica Lewinsky scandal in 1999. (The third, Andrew Johnson, came within a single vote in the Senate of removal from office after Radical Republicans in Congress grew disenchanted with his policies during Reconstruction.)
Direct presidential interventions into ongoing criminal investigations are also highly irregular. Justice Department policies generally bar federal prosecutors from communicating with White House political officials, and the FBI follows similar practices. "I've never heard of anything like this," said Ali Soufan, a former FBI agent who investigated the U.S.S. Cole bombing. "It's very inappropriate for the president of the United States, who is the boss of the head of the FBI, to ask him to stop an investigation."
What Comey's memo and the Holt interview ultimately indicate is the need for further investigation, multiple experts concluded. "At this point, people on both sides of the aisle have every reason to be disturbed by this kind of conduct and are entitled to an explanation," Gerhardt said. "Perhaps leaders of Congress need to think about what mechanisms they have to get to the heart of this."