Did Trump Try to Shut Down the FBI's Michael Flynn Investigation?
A memo from fired FBI Director James Comey quotes the president as asking him to "let it go," contradicting White House claims.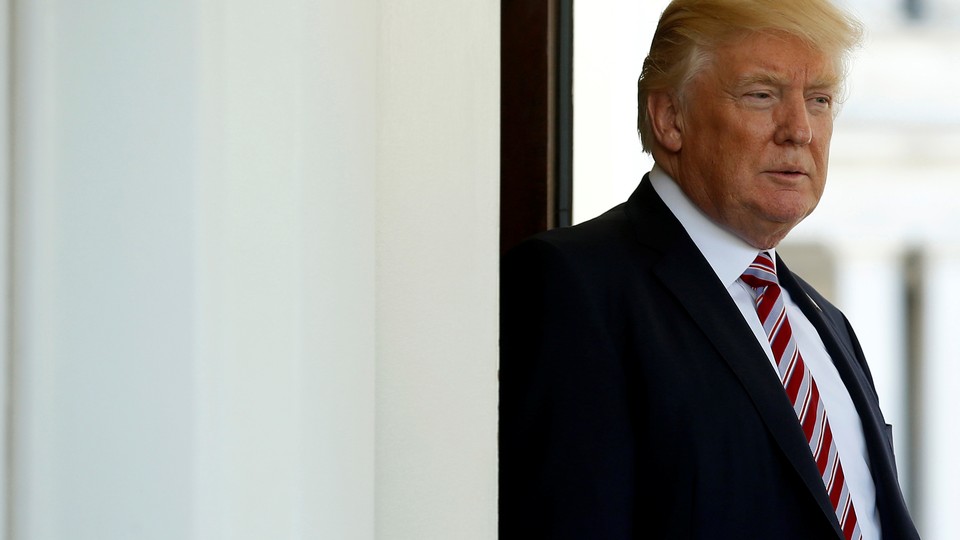 During a meeting in February, President Trump asked then-FBI Director James Comey to kill an investigation into former National-Security Adviser Michael Flynn, saying, "I hope you can let this go."
That's according to a memo that Comey wrote after the meeting and circulated to top FBI officials, and which was read to—though not obtained by—a reporter The New York Times. Comey's memo reportedly further quotes Trump telling the director, "I hope you can see your way clear to letting this go, to letting Flynn go. He is a good guy. I hope you can let this go." Comey recorded his response as simply agreeing that Flynn was a good guy.
Flynn was fired on February 13, after it became publicly known that he had lied to Vice President Pence, saying he had not spoken with Russian Ambassador Sergey Kislyak about sanctions on Russia prior to Trump's inauguration. Acting Attorney General Sally Yates, who was fired January 30, had alerted the White House to Flynn's duplicity, apparently after the FBI interviewed Flynn. The Times reports that Comey's conversation with Trump was the following day. The Washington Post also reported the existence and contents of the memo, as did CNN.
Comey, for his part, was abruptly fired on May 9. The White House initially, and implausibly, claimed his dismissal was based on a recommendation from the deputy attorney general, and was connected to Comey's handling of an investigation into Hillary Clinton. However, President Trump acknowledged a range of reports to the contrary, telling NBC News's Lester Holt last week that the Russia probe was a factor in his decision to fire Comey. Trump was also reportedly upset that Comey had debunked his baseless claim that President Obama "wiretapped" his campaign offices.
The Comey memo provides the most direct evidence of Trump attempting to interfere in the FBI's work investigating the president, his associates, and whether they colluded with Russia to influence the 2016 presidential election.
The White House disputed the memo's accuracy in a statement:
While the President has repeatedly expressed his view that General Flynn is a decent man who served and protected our country, the President has never asked Mr. Comey or anyone else to end any investigation, including any investigation involving General Flynn. The President has the utmost respect for our law enforcement agencies, and all investigations. This is not a truthful or accurate portrayal of the conversation between the President and Mr. Comey.
Trump also denied in his NBC News interview that he had ever asked Comey to drop an investigation. But as the Times writes, "An F.B.I. agent's contemporaneous notes are widely held up in court as credible evidence of conversations."
The disagreement represents the most direct conflict so far between Comey and the administration. In this case, the White House is calling the former FBI director, who has a reputation for honesty even among his detractors, a liar, and staking its own credibility against him—a credibility undermined by its constantly changing justification for his firing. This follows a bizarre tweet from Trump last week, in which he appeared to threaten Comey, saying he had "better hope that there are no 'tapes.'" The administration has refused to say whether or not tapes of White House meetings exist. If they do, they would be public records and subject to subpoena. For the time being, Comey's memo may be the most reliable record of any conversations.
That's probably not an accident. Comey is known for keeping records of his conversations in order to create a paper trail in the event of a disagreement. In this case, as well as in the case of another story last week that reported on a dinner at the White House where Comey reportedly said Trump asked him to pledge personal loyalty, the fired director appears to have laid a series of booby traps for Trump ahead of his firing, ensuring that his side of the story would be told—even as Comey himself remains silent.
During a Senate hearing last week, FBI Acting Director Andrew McCabe stated that the administration had not attempted to interfere with the Russia investigation, but Comey's memo suggests otherwise—as, perhaps, does his firing. The memo, if confirmed, will elicit accusations of political tampering and perhaps even obstruction of justice by the president. Obstruction of justice was one count against President Bill Clinton in his 1998 impeachment.
Comey's firing drew disapprobation from both Democrats and Republicans, and congressional investigators have sought to have Comey testify, though he does not appear to have agreed to any specific appearance so far.
The latest story ties together several disparate scandals that have rocked the Trump administration over the last two weeks. There are the three fired officials, Flynn, Yates, and Comey;  Yates testified to Congress for the first time on Monday, and Comey was fired Tuesday. The Times reports that another topic of discussion in Comey's conversation with Trump was leaks to the press, a constant obsession for the president:
Alone in the Oval Office, Mr. Trump began the discussion by condemning leaks to the news media, saying that Mr. Comey should consider putting reporters in prison for publishing classified information, according to one of Mr. Comey's associates.