'There Is a Real Risk Here Things Will Spin Out of Control'
The White House picked a fight by firing James Comey—but now risks losing its grip on the controversy it provoked.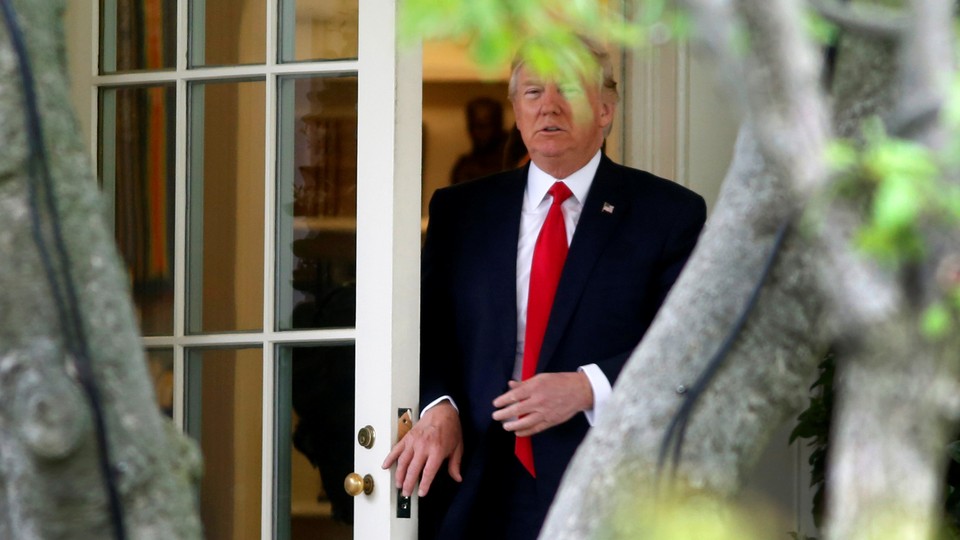 As news of FBI Director James Comey's firing unfolded Tuesday night, it took on all the hallmarks of a distinctively Trumpian drama. In Los Angeles, news choppers chased Comey's SUV down a freeway. In Washington, aides and surrogates scrambled to spin the story in a series of contentious television interviews. And across the country, partisans prepared to charge into one of the most explosive political battles of the Trump era.
The backlash appears to have come as little surprise to the president and his inner-circle. Despite early reports that the White House was taken aback by the intense reaction to Comey's dismissal, a senior administration official told The Atlantic that those who knew about the plan beforehand were gearing up for a fight.
"Everyone I talked to expected fallout from this," said the official, who spoke on condition of anonymity.
The reasons behind Trump's decision to fire Comey remain sketchy, as does the timeline that led to it. But in the immediate aftermath of the announcement, there was widespread speculation that the president's action was intended to derail an FBI investigation into alleged collusion between his 2016 campaign and Russia. The New York Times reported Wednesday that just days before his dismissal, Comey requested more money to fund the investigation.
The White House has vigorously denied that Trump's decision was linked to the Russia investigation. According to the administration official who spoke to The Atlantic, Attorney General Jeff Sessions came to the conclusion "a while ago" that Comey needed to go; the official said the process had been delayed until a new deputy attorney general was in place. But the idea to fire Comey was clearly not generated by Sessions. In the White House press briefing on Wednesday, deputy press secretary Sarah Huckabee Sanders said Trump had been considering firing Comey since getting elected. After Rod Rosenstein was confirmed as deputy attorney general last month, he reviewed Comey's record and produced a three-page memo detailing the FBI director's failures, strongly implying that the president needed to fire him. Asked if anyone in the White House directed or encouraged Rosenstein to look into Comey, the official said: "Not that I know of."
Many observers were shocked, even taking the White House at its word, that Trump didn't tread more lightly with Comey, given the politically charged nature of the FBI's Russia investigation. Historically, presidents tend to eschew unnecessary public drama. They prize quiet resignations over noisy firings, backstage maneuvering over high-profile slugfests. When a White House is facing a scandal, the traditional response is to project steadiness and calm—a posture designed to downplay the potency of the controversy and avoid the appearance of crisis.
But, of course, this president has never been one to glide above the fray.
Throughout his political rise, Trump has demonstrated an instinct—honed over decades of courting the New York City tabloids—to always lean into controversy. He invites conflict at every turn; visits scandal with more scandal; and deliberately, relentlessly, heightens the various dramas that surround him.
This pattern manifested itself repeatedly on the campaign trail. When a Republican senator called him a "jackass," Trump didn't ignore the jab—he read out the senator's personal cell-phone number during a rally and urged angry supporters to call him. When the Access Hollywood tape leaked, he responded by holding a press conference with women who had accused Bill Clinton of sexual improprieties.
His modus operandi as a candidate was to make text out of subtext, whether he was assailing the "rapists" and "murderers" crossing the border from Mexico, or saddling his political foes with on-the-nose nicknames (Crooked Hillary, Lyin' Ted, Liddle Marco) whose success resided in their lack of subtlety.
If Trump was intent on dispatching the FBI director, he could have proceeded more delicately—softening up the ground beforehand with calculated leaks to the press, then privately requesting Comey's resignation. But people close to the president said his handling of the situation was perfectly in character.
Sam Nunberg, a former political adviser who helped Trump launch his campaign, pointed to the letter the president sent notifying Comey of his termination. In the letter, Trump said Comey had privately informed him "on three separate occasions" that he was not under investigation—a bizarre, and seemingly counterproductive, claim that only served to direct attention to the Russia controversy. Then,Trump sent his longtime personal bodyguard Keith Schiller to hand deliver the letter to FBI headquarters in Washington—knowing full well that the director was in California at the time.
Trump's opponents were appalled by how the process played out, and likened it to a coup—but Nunberg was delighted. "I do love this letter … That is so Donald Trump," he said. "I said, this was pretty cool that Keith delivered that letter to Comey, almost as cool as when he body slammed Vince McMahon in Trump Tower."
Nunberg speculated that a key factor had been Comey's perceived unwillingness to look into damaging leaks about the president. "I've heard not from the White House. I've heard from two chiefs of staff in the Senate that they felt that every time you would ask Comey about something, about a leak or the unmasking, he would drag his feet, but suddenly he's ready to summarily announce in the opening of the Trump administration, 'I'm investigating the Trump campaign and Russia,'" Nunberg said.
Roger Stone, another longtime Trump confidant and a Nixonian dirty trickster, joined in the gleeful troll-fest. Reached by text message on Tuesday night, Stone said "What Comey did to Hillary was disgraceful. I'm glad Trump fired him over it."
One source close to the White House said Stone had been pushing Trump to fire Comey. Trump disputed the idea that Stone had convinced him to fire Comey, tweeting, "Have not spoken to Roger in a long time - had nothing to do with my decision." A senior White House official said Stone had not influenced Trump's decision on Comey. Stone later claimed on Twitter that he had not been the source for stories pointing to him as one of the key figures pushing Trump on the Comey decision. But Stone, who is himself a subject of scrutiny in the FBI's investigation, has made his views on Comey publicly and abundantly clear.
Not all of Trump's allies were as elated by the president's brazenly combative approach to Comey situation. Given the suddenness of the firing, the lack of a follow-up plan, and the timing of the move, some in the president's orbit were left speculating about his motives and worrying about his future.
"I think he's worried about [Mike] Flynn," said one source close to the White House, referring to Trump's former National Security Adviser who has offered to testify before Congress.* "[Trump] has questioned whether or not he should have fired Flynn. They don't know what Flynn's going to say."
Another source close to the White House worried, "There is a real risk here things will spin out of control."
---
* This article originally stated that Michael Flynn was scheduled to testify before Congress. We regret the error.