What Did Donald Trump Tell the Russians?
A Washington Post story claims that the president divulged highly sensitive intelligence received from an ally in a meeting with the Russian foreign minister and ambassador.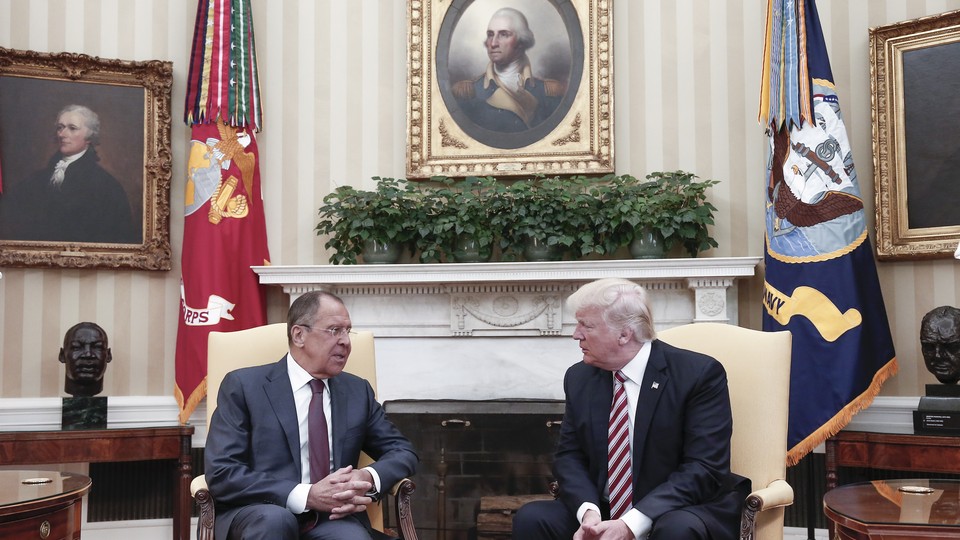 Last Wednesday, security experts nearly had a conniption when they realized that President Trump had welcomed Russian state media into the Oval Office. It turns out that was the least of the security breaches that day.
The Washington Post reports that Trump revealed classified information about ISIS, acquired from an intelligence partner, about a plot to use laptop computers in terror attacks. The newspaper held back details of what Trump told Russian Foreign Minister Sergei Lavrov and Russian Ambassador to the United States Sergei Kislyak.
Greg Miller and Greg Jaffe write:
The information Trump relayed had been provided by a U.S. partner through an intelligence-sharing arrangement considered so sensitive that details have been withheld from allies and tightly restricted even within the U.S. government, officials said. The partner had not given the United States permission to share the material with Russia, and officials said that Trump's decision to do so risks cooperation from an ally that has access to the inner workings of the Islamic State.
Other outlets, including The New York Times and BuzzFeed, have confirmed the Post story.
The White House did not deny the disclosure, though National Security Adviser H.R. McMaster said that "at no time were any intelligence sources or methods discussed and no military operations were disclosed that were not already known publicly."
Dina Powell, a deputy national-security adviser, did deny it, however. "This story is false. The president only discussed the common threats that both countries faced," she said, according to CNBC's Eamon Javers.
Later, McMaster read a brief statement to reporters at the White House.
There's nothing that the president takes more seriously than the security of the American people. The story that came out tonight, as reported, is false. The president and the foreign minister reviewed a range of common threats to our two countries, including threats to civil aviation. At no time, at no time, were intelligence sources or methods discussed, and the president did not disclose any military operations that were not already publicly known. Two other senior officials who were present, including the secretary of state, remember the meeting the same way and have said so. Their on the record accounts should outweigh the anonymous sources. I was in the room. It didn't happen.
McMaster's statement does not specifically take issue with anything in the Post story, or other accounts confirming it. No reports have alleged that Trump discussed sources or methods, nor that unknown military operations were discussed.
Regardless, Trump's disclosure of the sensitive details, withheld even from American allies, to Russia, an uneasy rival in the Middle East, is yet another jawdropping misstep by a president whose administration thus far is best viewed as a series of errors and gaffes.
The Post story is notable for the direct quotes from the meeting the reporters were able to obtain. Trump's disclosure to Lavrov and Kislyak appears to have been a deviation from script delivered as the president sought to prove to them the quality of the information he received. An official quoted Trump as boasting, "I get great intel. I have people brief me on great intel every day."
The president's friendly ties to Russia are already under close scrutiny by the press, Congress, and criminal investigators. While there is widespread agreement in the U.S. government that Russia intervened in the 2016 presidential race in order to hurt Hillary Clinton and help Trump—even Trump now acknowledges this—the FBI is also investigating whether Trump campaign officials colluded with Russia in that effort. Trump denies this.
However, he abruptly fired FBI Director James Comey, who was overseeing that investigation, last week. While the White House initially cited Comey's handling of a probe into Hillary Clinton's use of a private email address and server while she was secretary of state, Trump told NBC's Lester Holt that his frustration with the Russia probe played a role, confirming a series of press reports that said Trump was furious at Comey over Russian matters.
The president also produced a letter last week saying his only business ties to Russia consisted of $100 million in income over the last decade or so, but experts who reviewed the letter said it did nothing to prove he did not have worrisome ties in Russia.
But in the Post's account, Trump blurted the sensitive information not as an intentional step but as a simple boneheaded mistake. The Post's sources said it wasn't even clear whether Trump grasped the import of the information he shared. Luckily for the president, who has courted comparison with Richard Nixon in recent days, Tricky Dick's claim that "when the president does it, that means that it is not illegal" appears to apply here. The president has broad leeway to declassify information, even if disclosure of the same thing by any other official would be a serious offense.
It is ironic that Trump's disclosure came as he boasted to the Russians. One reason the Russia probe has so irked Trump is that he feels it calls into question his legitimacy as a president—that his adversaries are using the specter of electoral interference to undermine his standing. This has driven Trump to frequent, and strange, reminiscences and bragging about an election he won months ago. Now, while asserting his legitimacy and grandeur to foreign dignitaries, Trump seems to have committed a gaffe that calls both his qualifications for office and his ties to Russia further into question.
Even if what Trump did is legal, what is legal and what is acceptable are, of course, not the same thing. For one, passing such information along, intentionally or not, could jeopardize American intelligence relationships around the world, and potentially weaken national security.
For another, accidentally sharing the information exposes Trump to charges of hypocrisy. During the presidential campaign, Trump repeatedly blasted Hillary Clinton for her lax security practices with emails. Quoting Comey's remarks about the Democratic candidate's practices—some of the same remarks he initially used to justify firing Comey last week—Trump tweeted:
Crooked Hillary Clinton and her team "were extremely careless in their handling of very sensitive, highly classified information." Not fit!

— Donald J. Trump (@realDonaldTrump) July 6, 2016
He made many similar comments on the stump.
"This is really, if we bring it up, this is like Watergate, only it's worse, because here our foreign enemies were in a position to hack our most sensitive national security secrets," he said at a rally in Greenville, North Carolina, in September. "We can't have someone in the Oval Office who doesn't understand the meaning of the word 'confidential.' "
In August, Trump commented, "I only worry for the country in that Hillary Clinton was careless and negligent in allowing [Anthony] Weiner to have such close proximity to highly classified information. Who knows what he learned and who he told?"
Weiner, despite his many faults, is not a quasi-adversary of the United States who has sometimes taken military action against American allies in the fight against ISIS.
More recently, Trump complained that rather than searching for ties between his campaign and Russia, investigators ought to focus on who was spreading sensitive information to the press:
The real story that Congress, the FBI and all others should be looking into is the leaking of Classified information. Must find leaker now!

— Donald J. Trump (@realDonaldTrump) March 20, 2017
Speaker Paul Ryan was also highly critical of Clinton's maintenance of classified information, and called for Clinton to be denied classified briefings.
It's simple: Individuals who are 'extremely careless' w/ classified info should be denied further access to it. https://t.co/XWuvfDugly

— Paul Ryan (@SpeakerRyan) July 7, 2016
Historically, being elected president has been considered sanction from the American people to view classified information. Ryan expressed concern about the new disclosure, however. "We have no way to know what was said, but protecting our nation's secrets is paramount," Ryan spokesman Doug Andres said in an emailed statement. "The speaker hopes for a full explanation of the facts from the administration."
Yet Clinton's carelessness with classified information was far more mundane than Trump's. While some of the information found on her email server was classified at the time it was discovered, little or none of that was marked as classified at the time she sent it, nor is there proof that any foreign countries came into possession of it. Trump, however, directly shared more sensitive information with foreign officials, a far more careless approach than Clinton's.
The immediate impact of Trump's leak was not yet clear. Intelligence officials worried to the Post and other reporters that allies might stop sharing information, or reduce sharing of information, with the U.S. because of it. Immediate reaction in Congress was mixed. "Obviously they're in a downward spiral right now and they've got to figure out a way to come to grips with all that's happening," Senator Bob Corker of Tennessee said. Others, including John McCain—a Russia hawk and one of Trump's staunchest critics within the Republican Party—noted that Trump was within his rights to share classified information.
Clinton was not the only candidate whose access to classified information came into question during the presidential campaign. Democrats argued that Trump was too unpredictable, too sloppy, too compromised to be trusted with the classified briefings that each major party's nominee typically receives. "I would suggest to the intelligence agencies, if you're forced to brief this guy, don't tell him anything, just fake it, because this man is dangerous," then-Senate Minority Leader Harry Reid said. "Fake it, pretend you're doing a briefing, but you can't give the guy any information."
Intelligence experts countered that there was little risk to the briefings, and if Trump ever disclosed classified information as a candidate, it has not been discovered. It turns out that the worries that Trump couldn't be trusted to hold onto classified information were not unfounded, however. They were just premature.