Trump's Cuts to SNAP and Social Security Would Hit the Rust Belt Hard
The president's full budget includes reductions in income-support programs that core Republican voters rely on—more so than other groups do.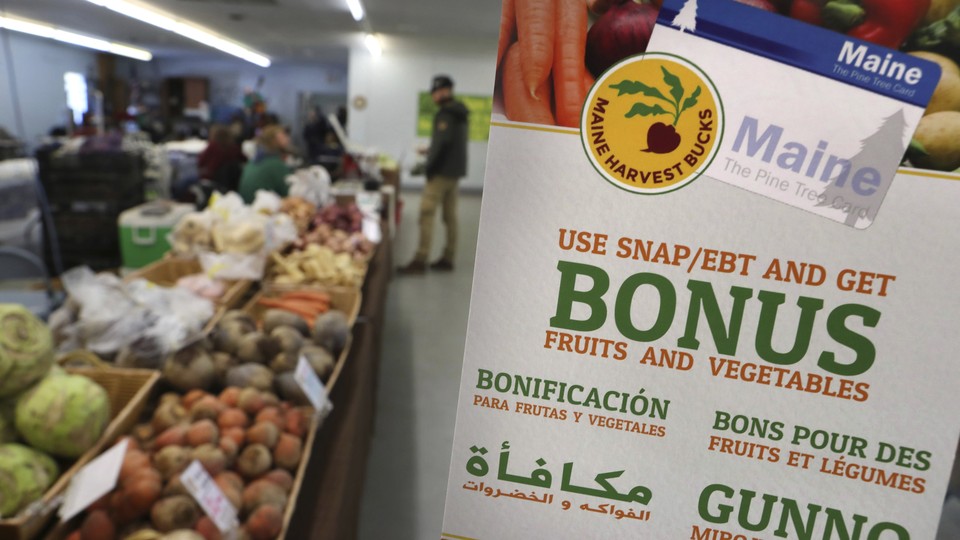 In the key Rustbelt states that tipped the 2016 election to President Trump, blue-collar white voters at the core of his constituency represent a majority of those receiving benefits from the federal income-support programs he has targeted for large cutbacks in his budget, according a new analysis conducted for The Atlantic.
Whites without a four-year college degree constitute most of those receiving assistance from the Supplemental Nutrition Assistance Program, Social Security's Supplemental Security Income program, and Social Security's disability program in each of the five Rustbelt states that flipped from Barack Obama in 2012 to Trump in 2016: Iowa, Ohio, Michigan, Pennsylvania, and Wisconsin. They also represent a majority of the programs' beneficiaries in other heavily working-class interior states—from Arkansas and Kentucky through Missouri and Montana—that are central to GOP fortunes in upcoming elections.
Trump's budget, released Tuesday morning, looks to protect the older whites vital to his electoral coalition by exempting both Medicare and the principal Social Security retirement program from any cuts: About 80 percent of today's seniors are white, and Trump carried about three-fifths of white seniors in last fall's election. In stark contrast, the budget focuses large reductions on domestic discretionary-spending programs that invest in the productivity of future generations, including scientific research, education, student loans, and the Children's Health Insurance Program. In those ways, the budget displays a clear preference for the predominantly white senior population over the rapidly diversifying youth population: As I've written, it strongly favors the "gray" over the "brown."
But because Trump extends his budget cuts so deeply and broadly through income-support programs, the reductions still inevitably reach many of the lower-income and less-educated whites that have emerged as the cornerstone of the modern Republican coalition. The large number of GOP-leaning voters who rely on programs Trump would retrench underscores the difficulty his party faces in reconciling their ideological drive to shrink government spending with the material needs of their increasingly working-class and older white supporters. Not only did Trump depend on big margins among older and non-college-educated whites, but about three-fifths of House Republicans also represent districts older than the national average. And about three-fourths hold seats where more whites than the national average lack a college degree.
As William Hoagland, a senior vice president at the Bipartisan Policy Center who formerly worked as a top Senate Republican budget aide, told The New York Times: "The politics of this make no sense to me whatsoever, in the sense that the population that brought them to the dance are the populists out there in the Midwest and South who rely on these programs that he's talking about reducing."
Hoagland's point is underscored by the new analysis, which was provided by the Center on Budget and Policy Priorities, a left-leaning advocacy group respected in both parties for the rigor of its research. To track the beneficiaries of these programs, the center analyzed data from the Census Bureau's American Community Survey. To produce a more representative sample, it cumulated results from the survey over the three-year period from 2013 through 2015.
The center's findings track earlier research by the nonpartisan Urban Institute that found that whites without a college degree represented most of those who gained coverage under the Affordable Care Act in the five Rustbelt states key to Trump's victory, as well as in other core Republican states like Arkansas and Kentucky. Many of those voters would lose their coverage under the replacement health-care plan the House narrowly passed earlier this month.
The tilt toward blue-collar whites is, if anything, even more pronounced in the programs Trump's budget targets than in the health-care law. Consider the SNAP program, formerly known as food stamps. The analysis examined households that have received income from the program over the previous year and separated them according to the education level of the household member with the most schooling.
White households whose most educated member held less than a four-year college degree represented the highest share of all households receiving SNAP benefits in Trump's key states: 69 percent in Iowa, 57 percent in Ohio, 55 percent in Wisconsin, 52 percent in Michigan, and 50 percent in Pennsylvania. The numbers were comparable in heavily white and blue-collar states like West Virginia (85 percent), Maine (82 percent), Kentucky (74 percent), Montana (68 percent), Indiana (61 percent), Missouri (59 percent), Tennessee (56 percent), and Arkansas (55 percent).
In all of these states, the blue-collar white share was far more than the share of SNAP households headed by minorities without college degrees, or by people of any race with degrees. In each of them, non-college-educated whites represented a larger share of SNAP households than they did among the overall population.
The Census data shows this pattern persisting in the SSI program, which assists very low-income aged, blind, or disabled adults. White households receiving SSI help whose most educated member lacked a college degree represented 70 percent of all beneficiaries in Iowa, 61 percent in Ohio, 59 percent in Wisconsin, and 52 percent in both Michigan and Pennsylvania. Likewise, the share of similar households in the other GOP-leaning interior states ran from fully 87 percent in West Virginia to 79 percent in Kentucky and 76 percent in Maine, and from 60 percent to 65 percent in Indiana, Missouri, Montana, and Tennessee. Again, minorities without degrees and households of all races with degrees constituted much smaller shares of beneficiaries.
To estimate the composition of beneficiaries of the Social Security disability program, the center used the Census figures to identify the number of working-age adults in each state who report receiving Social Security benefits and also report possessing a disability. That, too, showed a lopsided tilt toward whites without a college degree: They represented nearly three-fourths of these adults in Iowa, about two-thirds in Ohio and Wisconsin, and just over three-fifths in Michigan and Pennsylvania. In the other GOP-leaning states, the numbers ranged from about four-fifths in West Virginia and Kentucky to just over two-thirds in Montana, Indiana, and Tennessee, and just below two-thirds in Arkansas and Missouri.
Another Census data source, the Survey of Income and Program Participation, offers an alternative measure of Americans who benefit from federal income-support programs. Because that is a smaller survey, it generally does not provide as accurate estimates for individual states as the ACS does, noted Arloc Sherman, the CBPP senior fellow who performed these calculations from Census data.
Sherman combined the results from the SIPP survey across the five Rust Belt states to create a more representative sample. For two of the three programs Trump is targeting, that exercise produced results very similar to the ACS: Each showed non-college-educated whites representing a virtually identical majority of those receiving either food assistance or Social Security disability benefits across the five states. The two surveys diverged more significantly on the Supplemental Security Income program: While the ACS survey identified non-college-educated whites as 56 percent of all beneficiaries across these key states, the SIPP data put them at 46 percent.
Either way, both these sources show that blue-collar whites are a significant component of those benefiting from the income-support programs Trump is targeting. Republicans now hold five of the 10 Senate seats in the five crucial Rust Belt states, as well as a clear majority of the seats in the other interior states where non-college-educated whites represent the majority of those relying on these programs. Like the ongoing battle over slashing Medicaid spending in the health-care debate, the reaction of those senators to sweeping cuts in income-support programs will measure how much the GOP's changing constituency is reshaping its small-government ideology.