What Trump's Ideal Justice Department Would Look Like
The president's budget proposal calls for the hiring of more prosecutors, more immigration judges, and more federal marshals.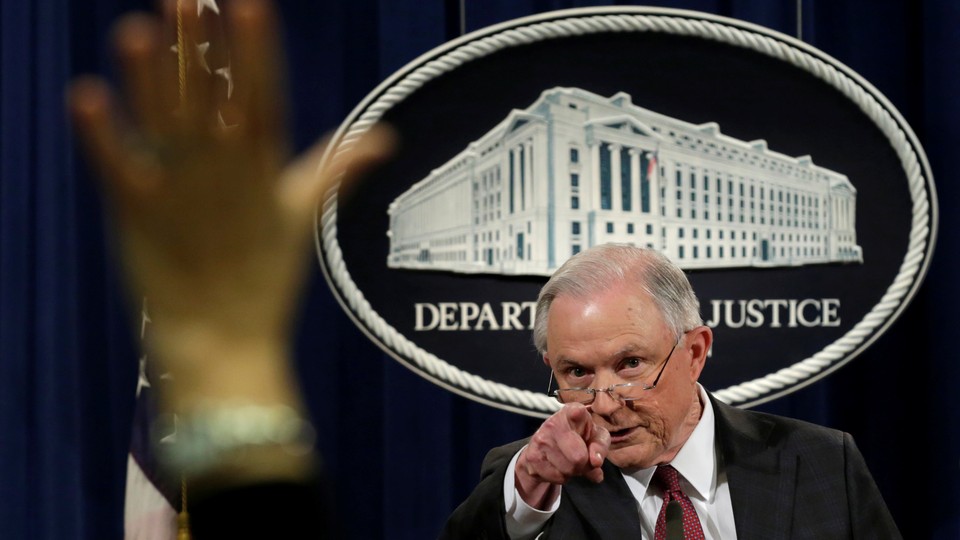 President Trump's proposed budget would steer the Justice Department toward his administration's austere vision of federal law enforcement, setting aside hundreds of millions of dollars to swell the ranks of federal prosecutors and immigration judges while cutting overall funding by $1.1 billion.
The spending plan for the 2018 fiscal year, which was released on Tuesday, outlines $27.7 billion in funding for the department, about 4 percent less than what Congress previously allocated. The overall budget isn't likely to become law—not without significant revisions from the Republican-led Congress, at least.
Legislators in both parties previously panned Trump's initial draft, released in March, and GOP leaders said they'd write their own version. Tuesday's release didn't change their course: Texas Senator John Cornyn, a top Republican lawmaker, declared the administration's proposal "dead on arrival" on Tuesday.
But the document still serves as a map of the Trump administration's vision for the federal bureaucracy. It envisions substantial boosts to the Defense and Homeland Security departments, reflecting Trump's focus on national security and international terrorism. Federal agencies and departments further from the administration's core interests would receive significant cuts: The Environmental Protection Agency, for example, would see its budget reduced by one-third.
The Justice Department fared better overall than most other parts of the federal government, but only through programs that fit the president's areas of interest. The administration's plan would allocate $26 million for the hiring of 300 new assistant U.S. attorneys, who are more commonly known as federal prosecutors, "to prosecute violent criminals and ensure our neighborhoods are freed from their threat." Trump frequently invoked the specter of rising crime on the campaign trail, pitching himself as a "law and order" president who would end what he described as "this American carnage" in his inaugural address.
Trump's choice to lead the department echoed those themes. "The Department of Justice is dedicated to advancing the safety, the security, and the rights of all Americans—and the FY 2018 budget reflects the president's commitment to keep America safe," Attorney General Jeff Sessions said in a statement. "One of the Justice Department's top priorities is to protect the United States from threats to our national security both foreign and domestic. The department will enforce our laws and put criminals behind bars."
A wave of new hires would also realign the department toward large-scale deportations and more intense immigration enforcement. Seventy of the 300 federal prosecutors would be hired "to protect our borders and restore our sovereignty by prosecuting immigration-law violations," the department said, marking a substantial shift in resources and power toward one of Trump and Sessions's key policy priorities. Twelve lawyers would be hired for the department's Environment and Natural Resources Division to litigate land claims during construction of the border wall. Another 15 attorneys would be slated to join the department's Civil Division to defend the Trump administration in court "against programmatic and individual challenges to federal immigration policies or actions."
The proposal also takes aim at the massive backlog in U.S. immigration courts. My colleague Priscilla Alvarez noted in April how staffing woes and sheer case volume were straining the system even before Trump's enforcement escalation. To that end, the administration wants $75 million to hire 150 attorneys to substantially expand the Executive Office for Immigration Review, which operates the nation's immigration courts; the attorneys serve a judge-like role there. (Their name aside, immigration courts are technically administrative panels instead of genuine judicial bodies.) Forty new deputy U.S. marshals would also be hired for $8.8 million to "ensure timely detainee processing" in immigration cases.
Framing these requests to expand the machinery of prosecution and deportation is the Trump administration's looming effort to crack down on immigrants, legal and otherwise. "An increase in [unauthorized-immigrant] apprehensions will result in more fugitive investigations for individuals with immigration warrants; more protective investigations and details for members of the judiciary; and more prisoners to receive, process, and detain," the department said in its proposal.
The budget proposal also makes significant cuts elsewhere, including the elimination of about a dozen discretionary programs. Among those that would be nixed are the John R. Justice Program, which forgives student loans for prosecutors and public defenders who commit to their profession, and a program that compiles research and statistics on police body-cam usage, a popular accountability measure adopted in multiple jurisdictions after high-profile police shootings in recent years.
The proposed axing of these programs and others like them drew strong reactions from criminal-justice reform groups. "The budget advances the law-and-order narrative of Trump and Attorney General Jeff Sessions, prioritizing scarce resources for enforcement and prosecution," Faiz Shakir, the ACLU's national political director, said in a statement. "It includes a $77 million cut to Byrne Justice Assistance Grants, which will mean even scanter resources for right to counsel, diversion programs, and constitutional policing. It also includes a $17 million cut to Second Chance Act grants, which mean fewer resources for communities helping formerly incarcerated persons reenter society."
Without support on Capitol Hill, Tuesday's budget proposal essentially amounts to the Trump administration's fantasy for how it would reshape the federal government in its image. For the Justice Department, that means a tough-on-crime realignment that inches closer to achieving the "deportation force" he called for on the campaign trail.